Novak Djokovic shared a heartwarming moment with his children after advancing to the quarterfinals of the 2023 French Open on June 4.
The Serb, making his 19th appearance at the claycourt Major, outfoxed Juan Pablo Varillas in straight sets, 6-3, 6-2, 6-2, in the fourth round. He became the only men's player in the Open Era to make 17 quarterfinal appearances in Paris.
Amidst the cheers and applause from the crowd, Djokovic's joy was further amplified as he shared an adorable moment with his children. After the match, the 36-year-old embraced his little ones in the locker room hallway, expressing his love and gratitude for their unwavering support.
The heartwarming scene showcased the strong bond Djokovic shares with his family. His loving relationship extends beyond his children, as his wife, Jelena, has also stood as a pillar of strength and support throughout his tennis journey.
With three wins away from breaking the record and becoming the first man in history to claim 23 Grand Slam titles, the World No. 3 finds himself on the precipice of greatness. His exceptional form and relentless drive have propelled him to this pivotal moment in his career.
The third seed mentioned how his children inspire him to play well on the tennis court and how he's a different person, with his family alongside him. He also hoped that his son Stefan, who is an avid tennis lover gets to play at Roland Garros in the future.
"It's a great pleasure to have my kids here. They'll be here tomorrow as well and then they'll head back to Serbia for school as that's more important [than watching me at Roland-Garros]. My son loves tennis, and I am a different person when I'm with him. I'm very positive, and I feel a lot of love and inspiration to play well when I'm with him. Maybe one day he can also play here," Djokovic said in his post-match interview.
---
Novak Djokovic to square off against Karen Khachanov in French Open 2023 QF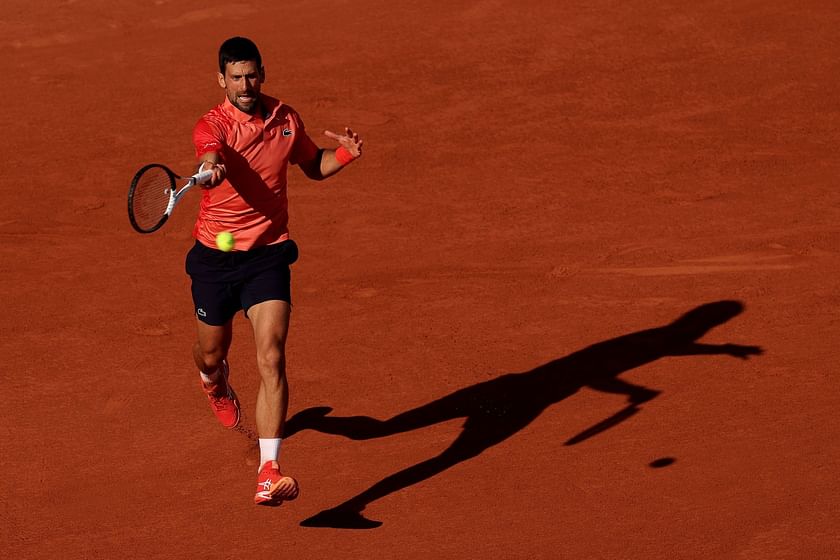 Novak Djokovic will take on Karen Khachanov in the quarterfinals of the 2023 French Open on June 6. The Serb dominates the head-to-head battle against the Russian 8-1 and defeated him most recently at the 2022 Paris Masters in straight sets 6-4, 6-1.
However, Khachanov has been excellent at Roland Garros this year. He entered the tournament on the back of a second-round exit in Rome, but quickly made amends by registering hard-fought wins against Constant Lestienne, Radu Albot, Thanasi Kokkinakis, and Lorenzo Sonego en route to the quarterfinals in Paris.
Armed with his powerful groundstrokes and aggressive playing style, 11th seed Khachanov will aim to challenge Djokovic's supremacy and secure a historic win to reach his first-ever semifinal at the claycourt major. The Serbian superstar will rely on his well-rounded skill set, including his exceptional return game and defensive prowess, to gain an edge over the Russian.
The outcome will likely depend on who can execute their game plan flawlessly and handle the pressure in key moments. Fans will be eager to witness the exhilarating showdown. The winner of this tie could square off against Carlos Alcaraz or Stefanos Tsitsipas in the semifinals.