Jannik Sinner said Novak Djokovic is not going anywhere anytime soon after he was beaten by the Serb in the 2023 ATP Finals' title clash.
Djokovic concluded his 2023 ATP season in stellar fashion, by winning a record seventh title at the year-end championship. The Serb scored a 6-3, 6-3 victory over home favorite Sinner on November 19, thus eclipsing Roger Federer's record of six ATP Finals trophies.
Apart from his latest triumph, Djokovic featured in the finals of all four Grand Slam tournaments in 2023, winning three – the Australian Open, the French Open and the US Open. In the process, he became the player with the highest number of Grand Slams in the Open Era.
Novak Djokovic also claimed a record-extending 40th Masters 1000 title at the Paris Masters a few weeks ago. The Serb's age-defying results helped him clinch the year-end World No. 1 ranking for a staggering eighth time.
Following the ATP Finals' summit clash, Jannik Sinner expressed his admiration for the Serb's longevity and fitness.
"He won 24 Grand Slams. I don't know numbers exactly of the Masters Series. He won here [ATP Finals] now seven times, right? His body is in an incredible shape. We're going to see him around for I don't know how many years still," Jannik Sinner said in a press conference.
The Italian further called Djokovic 'an inspiration' and expressed his desire to follow in the World No. 1's footsteps.
"What I said on court is that he's an inspiration because he worked throughout the whole years before when he was younger in the right way to get to this point. That's also one of my goals, no?" Sinner said.
"It's not only about to watch one season. You watch this season, and you say, Okay, played good. But you have to play every season in a good way, and you have to get to a certain age, which is 35, 36, 37, whatever, and you can still feel the body in the right way," he added.
---
"Novak Djokovic knows how to handle the situation" - Jannik Sinner after ATP Finals loss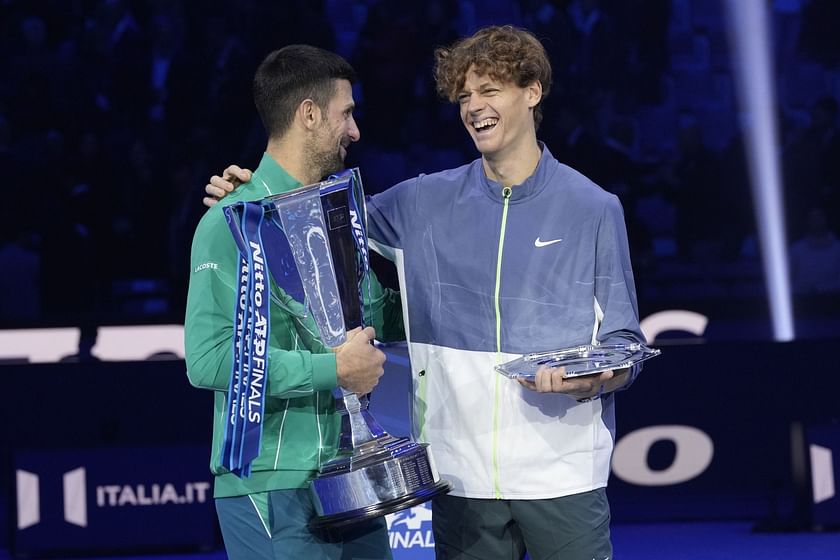 A few days ago, Jannik Sinner earned his maiden victory over Novak Djokovic, during the round-robin stage of the ATP Finals. The World No. 4 was, however, unable to recreate that performance in the summit clash.
Sinner opined that Djokovic had the edge when it came to decision-making and handling the moments of pressure.
"The match, it's really physical now because the balls are getting so fast, you have to be physically ready. Also, mentally you have to understand really fast what is happening. That's what he's doing, at the moment, better than anyone else," Sinner said in the presser.
"He played really, really good the important moments. He knows how to handle the situation, especially on semifinals and finals. This is good for him," the reigning Canadian Open champion added.
Novak Djokovic and Jannik Sinner are now expected to represent their respective home countries - Serbia and Italy - at the Davis Cup Finals in Malaga, Spain, which will take place from November 21-26.