The world of sports has largely stood in solidarity with Ukraine since the country was invaded by Russia last year. As the war between the two countries showed no signs of slowing down, the 2023 Australian Open became the scene of controversy as Vladimir Putin's supporters made their presence felt.
A few fans were also heard chanting pro-war slogans outside the Rod Laver Arena. A spectator during the Novak Djokovic-Andrey Rublev semifinal was also seen wearing a t-shirt with a 'Z' symbol on it. The sign has become synonymous with tyranny as it conveys an allegiance to Putin. It was first used by Russian military forces during the attack on Ukraine.
Since then, the symbol has found its way into the public sphere, with supporters of the Russian regime wearing it as a badge of honor. Ivan Kuliak, a Russian gymnast, wore it as well during the World Cup in Doha last year. The 20-year-old's action caused quite an uproar.
There has been a debate regarding the symbol, as some people claim the "Z" stands for the phrase "za pobedu", which means "for victory". It could pass off as a general phrase, but has taken on a sinister meaning since last year. Plenty of pro-Putin supporters have flaunted the sign in myriad ways to showcase their loyalty to him, now demonstrating it at the Australian Open too.
---
Novak Djokovic's father seen with Vladimir Putin supporters at the Australian Open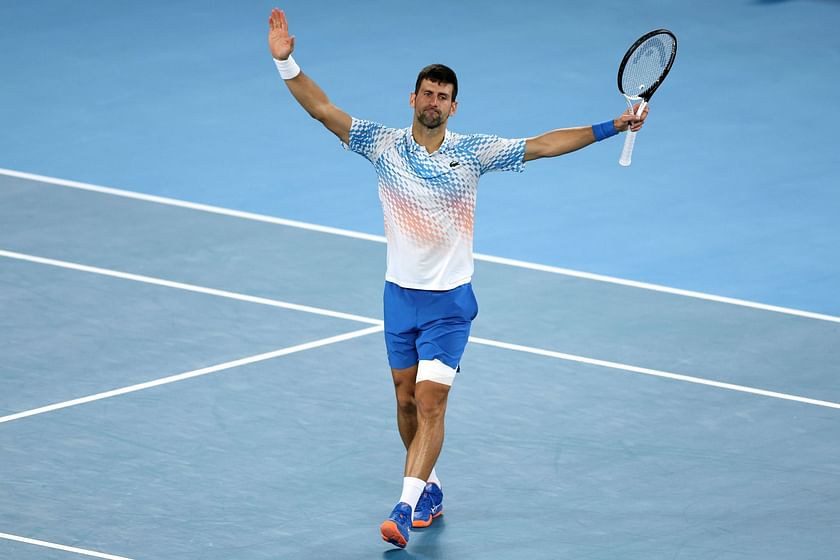 Novak Djokovic's father, Srdjan, is no stranger to controversies. While the former World No. 1 continues his march towards a 10th Australian Open title, his father finds himself in hot water yet again.
Following the 35-year-old's quarterfinal win over Andrey Rublev, a bunch of Russian supporters gathered outside the Rod Laver Arena. They were heard chanting in support of Putin while holding Russian and Serbian flags.
A video shows Srdjan Djokovic with them, while posing for photos with a fan with a pro-Putin flag and wearing a t-shirt with the "Z" symbol. He was also heard saying "Zivejli Russiyani", which roughly translates to "Long live the Russians".
While the 21-time Major champion isn't liable for his father's statements, the pressure will be on him to put out the fires set by him. Even in the past, the former World No. 1 has disagreed with his father's antics and is likely to do the same yet again. As far as tennis is concerned, he'll take on Tommy Paul in the semifinals on Friday.