Following his historic Australian Open title win, Novak Djokovic revealed the tournament he always dreamed of winning as a child.
A year after his deportation from Down Under following the COVID-19 vaccine controversy, Djokovic put together a dominant run to claim his 10th Australian Open title. He defeated Stefanos Tsitsipas 6-3, 7-6(4), 7-6(5) in the final at Melbourne Park to complete La Decima and tie Rafael Nadal for the most Grand Slam titles (22) in men's singles tennis.
The victory allowed the Serbian to return to No. 1 in the ATP rankings and gives him the chance to break Steffi Graf's record of being at the top of the rankings for 377 weeks.
Following his win at the Asia-Pacific Major, Djokovic sat down to speak with a young Australian fan during his trophy photoshoot. Over the course of the chat, he revealed that as a child he made an improvised Wimbledon trophy out of whatever materials he had and held it in front of the mirror, in the belief that he would one day be a Wimbledon champion.
"When I was eight, I was in my room, in Belgrade Serbia, where I'm from, and I was making the improvised Wimbledon trophy out of the materials that I had in the room. I was making like a little toy and I had a game with myself and I was looking in the mirror, holding this trophy and saying that I will be a Wimbledon champion one day. So, that was the tournament I always dreamt of winning," he revealed.
The seven-time Wimbledon champion also said that while he had always aimed to win as many Grand Slam titles as he could, he never imagined that he would win an incredible 10 Australian Open titles.
"I always wanted to win as many Grand Slams as possible, but I never thought that I am gonna win this many Australian Opens, no," he stated.
---
"This is probably the biggest victory of my life" - Novak Djokovic on his Australian Open 2023 win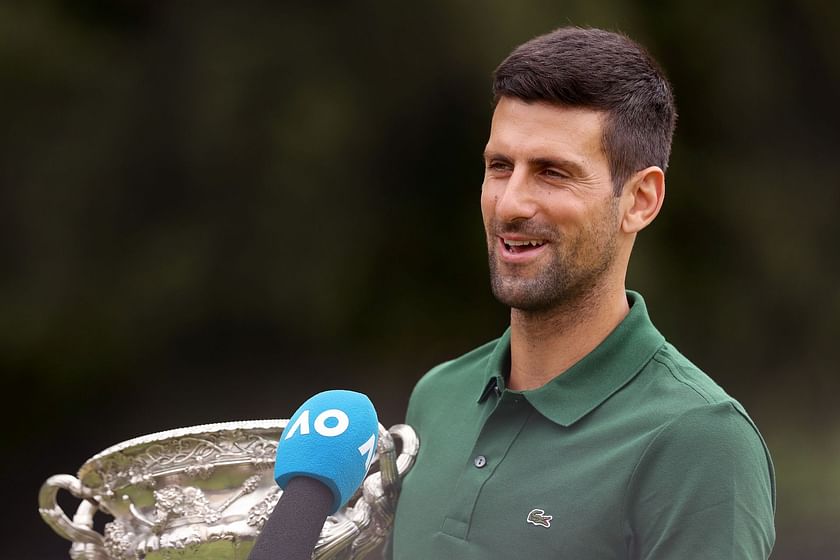 Novak Djokovic stated during his victory speech after lifting his 10th Australian Open trophy that this was the "biggest victory" of his life and that it had also been one of the "most challenging tournaments," given the circumstances.
"This has been one of the most challenging tournaments in my life, considering what happened last year. There is a reason why I've played my best tennis in Australia. I try to pinch myself and live through these moments. This is probably the biggest victory of my life, considering the circumstances," he said.