Aryna Sabalenka responded to the recent controversial comments from Lesia Tsurenko and her coach Nikita Vlasov in regards to the Russia-Ukraine war, distancing herself from their accusations.
Sabalenka reached the final of the 2023 BNP Paribas Open on Friday, beating Maria Sakkari 6-2, 6-3 in the semifinals. In the Round of 32, the Belarusian was set to take on Tsurenko, who withdrew at the last moment to give her a walkover into the fourth round.
Later, Tsurenko revealed that her withdrawal was motivated by Sabalenka's nationality, combined with certain remarks from WTA CEO Simon Stone, which led to her having a panic attack before the match. Those remarks were then backed by her coach Vlasov, who referred to Sabalenka as someone who "theoretically" supported the war.
Responding to all that in her press conference after the win over Sakkari, Aryna Sabalenka made it clear that none of the Russian or Belarusian athletes are personally responsible for the actions of their respective governments. In fact, the reigning Australian Open champion revealed that some were even helping relief efforts in Ukraine behind the scenes.
"Nobody can control emotions of others, you know. And I think WTA are doing their best to kind of control it. Yeah, of course it's a lot of tension between us. I mean, I'm still have this belief that I did nothing bad to Ukraines; not me, not Russian athletes, not Belarusian athletes, not one of us did something bad," Sabalenka said. "Even some of us are like helping. Like not like, how to say, publicly, yes."
The World No. 2 did admit that there was some animosity between the Ukranians and Russians on tour, but was of the opinion that the WTA was handling the situation as well as possible.
Noting that it was not her place to control the emotions of others, the 24-year-old claimed that she has been on the receiving end of many bad things as well due to the war. Sabalenka, however, did not think anyone would want to listen to her stories, once again demonizing her for her nationality.
"So what else I can say? I think WTA are doing really great job to support both sides, and whatever -- I mean, I cannot control their emotions. I was through so many bad things, and unfortunately, I'm not able to say that because who gonna believe Belarusian girl," Sabalenka said. "I mean, talking about her coach. I have been through also through hell, and I understand that... I don't know."
Finally, the Belarusian touched on Vlasov, stating that the coach was to blame for Tsurenko's panic attack as he always put "so much pressure" on her. Concerningly, Sabalenka also made note that Vlasov had not acted amicably with her in the last year, back when the war had just started.
"Yeah, I mean, I think Tsurenko withdraw, there was more than panic attack or more than political situation. I think there is something more. I had really tough situation last year with her coach the way he act to me. So I think that guy put so much pressure on her, and that's why that happen," Aryna Sabalenka said.
---
"Nobody of us have this control in this situation" - Aryna Sabalenka on the Russia-Ukraine war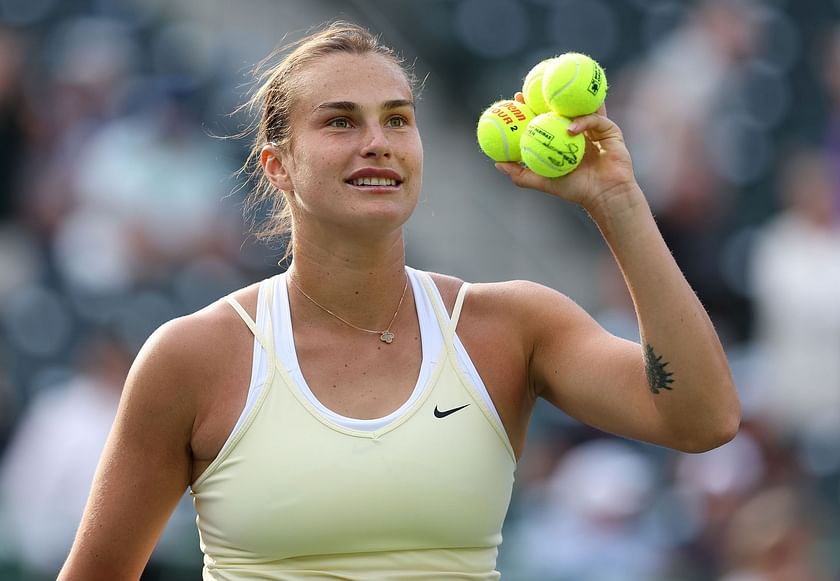 Aryna Sabalenka further stated that everyone on the WTA Tour has been trying their best to keep the locker room calm, adding that she and other Russian and Belarusian players really felt bad for the Ukrainians. With the women's tennis body also doing its best, Sabalenka was at a loss for what more could be done in this situation.
"It's nothing to do with WTA. I mean, they are doing their best job. What they can do? Nobody of us have this control in this situation. All of us just trying to, you know, keep the calmest in the locker room and keep understanding that there is no our fault and that all of us understand Ukrainians, and we really feel bad for them, you know," Aryna Sabalenka said.
Meanwhile, Aryna Sabalenka will take on Elena Rybakina in the 2023 BNP Paribas Open final, a repeat of the Australian Open final from January.