Elena Rybakina reached her maiden WTA 1000 semifinal by beating Karolina Muchova 7-6 (4), 2-6, 6-4 at the BNP Paribas Open on Thursday. However, the aftermath of the match saw an unsavory controversy erupt on Twitter over Rybakina's nationality.
It all started with the tournament's official Twitter page sharing an image of the 23-year-old, stating that she was the first woman ever from Kazakhstan to reach the semifinals at the BNP Paribas Open.
Elena Rybakina was born in Russia and represented that country before switching her allegiance to Kazakhstan in 2018. Her origins have been widely talked about ever since she won Wimbledon last year, where players from Russia and Belarus were not allowed to compete due to their countries' role in the ongoing war in Ukraine.
In response to the BNP Paribas Open's tweet, a few users called Rybakina a Russian.
However, a number of tennis fans came to Elena Rybakina's defense and slammed the people who were calling her Russian. One fan couldn't understand people's "obsession" with her nationality and origin as she had switched long before the Ukrainian war started.
"I swear to God the replies are making me mad. Have we seen similar replies when Cam Norrie won Indian Wells?? That he isn't a Brit? Doubt it. She also switched way before any conflict happened. So why are people so obsessed, mentioning it all the time," the fan's tweet read.
Another fan slammed those who were "harassing" Rybakina about her Russian origins and claimed that the World No. 10 was proud to represent Kazakhstan.
"Rybakina has switched to Kazakhstan in 2018, after just entering the top 200, because they were willing to support her career. She has competed for Kazakhstan in the Olympics, and loves representing the nation," the fan's tweet read.
"She has been continually harassed by journalists and people in general about the place she was born. She is making history for Kazakh tennis, and together with the Kazakh tennis federation is inspiring people to pick up tennis. She can't help where she was born. What do you people want her to do? Quit tennis?" it continued.
Another fan stated:
"I hate how all these idiots are acting like if Rybakina began to play for Kazakhstan since last Wimbledon, she has been representing Kazakhstan since 2018 because the federation was willing to support her. stop talking nonsense if you know nothing."
Here are some more fan reactions:
---
Elena Rybakina will face Iga Swiatek in the semifinals of the BNP Paribas Open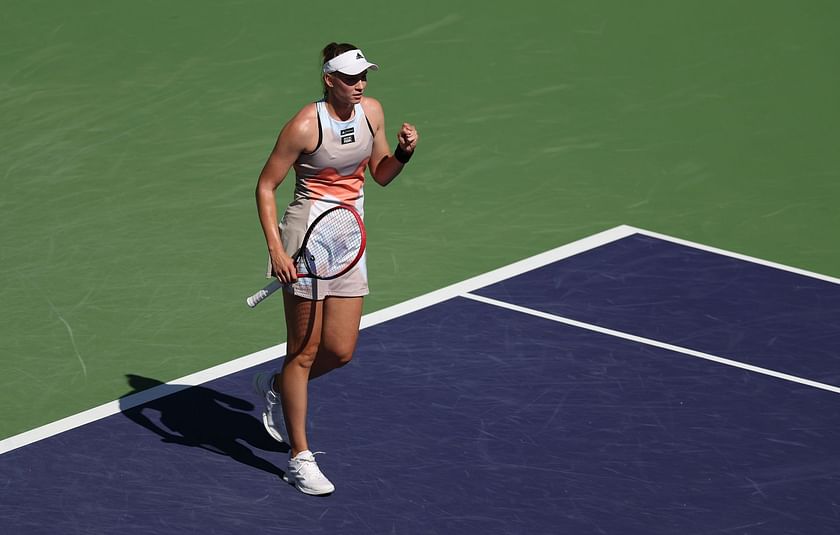 In the semifinals of the BNP Paribas Open, Elena Rybakina she will be up against Iga Swiatek, who beat Sorana Cirstea 6-2, 6-3 in the last eight.
The head-to-head between Rybakina and Swiatek is 1-1. Having lost their first meeting, Rybakina managed to beat Swiatek when they played in the fourth round of the Australian Open a couple of months back.
Speaking about the upcoming match, Rybakina said that facing Swiatek will be different than when they locked horns at the Australian Open. She also stated that she was expecting a tough match against the World No. 1.
"Yeah, for sure it's gonna be different than in Australia. Before the match in Australia, we played also many times. For sure it's gonna be a tough match. I'm gonna try to recover and prepare for this one, and, yeah, try my best," Elena Rybakina explained.
The winner of the match will face off against either second seed Aryna Sabalenka or seventh seed Maria Sakkari in the final of the BNP Paribas Open.