Several tennis fans expressed their disappointment over Team Europe's poor performance at the 2023 Laver Cup after Team World secured the title with a 13-2 victory on Sunday, September 24.
Team World registered their second successive Laver Cup triumph over Team Europe in this year's edition, held in Vancouver, Canada. The crew of Taylor Fritz, Frances Tiafoe, Tommy Paul, Felix Auger-Aliassime, Ben Shelton and Francisco Cerundolo led by John McEnroe destroyed the opposing side over the course of two days at the Rogers Arena.
Casper Ruud's victory over Tommy Paul on Day 2 was Team Europe's only success in the tournament. The pair of Tiafoe and Shelton sealed the deal on Sunday with a straight-set win over the European pair of Andrey Rublev and Hubert Hurkacz.
Tennis buffs on the internet were upset with the one-sided result. One fan hinted at the absence of Federer, Rafael Nadal, and Novak Djokovic, writing:
"I think it is the worst Laver Cup ever. No legends, no FUN."
One of the fans also recalled the 2021 edition, when Team Europe trounced the other side in similar fashion (14-1).
"Worst ever Laver Cup edition and it's not even close to 2021, which was also a beatdown. At least that year there were 6 super tiebreaks, but now 8 from 9 matches were in straight sets. I don't know if was about the names attending or what, but just such an underwhelming event," the fan wrote.
Another fan called out Team Europe's coach Bjorn Borg for his leadership and suggested Roger Federer's name as a replacement.
"Congratulations to Team World. But this is almost a "disgrace" for Europe I think Bjorn Borg has to question himself whether his nomination of players this time was the right decision? He should resign and let RF as Iniator be the captain of "Team Europe" next year," the fan tweeted.
Here are a few more reactions from X (formerly Twitter):
A look at how Team World dominated Laver Cup 2023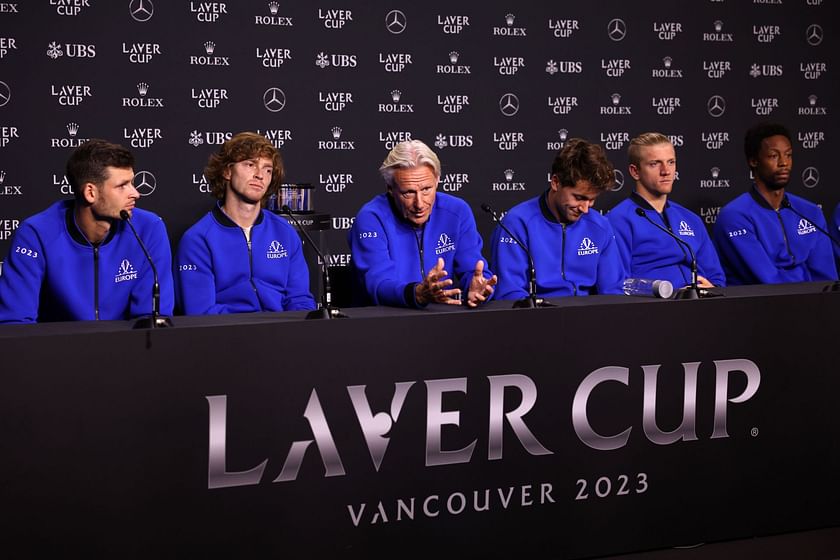 Team World bagged every available point on Day 1 of the 2023 Laver Cup. Their campaign began with debutant Ben Shelton beating fellow debutant Arthur Fils. Francisco Cerundolo, Felix Auger-Aliassime and the pair of Frances Tiafoe-Tommy Paul followed that up with comprehensive results over Alejandro Davidovich Fokina, Gael Monfils, and Andry Rublev-Fils pair respectively.
Team Europe started Day 2 on the backfoot, with Rublev going down against Taylor Fritz. Casper Ruud, however, earned the first points for his side with a win against Paul in straight sets.
Later, Hubert Hurkacz failed to win his singles tie against Tiafoe. He then paired up with Monfils for a similar result against the duo of Auger-Aliassime and Shelton.
Tiafoe and Shelton put the final nail in the coffin in the opening fixture of Day 3. They defeated the team of Rublev and Hurkacz to take Team World over the 13-point mark.