Tennis fans recently expressed their frustration on the internet over the fact that Patrick Mouratoglou was being credited for Coco Gauff's US Open success.
Gauff turned to Mouratoglou after she split with her former coach Diego Moyano in April this year. She stayed under his watch until the end of the French Open but Mouratoglou was never her official coach, as he himself confirmed the same in an interview with Canal+.
"I'm not the official coach of Coco Gauff. She doesn't have a coach at the moment. She is going to play Roland Garros. So I decided, per her request, to spend time with her on the court, to help her for Roland Garros," he said in June.
After a quarterfinal exit from Roland Garros, Gauff roped in Pere Riba as her official coach. Later, Brad Gilbert also joined the 19-year-old's team. However, after Coco Gauff won the 2023 US Open, Mouratoglou appeared on CNN for an interview, where the player was tagged as 'his newest star'.
Tennis buffs were annoyed with the tagline as they rubbished Mouratoglou's contribution to Gauff's success. A fan wrote:
"Ummmm.... he only coached her a few weeks through the French Open last May. Talk about 'jumping on a bandwagon' for false credit and piss poor journalism."
One of Mouratoglou's former pupils Simona Halep recently received a four-year ban for violating anti-doping norms. The French coach's name was mentioned in the 126-page-long decision against Halep. Another fan highlighted the ruling and wrote:
"This coming out the day after he and his academy were name dropped several times in a document detailing one of the biggest doping scandals in recent memory."
A user argued that the media outlet should credit Riba and Gilbert for Coco Gauff's recent success.
"His newest star?????? Oh no no no. Y'all need to be interviewing her REAL coaches, Brad and Pere… like don't piss me off," the user wrote.
Here are a few more reactions from X (formerly Twitter):
---
Coco Gauff has lost just one match since Brad Gilbert joined her team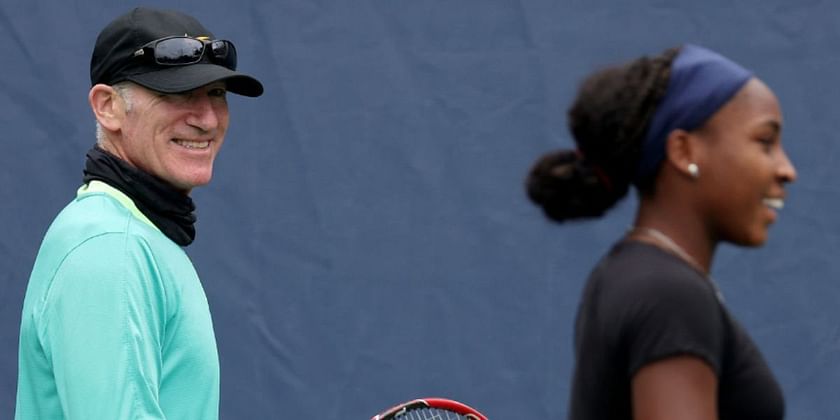 Coco Gauff joined forces with Brad Gilbert in August after a first-round exit from the Wimbledon Championships. Gilbert, who has coached the likes of Andre Agassi, Andy Roddick, and Andy Murray in the past, has already helped Gauff win multiple trophies in the first few months of their partnership.
After Gilbert's arrival, the American won her first WTA 500 trophy at the Citi Open, her first WTA 1000 title at the Cincinnati Masters, and the 2023 US Open, which was her maiden Grand Slam title.
During these tournaments, Gauff defeated the likes of former World No. 1 Iga Swiatek, reigning Wimbledon Champion Marketa Vondrousova, and current World No. 1 Aryna Sabalenka. The only match she lost was the quarterfinal against compatriot Jessica Pegula at the Canadian Open.