Novak Djokovic's preference for a girlfriend, and Maria Sharapova
17.04K //
17 Mar 2013, 00:05 IST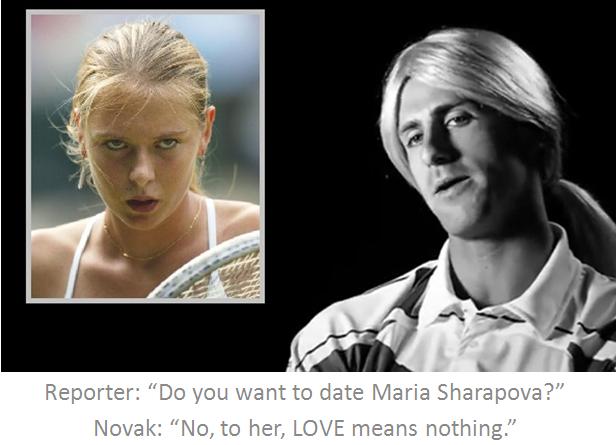 Two of the most dynamic and humorous tennis players on the ATP and WTA tours today are Novak Djokovic and Maria Sharapova respectively. However, because the men and women play in separate brackets, the two have never shared their comedic gifts on the same court. Still, the two have collaborated on certain occasions in the past, the most notable being their HEAD commercials, where Djokovic and Sharapova battled each other with satire and humor. We cannot help but wonder what kind of relationship exists between the two tennis greats.
The US Open Debacle
In the men's 2007 US Open final between Roger Federer and Novak Djokovic, a special guest took her place in the historic battle between two all-time great tennis ambassadors. Maria Sharapova appeared in Novak's personal box at the Arthur Ashe Stadium. Obviously, Sharapova supported Djokovic. Perhaps she also wanted Djokovic to win. However, the post-match interview with the Serb makes me wonder if there is anything else going on between the two.
Q. Maria Sharapova was in your box…What are those two['s] relationships with you? [Novak smiles] Somebody had to ask.
Nole: Yeah, I was expecting that question in the first place. No, let's not go too much with Maria. It's just a friendship we have. It was nice for her to come and support me… I mean, it's [an] amazing feeling to see such successful people, you know, in my box supporting me, playing with me I can say, living every emotional moment. It's great. It's great.
Q. What does she think of your imitation?
Nole: She said she's going to kill me. Of course, she accepted it in the right way. Of course, she found it funny, not offended.
One cannot help but think that something was and is going on in between the two. The world thinks so too. This relationship has interested hundreds of thousands of fans, who were already dying of laughter from Novak's impersonations.
Head Commercials
In 2012, HEAD racquets produced 3 related commercial featuring more sparks from Novak and Sharapova, titled "The Beginning", "Power Golf" and "Power Bowling" respectively.
Although the films were each only about 1 minute long, they were able to generate millions of views on YouTube and other social media.
In addition to the commercial series, Djokovic and Sharapova's popularity also boomed with the commercial in which Novak pretended to be Sharapova during a press conference. Djokovic as Sharapova called 'herself' "strong, … glamorous… [and] beautiful." This commercial won the hearts of many, and reinforced Novak's nickname as "Nole the Djoker".
How does their relationship affect tennis?
Tennis previously an upper class sport played by rich and noble people. However, the intense rivalries over the years have clearly changed that entire stereotype in the late 20th century. The Novak and Maria feud clearly adds more fuel for fans to be more interested in tennis and its amazing players. The intense rivalries between players like Federer and Nadal and fashionable encounters between these superstars like Djokovic and Sharapova are taking tennis's popularity to new heights, turning it into a truly international and entertaining sport.
Djokovic and Sharapova, the class clown and beauty queen in tennis, undoubtedly share something special. Is their friendship status more than those between friends? Who knows! However, I do know that it is good for tennis.