Rafael Nadal and Maria Sharapova make merry in the Indian Wells desert
1.75K //
18 Mar 2013, 16:49 IST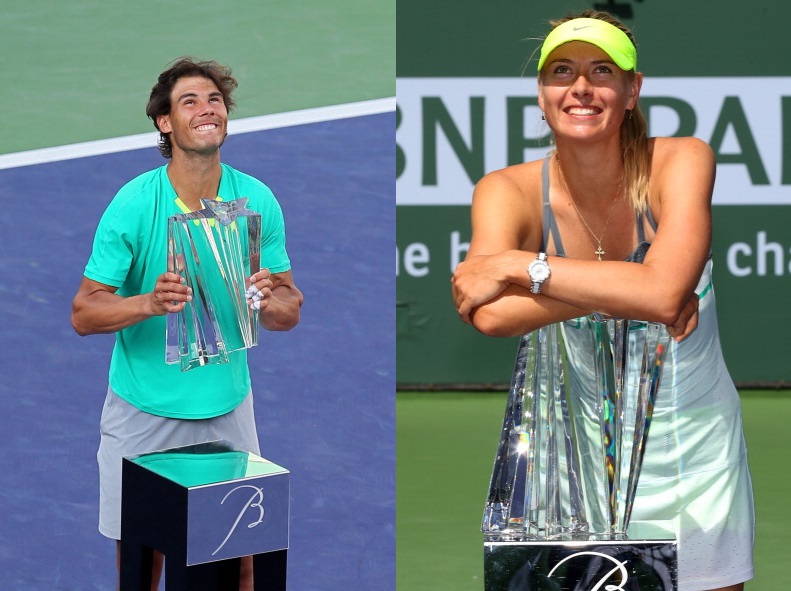 Of all the adjectives you could think of to describe Maria Sharapova and her game, 'consistent' would probably be way down the list. Her brand of tennis is not the kind that inspires confidence; when you watch her play, you don't get the reassurance that you normally do when watching a proven champion in action. With every full-blooded scorcher that leaves the opponent flailing in desperation, you can't escape the feeling that the next full-blooded cut is going to send the ball soaring out of the court. That's how it always is with Sharapova – winner followed by unforced error, ace followed by double fault (or maybe 2 or 3 double faults), magnificent first-strike tennis followed by insipid, flat-footed ugliness. But for an hour and a half yesterday, and for much of the past two years, Sharapova has made her seemingly precarious, no-holds-barred game produce results that are in sharp contrast to the tools that she employs – she has been consistent.
A tally of 33 winners and 25 unforced errors, which Sharapova racked up in the Indian Wells final yesterday, doesn't necessarily indicate a flawless performance. But this is one of the rare occasions when the stats don't reflect the true picture. Sharapova was absolutely red-lining yesterday – we kept waiting for the inevitable error-filled bad patch, but it never came. Caroline Wozniacki, her opponent, seemed so utterly incapable of doing any kind of damage in the rallies that you wondered how she ever became a top-10 player, let alone a two-time year-end No. 1. That impression was only superficial, or course – when she is on her game, Wozniacki is good enough to drive her opponents up the wall (just ask Angelique Kerber), and is undoubtedly a worthy top-10 player. But it's difficult to imagine how she could have countered Sharapova's blistering strokes even if she was on her game yesterday. Not only was she being constantly put on the backfoot by the Russian's power, but on the rare occasions that she managed to put herself in position to dominate a rally, she was left nonplussed by Sharapova's surprisingly strong defensive skills. There was just no place to hide for Wozniacki yesterday, and you got the feeling that she herself realized that very early in the match.
No discussion of a match involving Sharapova can be complete without mention of her serve. In what has to be described as a a shocking development, though, Sharapova's serve was near-impeccable yesterday. She put a relatively low 52% of first serves in, but she made a grand total of one double fault in the entire match. Yes, you read that right - one double fault. Ordinarily, that wouldn't be such an unusual statistic, but when you are talking about Sharapova's serve, it is nothing short of staggering. By freeing herself of her serving woes, the Russian had the chance to open up her shoulders and hit her groundstrokes with more penetration and purpose. It wasn't just her serve in isolation that was in fine working order yesterday though. Her game in general, and her forehand in particular, were absolutely watertight during her service games; a vast majority of her errors came in her return games, as she looked to pummel the living daylights out of Wozniacki's powder puff second serves. It was, in short, the living embodiment of the classic tennis strategy – protect your serve at all costs, and take your chances on the return. The result: Sharapova wasn't broken all match, and only allowed Wozniacki to hold serve 50% of the time.
It's hard to say something like this with any kind of authority, but I believe this is the best Sharapova has played since the 2008 Australian Open. It's been a long and arduous process, but Sharapova has finally reached the place that came so effortlessly to her during her pre-shoulder surgery days – she has become a reliable presence at the business end of the big tournaments. She may still have a Serena/Azarenka problem, but she now almost unfailingly beats the players ranked below her; she almost never loses to the players that she should beat. She doesn't always produce the kind of white-hot tennis that she produced yesterday, but she has learnt to do something perhaps even more important: to fight through the bad patches, and wait for the good ones. Sharapova has taken her all-out aggressive game, a game that always seems to live on a knife's edge, and used it to produce day-in, day-out consistency. How does she do it? It's a little magic trick that goes by a thoroughly unmagical name: gumption.
*******************************************************************************************************
While Sharapova has been busy re-establishing herself as a consistent force on the women's tour, Rafael Nadal has been trying to do much the same. Except that in Nadal's case, his game and his results are not at odds with each other – when he is hitting one consistently dive-bombing forehand after another, he's usually inflicting a world of pain of his opponents. For Nadal, doing the same thing over and over again, and doing it well, is the cornerstone to success, and he never stops trying to iron out every last mistake from his game, even if his body is pushed beyond its endurance limit in the process. That's what led him into his injury sabbatical in the first place.
We are more than a month into the Spaniard's much-discussed comeback, but everything was a bit of a question mark at the start of the tournament. Would he be comfortable making the transition from his beloved clay to his hated hardcourts? Would his forehand have its old sting? Would he be confident hitting off his weaker backhand wing? Would his knees hold up? By the end of the tournament, the first 3 of these questions were answered with a resounding 'Yes!', and the last one was reduced to a an afterthought. Now that is what you call an emphatically successful comeback.
It wasn't all smooth sailing for Nadal, of course. In his 4th round match against Ernests Gulbis, his misfiring forehand brought him to within 2 points of defeat; in the semifinal against Tomas Berdych, he double faulted on break point to allow the Czech to serve for the 2nd set; and in the final yesterday, he was down a set and a break against a rampaging Juan Martin del Potro. Each time he faced adversity, though, he did what has become second nature to him – he tightened up his game, amped up the aggression, and got himself out of trouble amid a sea of blurred sprints and ferocious forehands. And each time, the opponent was left punch-drunk and dazed, and could barely muster a challenge after experiencing first-hand what it means to face a Nadal with nothing to lose.
At the start of Nadal's comeback a lot of people wondered whether he would start playing more attacking tennis in order to preserve his knees. The change was barely noticeable on the claycourts of South America, but in the Spaniard's first hardcourt tournament, the difference was obvious. Nadal made a conscious effort to hug the baseline and take the ball on the rise all tournament, specially in his service games. His backhand, in particular, was unusually flat and fast, and his down-the-line forehand, which is always a barometer of his confidence level, made frequent appearances. The new attacking mindset has added so much character to Nadal's game that now, almost every rally that he plays looks like a spell-binding adventure. Throughout the tournament Nadal made the court come alive with his footwork and explosiveness, and his intensity looked even more spectacular when contrasted with the lackadaisical movements of players like Berdych and Del Potro. I remember there was a time when people called Nadal's game 'boring' and 'one-dimensional'. It's safe to assume that no one thinks that way any longer.
A month and a bit into his comeback, everything seems to be falling into place for Nadal. He's won 3 out of the 4 tournaments he's contested, and now that he's decided to skip the Miami Masters, the next thing on the agenda is extending his claycourt reign, a task that he'll be thrilled to immerse himself into. The knees have been a non-factor so far, and his forehand is firing again. It's the champion's mentality; we should have known all along that the seven-month layoff wouldn't diminish his will to win in the slightest. Just like Sharapova, Nadal has inserted himself back into the sport's elite by turning the abundant gumption at his disposal into consistently brilliant tennis. And now, he seems ready to reap the rewards of his hard work, on the surface that he so dearly loves.
The Spaniard may have faced some horrible times in the past few months, but right now, it is a good time to be Rafael Nadal.