Last year, both Roger Federer and Rafael Nadal had their campaign hampered by injuries and both eventually took a six-month hiatus from the game in order to recuperate. This year, they will be facing each other for the second time in the span of one and a half months. Thursday's meeting will also be the second time the two square off in the fourth round of the Indian Wells Masters.
Coming to the tournament itself, Nadal beat Verdasco in the third round in straight sets, and Federer too had a straight set win over Steve Johnson, however, both sets went the distance and had to be decided by a tie-break.
Also read: Why no other rivalry in tennis can match 'Fedal'
Both players have had a fierce rivalry over the years but are close friends off the court and have mutual respect for one another. This respect shows in the way they conduct themselves around one another and the way they speak about each other's achievements.
On that note, take a look at the 10 best quotes shared between the two greats.
---
#10 Nadal on the rivalry between Federer and himself
One of the most fiercely contested debates of modern tennis is who out of Federer and Nadal is the greatest of all-time. When Nadal was asked to weigh in on the matter, this was his reply: "Everybody likes to say that Roger Federer is the greatest player of all time because it's so nice to watch him play but you have got to throw in Nadal's mind as well and that's the greatest of all time!!!"
#9 Federer on Nadal winning the Wimbledon in 2008
Federer was on course for a record sixth straight Wimbledon title in 2008 but he was beaten by Nadal in five sets in what is widely regarded to be the greatest Wimbledon final ever.
During a formal interview after the match, this is what Federer said about Nadal: "He's a fantastic player and he's going to be around for a longer time so I'm happy with everyone I get before he takes them all".
#8 Nadal on the GOAT debate
Rafael Nadal is known for his humble and down to earth attitude and he has never referred to himself as the greatest tennis player of all-time, claiming instead that Federer is on par with him, if not better than him.
Nadal once again displayed his respect for Federer in an interview, stating: "If anyone says I am better than Roger, then he doesn't know anything about tennis".
#7 Nadal on the press treatment of Federer
In 2011, when Federer was struggling for form prior to the US Open, Nadal was asked what he would write about Federer's decline by a Spanish journalist.
The Spaniard gave a very witty response, stating: "No way I would be a journalist. You guys have tried to kill Roger often. But he's always come back and proved you wrong. So one thing I would not do is make the mistake of saying Roger is dead."
#6 Roger Federer on Rafael Nadal's comebacks
Both Federer and Nadal have made a number of successful comebacks from injuries, but in an interview during the Hopman Cup this year, the Swiss stated that Nadal is the player he looks to for inspiration.
Federer stated: "The thing is, Rafa's always been unbelievable at comebacks. He's one of the guys who's done it the best and the most almost. Every time he came back, he was always in the mix again to win big tournaments and be really, really difficult to beat and be one of the favorites, even on his weaker surfaces.
"So I think maybe on this occasion, he's going to lead the way for me, to show how it's done."
#5 Nadal on Federer's greatness
Federer was at the zenith of his powers in 2007 and dominated Nadal. During the Tennis Masters Cup (now known as the ATP World Tour Finals), Federer beat the Spaniard 6-4, 6-1 in the semi-finals.
Also read: 5 reasons why 2017 could see the revival of the 'Fedal' rivalry
During a post-match interview, this is what Nadal said about Federer: "If he's playing very good, I have to play unbelievable. If not, it's impossible especially when he's playing with good confidence. When he's 100 percent, he's playing in another league. It's impossible to stop him."
#4 Federer about being Nadal's greatest fan
Both Federer and Nadal were in terrific form during the Australian Open this year and their final was highly anticipated. After beating compatriot and friend Stan Wawrinka in the semi-finals, Federer stated that he is Rafael Nadal's biggest fan.
"I'm his No. 1 fan, I think his game is simply tremendous. He's an incredible competitor and I'm happy we've had some epic battles in the past".
#3 Nadal on Federer's brilliant performances during the Australian Open
After reaching his first Grand Slam semi-final in almost three years, Rafael Nadal lavished praise on the Swiss maestro: "It's amazing after having a tough injury for so many months to have Roger back in the semi-finals again in a Grand Slam. It's the first Grand Slam of the season which makes it even tougher for him."
#2 Nadal on Federer's pursuit of Pete Sampras' record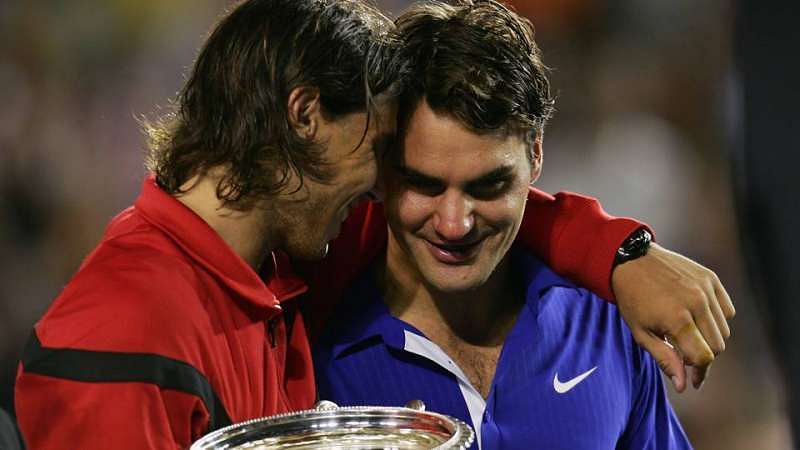 Rafael Nadal won his maiden Australian Open title by defeating Federer in an epic five-set final. During the presentation ceremony, Federer broke down and it was his conqueror who consoled him, saying: "Well first of all, sorry for today. I really know how you feel right now. It's really tough. Remember, you're a great champion. You're one of the best of history and you're going to better Sampras' record".
#1 Federer stating that he would love to share the Australian Open title with Rafa
Roger Federer won his 18th Grand Slam title at this year's Australian Open by defeating his arch-rival in an epic five-set final. His words during the presentation ceremony oozed pure class. Federer stated: "There are no draws in tennis but I would have been happy to share this trophy with Rafa tonight".