Federer and Nadal prepare to set Indian Wells on fire
In the Golden Age of men?s tennis, you?d think there wouldn?t be any shortage of momentous match-ups that regularly make people all ...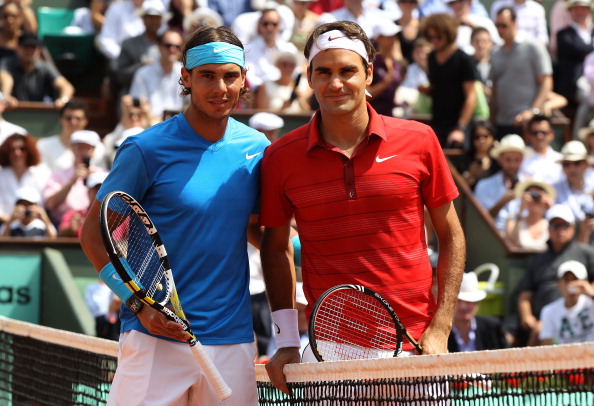 In the Golden Age of men's tennis, you'd think there wouldn't be any shortage of momentous match-ups that regularly make people all over the world hold their breath in anticipation. But while most of the big matches in recent years have assumed semi-epic proportions, they haven't necessarily been drop-everything-you're-doing-and-watch fare.
All the Grand Slam finals last year were tense, high-quality affairs, but at the end of nearly every one of them we found ourselves pining for the good old days when Slam finals were handed automatic legendary status because of the presence of those two players. Call it logic-challenged romanticism or plain old nostalgia, but this has been an inescapable guilty pleasure for us ever since that epoch-starting match in Miami back in 2004.
After all these years, despite being spoiled by all the high quality tennis of this era, there is only one clash that is an 'event' all by itself. There's nothing quite like a Roger Federer vs Rafael Nadal match; not by a long margin.
The quarterfinal match between these two at this year's Indian Wells Masters had been penciled down as a given the moment the draw was announced a week ago. There may have been a Janko Tipsarevic/Marcos Baghdatis (for Nadal) and a John Isner/Stanislas Wawrinka (for Federer) looming in the way, but surely those mortals would only be too happy to bow down and let these stalwarts take their rightful places in the 'match of the tournament'?
Of course, as it turned out, neither of their 4th round opponents was willing to defer and dissipate.
Federer was pushed all the way to 7-5 in the third by his friend and countryman Wawrinka today; despite serving for the match in the second set at 5-4, the Swiss No. 1 let his recently-acquired closing jitters come in the way of a straightforward victory, to the extent that he even trailed by a break in the decider before righting the ship.
Nadal, on the other hand, was presented with the challenge of defusing the 13-match winning streak of Ernests Gulbis, he of the big serve, bigger mouth, strange-looking-but-powerful forehand and violently explosive backhand. The Spaniard lived to tell the tale, though; after two-and-a-half hours of furious retrieving, he emerged victorious by a third set scoreline identical to that of his Swiss rival: 7-5.
So the two have indeed made their way to the 'match of the tournament', as we all knew they would. But things are not the same as they were in 2004, nor are they the same as they were in 2008, when the rivalry touched its peak. Nadal has just returned from a long layoff necessitated by his chronic knee problems, while Federer has looked decidedly off-color since the Australian Open semifinals, even adding a tweaked back to his travails this week.
In the bigger picture, though, the climate in which they are meeting now may be even more underwhelming – while neither man has given any indication about retirement yet, there has been a definitive changing of the guard over the last year, with Novak Djokovic and Andy Murray establishing themselves as the top dogs of the sport. It is perhaps fitting, in that sense, that this re-ignition of the rivalry is happening at the quarterfinal stage of a Masters tournament, rather than the final of a Grand Slam.
Before the start of the tournament I had predicted that if Federer and Nadal met in the quarterfinals, Federer would go through. I'm not as certain about that any more, but that's not necessarily because of the high quality play the two have produced in their first three (or in Nadal's case, two) matches. Usually, Fedal clashes seem to enhance the strengths of each player to produce a spectacle that is greater than the sum of its parts. Now, though, the weaknesses of each player are threatening to mesh together and create an unholy mess.
For one thing, both of them have been playing comparably sub-par tennis this tournament; while Nadal has seemed beset by his usual hardcourt woes (namely, reluctance to step inside the baseline and uncertainty in his lateral movements), Federer stumbled mightily in his first match against a strong opponent.
There are other mitigating factors too – Nadal is only just feeling his way back on the tour, and Federer has been struggling since the US Open last year; Nadal has a mental block against hardcourts, and Federer has a mental block against Nadal; Nadal has a problem with the umpires enforcing the time violation rule, and Federer has a problem with umpires in general (in the Wawrinka match, he got ticked off at being disallowed to challenge the validity of his own serve); Nadal has his knees, and Federer has his back.
If we didn't know better, we might have thought that these were two 80-year-olds squabbling about the price they were being forced to pay for all their years of hard labor.
Despite all of these potential dampeners, though, it's still a Fedal match. And you can't help but feel that even if these two were playing each other in their eighties, we'd still look forward to the encounter with heart-pounding anticipation and a fair amount of cold sweating. There's just such a strong sense of occasion to the matchup; offense vs defense, right-hander vs left-hander, finesses vs consistency, grasscourt mastery vs claycourt dominance, ice-cold calmness vs red-hot passion – the contrasts that make this such a special rivalry come rushing back to you every time you see their names next to each other.
We have seen these two turn the unthinkable into the routine during their epic battles over the years; we have seen them take the sport of tennis to heights never seen before; we have seen them produce magic on the court. The sheer bombast of the rivalry has convinced us that nothing is impossible when these two step on the court together, and that kind of feeling is hard to shake off.
So no matter how many years they may have accumulated on their bodies, and irrespective of how unlikely they may be to re-establish their duopoly atop men's tennis, we will still drop everything we're doing tomorrow and watch, with a distinct feeling of trepidation, the unfolding of Episode No. 29 of this epic saga. Technically, there may not be a lot at stake here – the winner will still have to play two more matches before he can lay his hands on the trophy – but the beauty of this rivalry lies in the fact that it has, since a long time, stopped being merely about base results.
Federer vs Nadal is bigger than the sport of tennis right now. Djokovic will likely win the title anyway, but this match will be remembered as the story of the tournament.
Who's my pick to win? Federer, but I'm not brave enough to put my money on it. In a Fedal match, after all, anything can happen.