Serve vs return, and forehand vs backhand
934 //
18 Mar 2012, 17:38 IST
Which shot is more important in tennis – the serve or the return? The mass slowing of courts all over the world and the emergence of super-athletic, aggressive returners has tilted the balance towards the return in recent years. A player without a big serve (think Rafael Nadal) can tear up the courts, while a payer like Ivo Karlovic can't ride his serve to any significant success on the tour. Last week, I talked about how having a monster serve alone cannot guarantee Milos Raonic a place among the elite of men's tennis. The return is now considered the definitive stroke in tennis, which is duly attested by fact that the best returner in the game is also the top-ranked player in the world. But yesterday, John Isner turned this conclusion upside down, at least for a day. There are a lot of things that Isner did well in his semifinal match against Novak Djokovic at Indian Wells, but the bottom-line is that he served big. In the process, he handed Djokovic, he of the awe-inspiring return, his 2nd loss of the year.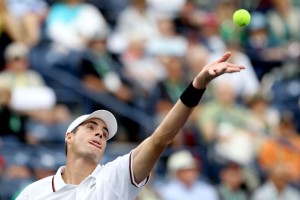 Just how well did Isner serve yesterday? The 6'9″ American won 72% of the points when his first serve landed in and 52% of his second serve points, for an overall success rate of 67% on the serve. On the other hand, Djokovic won 78% of his first serve points and 62% off his second delivery, for a 72% overall success rate. Yeah, that was my first reaction too – "huh?" What the stats don't reveal, however, is how many of those serve points Isner won when he absolutely needed to. He erased a break point late in the 3rd set with a mammoth serve, sending Djokovic into a fit of frustrated screams. He repeatedly came up with unreturnables on crucial 30-all or 15-30 points, and started and ended both the tiebreakers with aces. In contrast, Djokovic double-faulted when down 4-5 in the first set tie-breaker, and failed to come up with strong first serves when he needed them most – in the 3rd set tiebreaker. The man who's been giving lessons to the men's tour on clutch play for the better part of a year was taught the ultimate lesson on clutch serving yesterday.
Isner suffered his fair share of stumbles during the match, mostly because of his inconsistent forehand and distinctly below-average backhand. But he managed to overcome those stumbles by sticking to his strategy of going for his shots and trying to end points quickly. Sure, there were a few things that Djokovic could have done differently to pressure Isner. He could have not stopped the point on break point while serving for the first set, thinking Isner's shot was wide, which it most certainly wasn't. And he could, maybe, have returned just a little bit better; while he did get a very high percentage of Isner's serves back in play, I felt he went with the no-pace, chip forehand return one time too many, and he missed second serve returns just a few too often. But at the end of the day, things weren't entirely in Djokovic's hands. When Isner unleashed those violent serves, there was, simply, nothing that Djokovic could do.
******************************************************************************************************
When it comes to a Federer-Nadal encounter, no one can ever be fooled into reducing the match to a serve vs return contest. Nadal's return has always been sufficiently strong to counter Federer's superior serve, while Federer's return has always been adequately weak to make up for Nadal's serving deficiencies. What this matchup almost always boils down to, as has been widely documented and dissected, is the battle between the forehand and the backhand. The topspin and heaviness of Nadal's forehand against the, um, one-handedness of Federer's backhand. Which is why it was surprising to see that the 28th encounter between Federer and Nadal in the second Indian Wells semifinal yesterday came down to Federer's forehand vs Nadal's backhand.
In the first set of his Australian Open semifinal against Nadal earlier this year, Federer employed a game plan that many had been urging him to adopt for years now: hit relentlessly to Nadal's backhand. Of course, this pattern is not something that you just wake up one day and decide to execute: Nadal's ability to take control of rallies with his forehand and redirect most shots to his opponent's backhand can prevent the  pattern from even properly taking shape. In that first set in Melbourne, though, Federer executed the strategy perfectly, and by the end of it he had the set in the bag. But over the next 3 sets Federer, inexplicably, abandoned the tactic that had worked so well for him thus far. Maybe Nadal realized what he was doing, and stopped feeding angled shots to Federer's forehand. Or maybe Federer simply lost interest in following a rigid pattern that was alien to his game. Whatever the reason, Federer started going down the line with his forehand nearly every alternate shot, and Nadal promptly trampled all over the Swiss through the remainder of the match.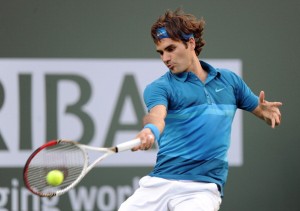 Yesterday was different. Federer came racing off the blocks, repeatedly attacking Nadal's backhand with his crosscourt forehand, and before anyone realized what was happening, he was up 3-0 in the first set. Nadal did get the break back, but Federer kept his foot on the pedal, breaking again and wrapping up the set 6-3. The second set continued in much the same vein, with Federer breaking Nadal's serve early, hitting his shots with precision and sticking with his go-to-the-backhand strategy. The bad weather that had delayed the start of the match was a threatening presence throughout, with the temperature dipping and gusts of wind swirling around the court. But the tough conditions seemed to affect only Nadal, throwing his timing haywire and making him repeatedly send routine groundstrokes flying beyond the sidelines, while Federer chugged along serenely, timing his shots crisply and controlling most of the rallies through his penetrating strikes.
And yet, despite all those things working in Federer's favor, the match could have still turned on its head late in the second set. Serving at 5-2, Federer lost the sting on his first serve, and Nadal rediscovered his mojo. In the blink of an eye, Nadal was hammering forehand winners all over the place, and Federer's shoulders seemed to be slumping. At 5-4, Federer attempted to serve for the match a second time. A vintage, forehand-dominated Federer point was followed by a vintage Federer backhand error, and then a double fault. Suddenly, all those demons of the past seemed to be resurfacing in Federer's head: would he ever play a nerve-free, clean match against Nadal? That's precisely the point when Federer's newfound ploy paid brought its richest dividend. He attacked the Nadal backhand once more, and brought the score to 30-all. The possibility of going 2 break points down had been averted, which put pressure on Nadal to hide his backhand and go on the all-out attack on the next point. Usually, Nadal manages both of those things comfortably. But not this day. After tugging Federer from side-to-side, Nadal had a look at an inside-out forehand winner, but he found the net. Match point Federer.
It was then that Nature decided that the match needed a little more drama. The rain got too heavy to continue playing, and the umpire decided to halt play. Federer went back to his chair, his nerves probably shredded, as he knew he had to come out after the delay and hit an impeccable serve, or let Nadal come roaring back into the match and undo all his good work of the last hour and a half. For that one point after they resumed play, the match would be a forehand-vs-backhand contest no more; instead, it would be a serve-vs-return crapshoot.
They resumed play after a delay of about 5 minutes, and Federer lined up to serve at 40-30, 5-4 in the second. And just like that, he came up with an ace out wide. Like Djokovic earlier in the day, there was nothing that Nadal could do, and the match was Federer's.