Sharmada Balu Interview: "My goal is to stay on top"
1.56K //
21 Mar 2013, 16:47 IST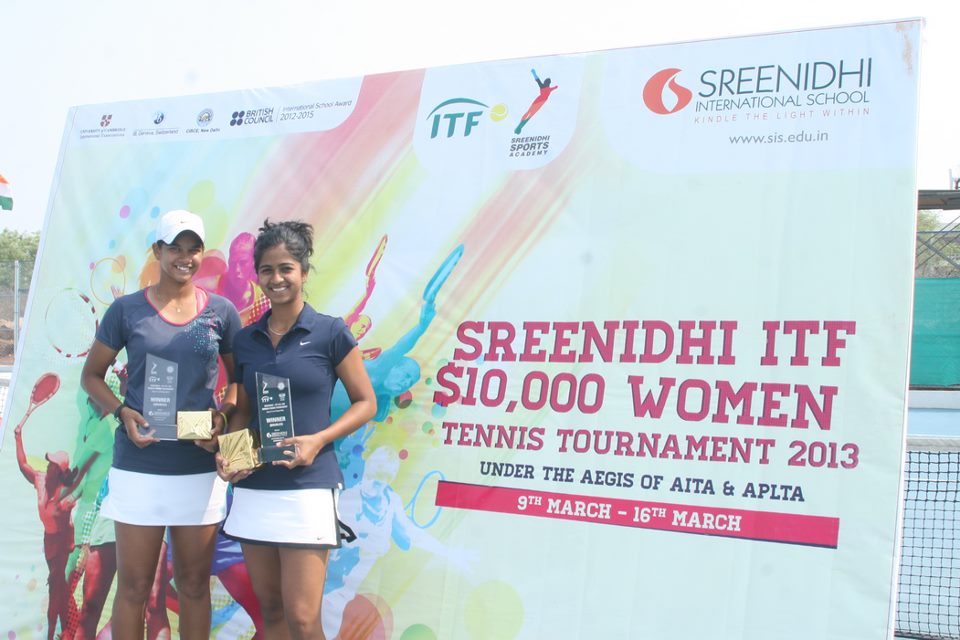 Sharmada Balu is a no-nonsense, hard-working tennis player. She held the reigns of India's number 1 spot in the Under-16 category, and subsequently in Under-18 category, until she turned 19 in August last year. She is among the top players in the country, and also figured in the probables list for the doubles team to participate at the 2012 London Olympics.
Her career draws special attention, for she is among the very few in Karnataka who have managed to sustain their careers despite financial drawbacks. As though playing professional tennis was not stressful enough, facing financial pressures only make the situation harder. What's the worst? The home association, in this case, the Karnataka State Lawn Tennis Association (KSLTA), which doesn't seem to care enough about the player's needs.
Her parents take the burden of her tours and training. Though such things could be a discouraging factor, she keeps her chin up and fights her way to the top without missing an opportunity. Her recent injury, that kept her out of the game for about nine months, too hasn't shaken her motivation.
She recently won her first ITF doubles title in Hyderabad, and is on her way to the final of another ITF doubles tournament that is underway at the same venue. She lost her singles match to Prerna Bhambri on Wednesday, but has her sights focused on the doubles.
In an exclusive interview with Sportskeeda, the young and gritty lass talks of her game and more..
You played a gruelling 160-minute match in your first singles game of the HIC-ITF Women Pro Circuit 2013. Your Japanese opponent refused to give up. Can you tell us about that marathon match…
My opponent was playing really well, and I was not very match sharp since I had taken a break for my exams. I had to stay with her and do whatever I could. In the third set, I was down 2-5 and had to step it up. It was also very hot, and was physically very draining.
You suffered a major injury a few months ago. Take us through that phase and your comeback to the circuit…
I suffered an ankle injury and was out of tennis for nine months. I was not allowed to play tennis all along, and had to make sure that I stayed fit through that phase. When I finally got back to the circuit, I was really excited. I started playing again at the end of December. I won the AITA women's tournament in Secunderabad in January. I won both the singles and the doubles, and then I won the doubles and mixed doubles in the Juhu AITA women's tournament and lost in the finals of the singles. In the mixed doubles, we beat Vishnu Vardhan and Sonia Dayal, and I think it was a good win. The tournament I am playing now is my second ITF since my comeback, and I think it's been going good so far.
You have been playing both singles and doubles, and even occasionally play mixed doubles. You don't intend to focus on just one category?
I am comfortable playing both singles and doubles, so I can't write-off either one.
Karti Chidambaram (the TNTA vice-president) had stated that they were ready to fund your career and take you on board, provided you showed results on the circuit. Does this add to your pressure when you play?
Yes, I was feeling it a bit. There is pressure that I must do well, but I can't keep that in my mind. I'd like to remind myself of it once in a while to stay motivated, but I can't let the pressure affect my game.
How has the transition from being a junior champ to the women's category been?
I moved over to the women's category two years ago, and I started off pretty well. Whichever level you play, may it be the U-16 or U-18, the ultimate goal is to stay on top. Even here, my goal is to stay on top. I have no pressure as such, and I am enjoying every bit of the challenge.