Sheer refusal to lose sets Federer, Nadal apart
4.37K //
18 Mar 2013, 22:06 IST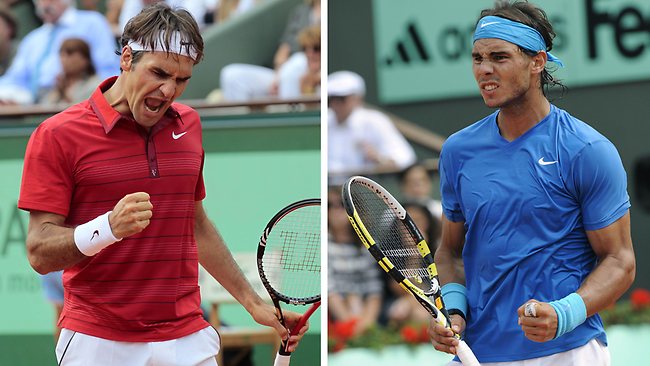 Roger Federer and Rafael Nadal are two of the most gifted tennis players in recent memory, possibly ever. They grace the court with sumptuous shots that at times stun not only their opponents but also everyone watching in the stands. That doesn't mean their games are similar though. Although both are essentially baseline players, Nadal is more of an athlete than Federer, using speed and tenacious court coverage which make him one of the world's best defensive players.
Federer, on the other hand, is probably the most graceful player to have ever walked on a court. The Swiss has a little less speed and power than the younger Nadal, but he more than makes up for that with his accuracy and tennis IQ. Tennis legend and TV analyst John McEnroe described Federer's forehand as "the greatest shot in our sport".
As varied as the two are, there is something I have noticed that truly sets them apart from all other competitors in the modern game. They simply refuse to lose.
Let's face it, nobody ever wants to lose. This is true no matter what sport you are competing in, or at what level you are playing. Unless you are a football star in the Italian League with a truckload of Chinese cash in your back pocket, you do not want to lose any game you play.
That is especially true of tennis stars. Team sportsmen like football and rugby players compete mostly in a league format, where the occasional loss or draw is perfectly acceptable, though never desirable.
Tennis players, however, have a much more intense experience. They spend their entire careers locked in individual, knockout matches. They are destined to either progress or be unceremoniously dumped every single time they walk onto the court. You need a serious competitive fire in the belly to withstand that kind of pressure; you cannot play professional tennis unless you absolutely hate to lose.
For Federer and Nadal, however, it seems to go even further than that. They don't just hate losing, they flat out refuse it. Tennis stars differ in their reactions to bad situations. John McEnroe got angry. Tim Henman got scared. Andy Murray sulks. Nadal and Federer do not have those faults. When they are out on the court, and losing is a significant possibility, they don't ever let themselves sulk or lose their temper. They don't allow the occasion to swallow them, or their nerves to control them. Their response is much more impressive than that.
Most of you would have seen The Matrix. *[SPOILER ALERT FOR ANYONE THAT HASN'T SEEN THE MATRIX]*. At the end of the film, Neo is standing in a corridor, watching, as three 'agents' turn to face him. They pull out their pistols and fire bullet after bullet in his direction. The viewer thinks this might be the end for our poor hero. Neo, however, isn't fazed. He turns to meet their gaze, and says 'no'. Calmly. Firmly. He does not let them kill him. He just says no, and stops the bullets in mid-air. *[SPOILER OVER]*
Nadal and Federer play out that moment on the tennis court. McEnroe might shout and scream, and Murray might look to the sky in disgust, but when defeat stares Federer and Nadal in the face, they stare straight back and say 'no'.
Of course, both players have lost matches. I'm not suggesting that their refusal to lose is some sort of superhero power whereby they are able to 'stop the bullets' (so to speak) and come out with a victory (although most of the time they actually do that!). But their reaction to adversity, and their response in the face of defeat, are outstanding. Neither Federer nor Nadal will ever hand a game to anyone. If a player is going to beat either one of them, he better make damn sure that he brings his 'A' game in the final set, because Federer and Nadal are going to really make you work for it.
Two matches come to mind when I think of this mentality that the Swiss and the Spaniard share.
During the 2012 Wimbledon final, I was convinced that it was the year a Brit was going to win it all. Andy Murray was playing the best tennis I'd ever seen him produce, beating Cilic, Tsonga and Ferrer on his way to the final. He was going to win it for Britain; I knew it.
Federer, however, had other plans.
The start of the match was encouraging for the young Scot. Murray played a number of superb shots early on, notably a couple of massive backhands down the line, and broke serve in the first game. The momentum built for Murray throughout the opening exchanges, and Federer seemed uncomfortable with the pace that the younger player was setting. Murray was rewarded with the opening set, which he took 6-4.
Murray improved in the second set statistically, but failed to take his chances, and Federer managed to pull it to 6-5 in his favor. To my biased, British eye, it was a position Federer had gotten quite lucky to be in.
Then came the 'Neo' moment.
Up 6-5 in the second set, Federer found himself trailing 40-15 in the 12th game. It was at this moment that Federer just decided that he was not going to lose this final. He fought back from 40-15 down to take the game and the second set, leveling the contest with a gorgeous backhand drop shot. Suddenly, I knew there was no way Murray could beat him. Indeed, Federer produced some amazing tennis against a bewildered Murray to claim the next two sets 6-3, 6-4, and lift his record-tying 7th Wimbledon Championships. That kind of performance is what makes a champion.
Nadal did something similar, but not quite so grand, in the final of Indian Wells on Sunday. The Spaniard came from behind against giant-killer Juan Martin Del Potro. Finding himself a set and a break down against the Argentine, Nadal found the strength to fight back and came out on top 4-6, 6-3, 6-4.
The entire month has been somewhat of a 'Neo' moment for Nadal, as the Spaniard has had to endure questions about whether he would be physically able to return to his old self in this well-publicised comeback. He has answered those questions emphatically, winning 3 of the 4 tournaments he has competed in.
For Nadal's greatest 'Neo' moment, however, we must think back to the greatest tennis match ever played; Federer v Nadal, 2008, the final at Wimbledon.
There is a reason why Federer vs Nadal matches are so special. Both of them possess that steely determination required to pull out a win even when all hope seems lost; to say "no" when defeat beckons. The 2008 Wimbledon final was exceptional in that it had not one, but two 'Neo' moments. Both players decided, at different times in the match, that they were not going to lose; that they simply would not allow it. And that made it an instant classic in every tennis lover's eyes.
Nadal started strong, taking the first set 6–4, and the second by the same margin. He looked pretty comfortable at this stage of the match, and Federer looked uncharacteristically laboured.
Then it all changed. The third set ended with a tie-break, and down two sets to love, it was during this tie-break that Federer had his 'Neo' moment. He stopped the rot, played some truly gifted shots and took the tie break 7-5. And the comeback was on.
Federer then fed his momentum and took the fourth set, again on a tie break, this one by 10 points to 8. The match would come down to a final, decisive set. And Federer had all the momentum.
The fifth set hit a rain delay after the fourth game. As the players returned, the score was 2–2 (40–40), and poised for a superb finish. Nadal didn't disappoint. He found his own 'Neo' moment in these final games, battling fatigue and Federer's swelled momentum to eventually prevail, winning the final set 9–7 in thrilling fashion.
The match became a celebration and a symbol of the exceptional abilities of two of the greatest players to ever play the game. And they will considered as such not simply for their deadly backhands or physics-defying returns, but because they have an ability few people can boast of; a mental strength to ignore emotion and momentum, disappointment and fear, and to dispel any doubt from their minds that they will win. That they have to win.
It is that, above all else, which sets these two titans of tennis apart.