The battle of the immortals - The baton changes hands!
724 //
28 Dec 2012, 09:31 IST
Talent is as talent does – couldn't have been truer for Rafael Nadal. Termed as an exciting prospect right from the time he beat Federer in a tour match, much was expected from the brawny left-hander. He has a unique style of play; he relies more on footwork and rallying rather than flamboyance and flair, the platform on which Federer had built his kingdom. However, kingdoms are built to be broken someday and the bitter truth sunk in on Federer in the finals of Wimbledon, 2008.
It is natural for boundaries to be broken, players exerting themselves to the point of losing themselves in the match without bothering about the mundane things that are happening around them. It was a case of paranoia among fans who sat through the epic encounter not daring to take any breaks for the fear of missing the history that was being created on a Sunday evening. It was a marathon match, which lasted for nearly five hours.  Seldom is a match rated as a transfer of baton from one legend to another, and this match is regarded to be the emergence of Rafael Nadal as the successor to the throne, one that was held by Federer for too long. The match was delayed by twenty minutes owing to the rain God's indication of history that was about to be created.
The historic contest began on an equal footing with Federer getting off the mark in his serve. But it was Nadal's show from then on, racing off to 3-1 and 4-2 before bagging the set 6-4. Federer seemed like he was lost for an answer. Nadal, who was historically known for struggling on hard courts, surprised one and all with the kind of stroke play at the green bottom; his agility was up by notches and was right on the money from the first rally.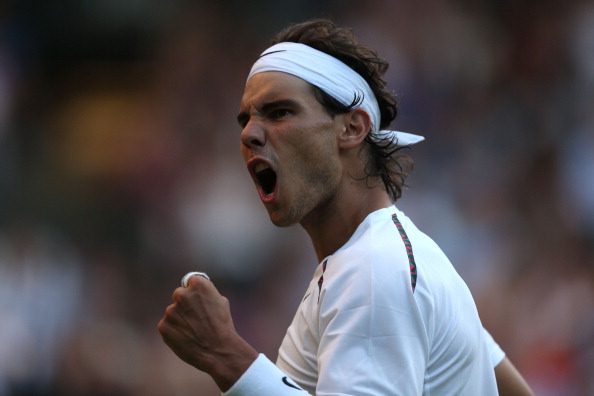 Federer was not ready to give up either. He kept coming at Nadal and took an early lead in the second set, and it seemed like this battle was not going to be pleasant or short. Federer was up 4-1 and the resurgence seemed legitimate until Nadal came back with a bang to pocket the set 6-4 without letting Fedex get his way. Nadal was like a brick wall that stopped the advance from Federer without rendering a headway. His defense was rock-solid and his ground strokes from the baseline were literally unplayable.
It seemed like the two players were playing a game of turn-coats, for it was Federer who took the next two sets, not with ease though. He had to bring in all of his previous experience and expertise to stave off a determined Nadal who was advancing towards him like a rocket on its course. Federer finally managed to win a set, taking it to the tie-breaker. Nadal was never a pro when it comes to tie-breakers; he has always had trouble dealing with it and just missed the set by a whisker (6-7 (5-7))
The fourth set was a repeat to the previous one, and the duo started turning on the heat. The audiences were glued to the seat, and the excitement seemed palpable in the Centre Court, with the match set for a nail-biting finish. Nadal competed hard and strong and it was Federer who had the upper hand this time. The set was tied at 6-6 and was to be decided in a tie-breaker again. Nadal put up a better fight this time, but was not able to stop an oncoming Fedex force taking the match into a fifth set.
The fifth set was a nerve-wracking and heart-stopping affair. Federer, though he lost the first two sets comprehensively, was finally back in contention and one good set could ensure his stay at the top of the ATP rankings. On the other hand, Nadal was in very good form and lost the last two sets only in the tie-breaker. One good set here would mean that he would take over from Federer as the number 1 ranked player and the All England trophy would be the icing on the cake. The sword was hanging on the head of both and it was a crucial set; victory or defeat would mean a change of destiny for both the players.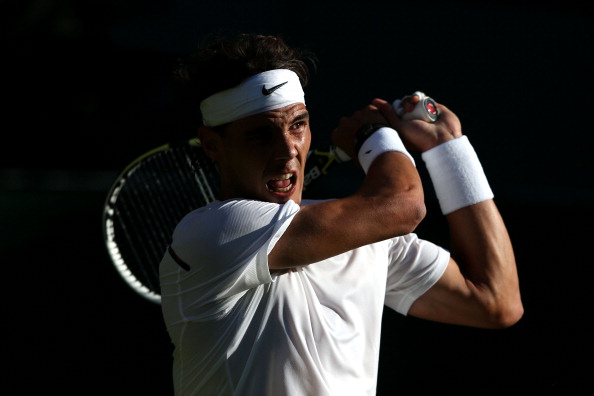 It probably was the most exciting and excruciating set that was played in tennis; I say excruciating because of the time consumed (it is in the list of longest finals ever). Both of them fought tooth and nail to gain dominance and things were hanging in balance at 6-6 at the usual completion of the set. It was even more interesting when the Nadal equalled the set by winning the fourteenth game to tie 7-7. From then on, it was Nadal's turn to rule. He broke Federer's serve to gain the lead and followed it up with some tense moments. Finally, Nadal got past a defiant Federer to be crowned as the Wimbledon champion for 2008.
It was not a one-off victory for Nadal; the trophy silenced most of critics who claimed that Nadal was only a clay-court bully. It signified the beginning of an era where Nadal would go on to conquer the other hard court tournaments to stake a claim for the greatest player to have ever played in his era. Nadal is a person with great humility and down-to-earth attitude that befits his superstar status. He always has kind words for his opponents without any bias. Nadal is a large-hearted hero who would be happy to pat his opponents back and say "well played" even after his defeat. In this era, when people are very competitive and show no mercy, there is this person who came and conquered people's hearts by his child-like nature and warmth.
Nadal is injured now, and it seems like he needs more time to recuperate. But that will not mean that his significance or his place from his fans' heart would vanish. It has only grown stronger through the years and we are waiting for the day when we can finally shout "Vamos Rafa" till our voice fades away!