The comeback man - Rafael Nadal
948 //
19 Mar 2013, 20:09 IST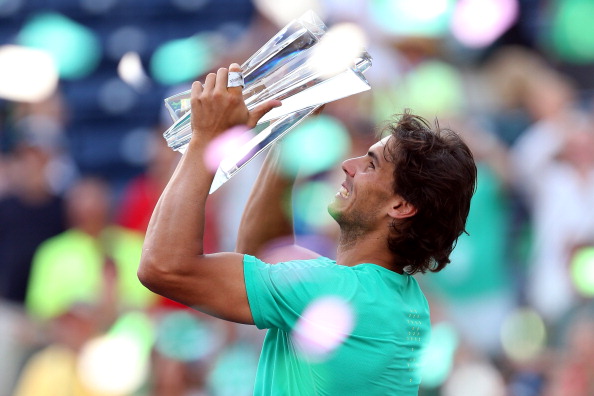 Anybody who knows me, even remotely, follows me on Twitter or reads my articles will know this – I am a FEDERER fangirl. Roger Federer is the ultimate sportsperson for me, to the point of irrational insanity. So, obviously I tend to not like the guys who defeat him often. That is, till this Sunday. Till last week, I could never be accused of being a fan of Rafael Nadal. I'm not even sure if I liked him very much. Respected, yes, but never admired. But Sunday changed that once and for all. After watching him lift the BNP Paribas Open Trophy at Indian Wells, after all that has happened in the last seven months, there is only one thing I can say – You made me a fan, Rafa.
Let's back up a bit and run through what exactly happened to Nadal in the last few months. He won his obligatory French Open title in June and moved on to Wimbledon where in the second round, he was faced with a shock exit after losing to 100th ranked Czech Lukas Rosol in what was probably one of the biggest upset in Grand Slam history. Post that, Nadal promptly withdrew from the London Olympics with a recurring knee injury, a forced hiatus that continued till the end of the year, missing the US Open and the ATP World Tour Finals. His year-end ranking plummeted to No. 4 and talks were rife that Nadal will never be the tennis player that he was. That should have been the beginning of the end and that's what everybody thought, maybe even Uncle Toni, but not Rafa.
2013 came and things just got worse with him pulling out of the Australian Open with a stomach infection and dropping out of the top 4. He finally made his much awaited comeback to tennis in February at the Chile Open on his favoured surface, clay. Unfortunately for him, once again he was stunned, this time by World No. 73, Horacio Zeballos who went on to win the tournament. Undeterred, Nadal continued his South American sojourn, his first since 2005, to claim the clay court titles in Brazil and Mexico. But the real test to reiterate his comeback would be playing on hard courts against top ranked players, a test he passed in flying colours. Back on American hard courts after a year, Nadal started at Indian Wells, seeded at No. 5 and was faced with huge obstacles in the form of Roger Federer (a match I would like to never, ever talk about), Tomas Berdych (who I'm glad was beaten bad) and Juan Martin del Potro (who took care of Djokovic and Murray).
There is only one word I can use to describe Rafael Nadal's campaign at Indian Wells – unbelievable. This man, who is perennially in excruciating pain thanks to a knee defect since childhood, who was out with injury for 7 months, lost major matches to virtually unknown players and has a nemesis in hard court tournaments, defied all the odds, defeated the top players who beat other top players and went on to lift the BNP Paribas Open Trophy, his 600th match win and a record 22nd career ATP Tour Masters 1000 title. As I said, unbelievable!
Now, a lot of tennis analysts and experts believe that the BNP Paribas Open is the fifth Major, after the four Grand Slams. If that is to be believed, then Rafael Nadal might as well have won his 12th Grand Slam title already, on a surface he is least fond of. That in itself is a big feat, for a guy who was supposed to have seen the writing on the wall back in July. Honestly, I am really happy and proud that Rafael Nadal won the Indian Wells title. In sport, superhuman effort, when one is down and out, is what counts and makes a difference! Before his comeback and knee injury, I couldn't be accused of liking him. But after seeing him struggle and bounce back in the last one year, it is safe to say that I have been forced to convert and become a grudging admirer, a fan!
Here are some Nadal quotes which I found reflect the kind of person he really is and endeared him even more to me, thereby converting me –
"Seriously, it's impossible to have better comeback, no?"
"That's makes emotional week for me, very important victory for me, winning against the best players of the world on a surface that is good for them."
"When you have one comeback like I'm having, you remember all the low things, lower moments that you had during this seven months, doubts and all these things. So beating three top 10 players and winning a title like this is just something unbelievable for me. Very, very happy and very emotional."
P.S. – This piece in no way means that my love for Roger Federer has diminished even an iota. He is the greatest player of all times and the sportsperson I love the most, but not at the cost of Nadal.