The Dominance of the Big 4 - A golden era or a dearth of competition?
1.11K //
07 Dec 2012, 19:05 IST
"We are truly in the Golden Age of Tennis!"
"These four have taken tennis by the scruff of the neck and are unwilling to let go."
"Will anybody ever win a Grand Slam except these four?"
You must have heard commentators saying things like the above statements a million times on TV while watching tennis. They are, obviously, referring to the sheer dominance of the Big 4 – Novak Djokovic, Roger Federer, Rafael Nadal and Andy Murray – over the Grand Slams (and to a large extent, the Masters 1000 Tournaments). And they're not wrong. Let us look at the statistics from 2006 onwards, when Roger Federer and Rafael Nadal truly started dominating tennis the world over. Novak Djokovic joined in with his historic 2011 (and 2012) and Murray won his first Grand Slam this year at the US Open, while having won 8 Masters tournaments in the intended time frame.
Over the course of 28 Grand Slam tournaments from 2006 to 2012, only one (Juan Martin Del Potro at the US Open 2009) has been won by anyone outside the Big 4. That is the definition of true dominance – or is it? What is truly mind-boggling is that not only have one of them almost always won the tournament, two of them have been to the semi-finals of each of the past 28 Grand Slam events! Nobody in their path has failed to stop them from even reaching the semi-finals!
The Masters Series winners' list is a little less biased as compared to the Grand Slams. 12 out of the last 63 tournaments have been won by players outside the Big 4 (with Nikolay Davydenko featuring a surprising 3 times). Even that is very poor –80% of the tournaments are won by 4% of the Top 100 players in the world! On an average, only one or two tournaments per year (out of a possible 9) are denied to the Big 4 by all the others!
The dominance of the Big 4 is because all of them are all-round players – they have their strengths, but have no discernible weaknesses. Too many players ranked between 10 and 100 are one-dimensional – one can serve really well, one can return really well, one can play really well at the net – but no one can do all of them at once. And to beat the top players in the world, you need an all-round game. This can show one of two things – either Federer, Nadal, Djokovic and Murray are just too good or the rest of the field plays really poor one-dimensional spark-less tennis.
Personally, I feel that it is the former option that gains precedence in this debate, as anyone who has watched tennis will agree with me when I say that the shot consistency and performances produced by the Big 4 are unmatched – they have the physical, technical and mental strength to produce results week in, week out. They have honed their skills to such a level that when other players beat one of them, it is intuitively termed an 'upset'. A very simple example comes to mind – how many of us have heard the commentator say "He'll have to play out of his skin today and hope that Federer has a bad day"? It is precisely this argument – one of the Big 4 needs to have a bad day, and the other player has to play to the absolute best of his abilities to have any hope of beating him. Further, all of the legends of tennis – be it the Connors or the McEnroes or the Lavers – agree that this is truly the Golden Age of tennis. Your opinion and mine may be those of common onlookers, but when people who have played the game at the highest level – and won – say that these 4 are truly something special, you tend to agree with them.
Hence, it is unfair to the rest of the field to say that there is a dearth of competition among the lower-ranked players – they are just facing four players who are both technically more gifted and willing to work hard and practice to raise their games to a fantastic level. This is truly a Golden Age for tennis.
The word picture I have just painted seems pretty grim on the outside, but there is definitely light at the end of the tunnel. Being a Federer fan, I really don't feel that this dominance should end – I'd want Federer to win everything every year. However, from the point of view of the chasing pack, they should always consider themselves as quality players – they are capable of beating one of the Top 4 on their day, and that is a testament to their skill.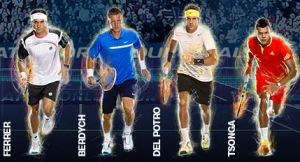 Here's a look at what their strengths are and what their weaknesses are –
David Ferrer – The little Spaniard has risen to Number 4 in the rankings this year due to the large absence period of Rafael Nadal. His industry is unquestionable – arguably the fittest man on tour, he can chase anything and everything and is technically quite sound. However, he is taken apart each time due to his average serve (being a short man) and never seems to want to come to the net.
Tomas Berdych – Berdych is a very good tennis player – he can play every shot in the book, he can come to the net, he can hit crisp groundstrokes – but his major weaknesses include a slack attitude and inconsistency – he can produce a brilliant result one day, then play shambolic tennis the next.
Juan Martin Del Potro – Del Potro crushes the ball with each groundstroke, and when his groundstrokes are combined with his thunderous serve, they make a deadly combination. Federer believed that Del Potro had what it took to be World No. 1 in 2009 and if it had not been for injury, there was no telling where he could have gone. He still looks the best in the chasing pack (to me, at least) and with wins over Federer and Nadal this year, he could be on the right track for next year.
Jo-Wilfried Tsonga – Tsonga's net play is a joy to watch – I watch each one of his Wimbledon matches just because of his gymnastics at the net. He has a good serve and good groundstrokes, but nothing stands out – there isn't one technical or physical area in which he outscores the Big 4 – and this, I think, will hamper him from ever going into the Top 4.