The end is far for Roger Federer
1.10K //
01 Jul 2013, 10:53 IST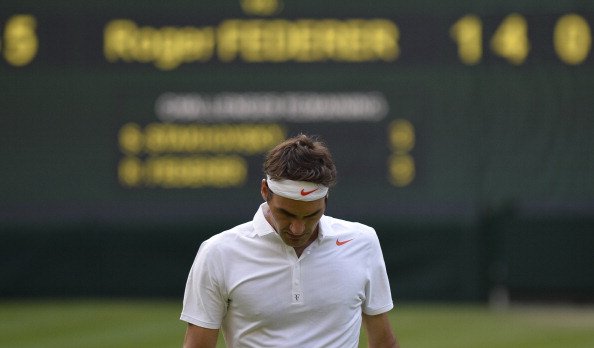 Like every other sport, tennis is a game of victories and defeats, of adulations and brickbats. Stringent comments and media scrutiny of the game are also a part of the professional career of a tennis player. Even the greats are not an exception of that rule, including the great Roger Federer.
Roger Federer's Grand Slam record in 2013 reads like this – Australian Open semi-final – lost to Andy Murray, French Open quarter-final – lost to Joe Wilfred Tsonga, and Wimbledon second round – lost to Sergiy Stakhovsky. The second round exit from Wimbledon, uncharacteristic of Federer and his worst in the decade, has propelled the critics and media to write obituaries for the Federer-dominated era in tennis. But is it really signals the end of an era in tennis?
In common tennis norms, Federer is in the twilight of his playing career. He is 31 and not playing his best tennis at the moment. He hasn't won a single Grand Slam in this year and, for the first time in so many years, he will be out of ATP top four. Even when his movements were hampered by the mononucleosis bout, he was able to win multiple Grand Slams and Masters tournaments on the tour.
For a long time, only one opponent was able to match the aura of Federer – the King of Clay, Rafael Nadal. His struggle against Rafael Nadal on clay was another talking point for tennis pundits and fans. When the rivalry translated to other surfaces, Federer sometimes matched up with the ferocious forehands of Nadal, but often wilted under the pressure exerted by the Spaniard. The  Federer-Nadal rivalry has given us numerous classic and epic matches that will be in the tennis folklore for a very long time.
Fans were resigned to the slump against Nadal; but in the last few years, many others have found a chink in the armour of Federer. Or we should say the armour has become rusty enough to allow the like of Djokovic, Murray and even lesser-known players to invade and conquer. The frequency and magnitude of the losses is what prompted the critics to write off the dominance of Federer in the coming years.
One may wonder if it is really easy to predict the future of tennis, whether a person will dominate the tour or not. There are so many instances where Federer himself has proven the critics wrong. After the thrashing from Nadal at French Open 2008 and the greatest Wimbledon final ever, they wrote him off mercilessly. Federer replied to this by capturing the only missing Grand Slam title from his show piece – the 
French Open
 in 2009 - and went on to win Wimbledon, thereby completing the Euro Slam. He also recaptured the number one ranking and created history with 17 Grand Slam titles.