The GOAT in women's Tennis
1.87K //
01 Mar 2013, 23:15 IST
Dominance over the players of past, present and future are essential for someone to be named as the greatest of all times – whatever the sport is. The player of the past is one who is nearing the fag end of his/her career but still is competitive enough to stand toe to toe with the younger brigade. Though the players that fall into this category are not exactly the toughest to beat – for a youngster – prevailing over an experienced veteran normally kick starts his/her career.
The next focus for him/her should be about staying in competition with the current bunch of players who are equally energetic and talented in addition to sharing almost the same age as him/her. Having an upper hand consistently all the time against your peers can never be easy. It requires a lot of dedication and killer instinct. And finally to be regarded undisputedly as the greatest ever, one should be able to beat the future generation of players. The hardest thing to do in any sport for an experienced campaigner is to vanquish the fresher legs. When one is able to pass all the three tests, then he/she can be proclaimed as the greatest of all times.
Fourteen years ago in 1999, when Steffi Graf retired from tennis, she was widely recognized as the greatest ever. Supported by unparalleled records, in addition to her impeccable acumen, no one doubted the claim. An unprecedented Golden grand slam in 1988 has never been emulated or bettered by anybody yet. All in all she ruled the world of tennis for the better part of her career which spanned for more than 15-years since she turned a pro. Even former female greats like Martina Navratilova and Chris Evert have acclaimed Steffi Graf as the greatest tennis player in women's circuit.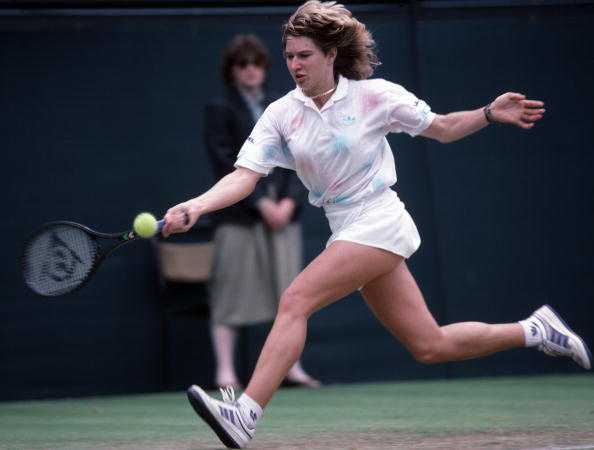 She fulfills most of the criteria for someone to be the greatest of all times. When Steffi began her professional career, two of the greatest tennis stars of 70s and 80s, Navratilova and Evert, were at their prime. Their rivalry attracted significant coverage as compared to anyone else's achievements during those days. It was left to the German teenager to usurp their stardom and establish her own. And she did exactly that. In the beginning, she had to face a few defeats at the hands of both of them as a new comer, but soon she improved. The year 1988 was indeed her breakthrough year where she won all the Grand Slams plus the Olympic gold medal in singles competition. She even went on to win the Australian Open the next year. Once she carved a niche for herself in the world of tennis, she prevailed over both Navratilova and Evert many times. The veterans did not fade away, but Steffi kept on beating them consistently during the last few years of their career.
Then the girl from the then Federal Republic of Germany had to contend with her compatriots who were of the same age group as her e.g Arantxa Sanchez Vicario, Gabriela Sabatini and above all, Monica Seles. The battle which she had with the first two yielded mixed results for her whereas Monica was actually dominating her on all surfaces other than grass, till her horrific ordeal with the fan in 1993. So much so, at one point of time she had a losing streak of five games to the Argentine Sabatini. However, she recovered in the process and stayed unbeaten during the tail end of her career against her peers. Finally, her time came to compete against fresh legs like Lindsay Davenport, Martina Hingis and Venus Williams. Davenport and Venus were the pioneers of the power game in women's tennis. The German lady had to indulge in fist fights with them, curbing her artistic grandeur. Matching them shot for shot, she was able to win many and lose a few at the early going. As far as her rivalry with the Swiss Miss was concerned, it was something which purists would approve. Graf's final Grand Slam came on the clay courts of the French open where she sneaked through a tightly fought three sets encounter against Hingis.
With 22 Grand Slam titles in the open era, she was no doubt being referred to as the greatest ever. That count will probably never be achieved by anyone in the immediate future. But if anyone can be compared with her, then it has to be the younger of the American sisters, Serena Williams.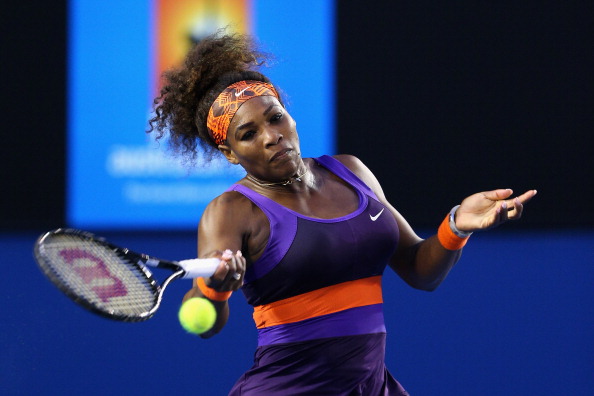 Inspite of injuries and losing dear ones, she never stayed away from tennis for long. Even if she had to, she delivered the goods very soon. She is not only powerful but also equally resilient. She conquered the past professionals and holds an upper hand over her peers and the budding youngsters. When she turned a pro, players like Monica Seles, Mary Pierce and Arantxa Sanchez Vicario were at the fag end of their careers. Like Steffi, she had a battle on the cards to thrive over the past greats and yet she lifted her spirits after a few defeats. Monica Seles, who was once a nemesis for Graf, was ripped apart on more than couple of occasions by the powerful American. Of course, the quality of veterans she had to face was not the same as what Graf had to face during her playing days but still the battle needed to be won and she did precisely that. So much so, she had underlined a victory over Graf too as a teenager.
However, her contemporaries have been stronger than those of the great German. Even from her own family, she had her elder sister, Venus, to contend with. Plus, she was pitted against the Swiss supremo, Martina Hingis, Lindsay Davenport, Justin Henin Hardeine, Kim Clijsters and Maria Sharapova, who came out of nowhere to win her first Wimbledon title in 2004. None of them was a pushover to be precise. It was her elder sister, Venus, who started dominating the world of tennis. However, today it is Serena who has double the number of Grand Slam titles her sister has. Her rivalry with Hingis and Davenport had spun some spell bounding and mouth watering contests. She stood marginally better in terms of head to head against both of them, though.
When they left the scene, two Belgian girls came to the fore. They were Kim Clijsters and Justin Henin. The former was extremely quick on her toes, aided by some breath taking ground strokes from the baseline. The latter was arguably one of the best backhanders the world had ever seen, in addition to possessing an all court game. In fact, Henin had been the best rival of the American though she held a losing head to head record of 6-8 against her. However, everyone who came in her way was overpowered mercilessly and the two Belgians were no different. They fled the scene, retiring from the game. The last of her contemporaries has been the Russian Maria Sharapova who is still very much an active player. But even her record against Serena has not been exemplary till date. But then she can point to the fact that she did beat her as the two times defending champion at the age of 17 at Wimbledon, winning her first ever major.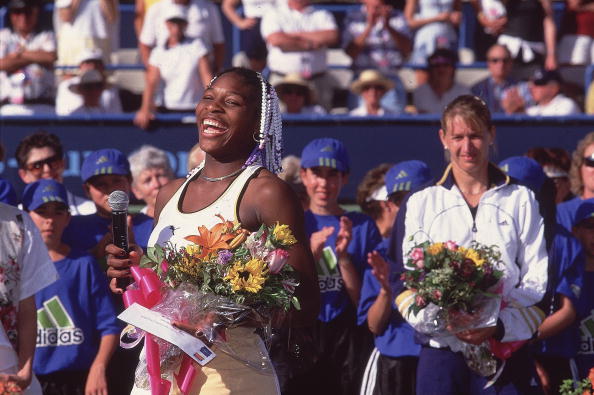 Serena outclassed every one of her peers and now she is giving a good deal of pounding to the new players since the last few years. Sharapova and Azarenka have been swapping the first two positions in WTA rankings last year and yet they could not find a way to beat Serena who, for some reason, found herself at the bottom. Serena regained her No.1 ranking couple of weeks back with a slender lead. Even at the age of 31, she is demolishing her opponents the same way she used to at her peak during 2002-2003.
If we are to pick one of them as the greatest of all times, seeing their exploits, it has to be stated, we are in no man's land. Statistically speaking, Stephanie Graf is head and shoulders above all the women players, leave alone Serena Williams. But like I said at the beginning of the article – beating your predecessors should be considered much easier than beating your peers and successors – if we have to assess these two greats, then we have to go with Serena Williams. Her competitors have been much tougher than those of Steffi Graf, considering the era of power play in which she has been in. Probably, that was one of the reasons why her Grand Slam title count is less compared to that of Steffi, yet. Again it is just an assumption. When you talk of Graf, whose prime shot had been her forehand, Serena has been good at everything. She has both power and agility in her repertoire. Not one single shot can be singled out as her best because she is the best in everything. And that serve of hers is the best in the business, right now. Practically speaking, if both Serena and Graf were to compete against each other for ten matches at a stretch during their hey days, the American would be winning the contest 7-3.The American is not finished yet and the way she is going now, she looks good enough to add a few more to that tally too.