Tomas Berdych: Federer's new "nemesis"
1.26K //
03 Mar 2013, 16:40 IST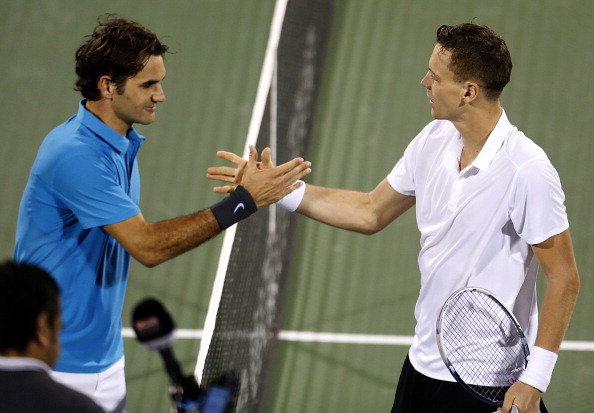 For a tennis player, breaking his opponent's service is important, but once it is done, it is doubly important that he holds on to his remaining service games. That is how the results of the matches are determined unless and until the set moves to a tie breaker. However, breaking of serves is all the more pivotal in the first three Grand Slams of the year wherein Van Alen's contribution to the game is not workable in the decider.
When Tomas Berdych broke Federer's serve in the fifth game of the final set in the second semifinal of Dubai Duty Free tournament two days back, all eyes fell on the Czech to see how he was going to handle his own service game. The third seed responded quite magnificently by unleashing four booming serves, winning the game in the most comfortable manner possible. Though Roger managed to hang on to his serve in the next game in a workmanlike fashion, it was pretty evident he had his back against the wall. The ensuing game saw the Swiss attacking Berdych's serve ferociously, racing to a 0-30 lead after a successful foray to the net to seal the point, thanks to a backhand volley winner.
The Czech, however, soon rose to the occasion by squaring things up – firing two big serves right down the middle – leaving no chance for the World No.2 Swiss to break back. Then it was all about Berdych. He had to hold on to his serve and he did just that. It was all over in the tenth game of the final set where the Czech lived up to his reputation of churning out big serves at will, powering his way into the final, where he was unfortunately defeated by Novak Djokovic in straight sets.
Earlier, during the second set tie breaker, Federer was just a point away from beating the Czech on three occasions but some loose shots from his racquet gave the advantage back to his opponent, who went on to level the match at one set apiece. Just a day before his semifinal, the Swiss master was at his imperious best against Nikolay Daveydenko, having full control of all his trademark shots, raising very little doubts in anyone's mind about the probability of him reaching the final. But what we saw in the semifinal was the exact opposite. Coming from a set down, Berdych outclassed Fed, matching him shot for shot and taking the match 3-6 7-6 6-4.
Roger is not only a five times Dubai open champion but is also a record holder of 17 Grand Slam titles. Now that brings us to the next question – How many such records does Berdych have? Till date, the Czech has only nine singles titles to his credit – of which none is a Grand Slam. Infact, he won his lone Masters title nine years ago in Paris. No record on paper would provide adequate support for anyone to rank him alongside the likes of Roger Federer, who has so far amassed 76 ATP titles, one lesser than John McEnroe, in his professional career. Interestingly, Berdych has won five of the last eight matches played between the two, having entered the court as an underdog in each one of them.
The 2010 Wimbledon runner-up is by no means an ordinary player. Even Andre Agassi had written in his autobiography that Berdych would be one of the brightest prospects for the future. But he was one of those guys who has clearly underperformed at the end of the day, may be due to lack of attitude or for some other unknown reasons. You cannot be an ordinary player and yet dominate Roger Federer the way he has been doing for the last couple of years.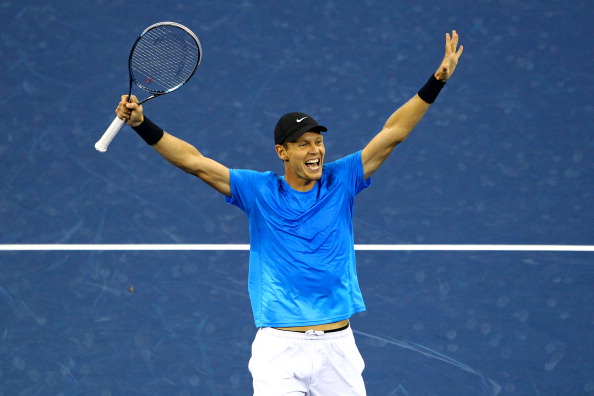 Even during his Dubai semifinal match against Federer, the commentators mentioned it on more than one occasion that he has been unable to hold on to his advantage during most of his matches, losing out on vital points. That is what his point of concern has been all throughout his career, but certainly it was not so against Federer the other day. Probably the World No.2 Swiss has found a new nemesis altogether. He seems to be struggling against Berdych for quite some time now, like he used to struggle against Nadal.
The Czech's supremacy over the 17-times Grand Slam champion did not start overnight. The seeds of botheration for the Swiss were first sown during the Australian Open 2009 when he met the Czech in the fourth round at the end of first week. Tomas had an awful head to head record against the Swiss genius prior to that match, having won only once out of their nine previous meetings. But the contest which was supposed to be one-sided, painted a different picture altogether. The Czech muscled his way to winning the first two sets, totally bemusing one of the all time greats. That said – as it had been before – he failed to land that final blow which would have otherwise caused one of the biggest upsets ever in a Grand Slam. But, sadly for him, it was not to be. As expected, Federer pushed himself back into the match and won the next three sets to make his way to the quarterfinal.
Berdych might have lost that match but it was enough for him to gain some sort of confidence to build on the momentum. In Wimbledon, which is considered to be Federer's second home even now, he shocked the entire world by ousting the then six times Champion in the quarter finals, winning the contest in four sets. That happened during 2010 when he ended up as a runner up for the first time in any Grand Slam event.
Ever since that defeat, the Swiss master has always found it hard to dismiss the big Czech. Like I said, the big Czech has emerged victorious five times out of their last eight meetings. This speaks volumes of how much Berdych has got into the minds of Federer. It looks as though his confidence level grows manifold whenever he sees the Swiss on the other side of the net. The latter's victories over the Czech in the recent past have never been convincing either. Somehow, things start to happen for him whenever he is facing the Swiss. He has come up with big serves and pulverizing ground strokes whenever he has Federer as his opponent. Last year at the Flushing Meadows, the Swiss star was looking as though he was in a rush to win the US championship for the sixth time in his career but his aspirations were cut short by the big Czech when he confronted him in the quarterfinals. Berdych once again reigned supreme over the great master.
From Federer's perspective, it is really a sad thing that he has found his new nemesis at this stage of his career where every victory should be gold dust for him. He will be turning 32 come August and therefore he simply cannot afford to lose regularly against a particular player, especially because he has already made it clear that he would be playing only limited tournaments from here on. At this age, all you can try to do is to manage with the existing rivals so that you have no new things to worry. But it is not so in the case of Federer, who has Tomas to contend with in addition to Rafael Nadal. It would be interesting to see what difference the former world No.1 tries bringing into his game so that he can work on dealing with his new nemesis. If he ignores it now, then Slam No.18 will remain a distant dream for him.