"I'm a winner at heart and I want to (be) the best," – Victoria Azarenka.
It is this sheer self-belief and staunch determination that made Victoria Azarenka who she is today. And it is because of this amazing grit and confidence, we observed the Belarusian's wondrous journey to the top of the world from the forgettable days when she was a tempestuous teenager fighting her own demons.
Indomitable spirit, never-say-die attitude and a winner at heart have always been the standout qualities of Victoria Azarenka, who had a dazzling career as a junior and was much-talked about right from her teenage days on the circuit.
She left her native Minsk at the tender age of 16 to make Arizona her training base. She was the most prolific junior in the world in 2005 attaining the World No. 1 ranking and also capturing the Australian Open and the US Open.
Despite her blossoming singles career, Azarenka's success came earlier in doubles. In 2007, at Flushing Meadows, she partnered her renowned countryman Max Mirnyi to Grand Slam glory. She followed it up with the mixed doubles trophy at Roland Garros the next year alongside Bob Bryan. 2008 was also the year which saw her going up as far as World No. 7 in doubles ranking. The Belarussian would go on to reach three more Grand Slam doubles finals and one more mixed doubles final only to fall at the last hurdles.
In spite of the early promise, the dimple-cheeked , exuberant girl faced some initial struggles to live up to her reputation in singles. Sometimes, it was a stressful fight with her own self to find out the answers to numerous questions swirling in her head.
Battling her inner demons, Victoria adorably called Vika, had failed to maintain the equilibrium and her tempers flared leaving her fans absolutely stunned and stupefied. Her seething rage had been branded abhorrent and needless to say, Vika's popularity suffered.
Even her shrill grunts contributed to the disparaging remarks against her.
Fitness was also another demon that needed to be slain. One of the most remarkable such matches was when a tearful Azarenka had to retire following dizziness after leading Serena Williams in their fourth round encounter at the 2009 Australian Open.
Despite the dismay, she managed to clinch her most prestigious title till then at Miami, beating Serena Williams and becoming the sixth teenager in history to win the tournament.
2010 would prove to be the year that would pave the way for her stellar tennis career. Quite a torturous year it proved for the fledgling talent as it was marred with countless retirements and shocking losses. She could notch only seven Grand Slam wins the entire year.
When she briefly considered taking a break from the tormenting year to concentrate on her education, it was an inspiring talk with her grandmother which motivated Vika to continue playing.
It was a conversation that emboldened Vika, strengthened her and made her take the positives out of those failures in her journey forward.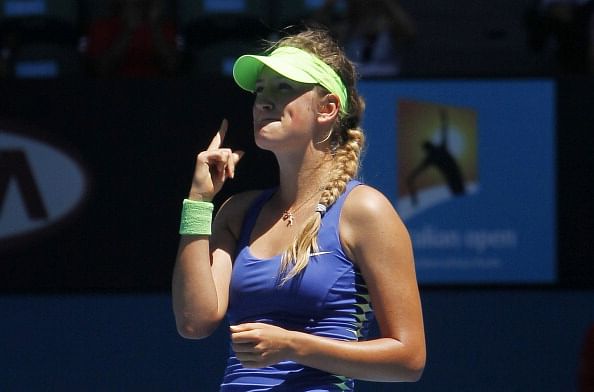 Looking back at the pressure she had during those days after emerging from her swashbuckling junior days, she has said that it made her stronger: "In the early stages of your career that's what you call pressure, when the bar is high and you are trying to grab it, but sometimes you can't and you need to build the stairs to be able to grab it. I think it makes you stronger, it keeps you on your toes because if it's easy, it's not fun," she said.
If for all these years, she had been fighting to find the right stairs which would lead her to the fame and fortune she was destined for, then she was finally there.
Emerging victorious at Miami once again, she reached her first major semi-final at Wimbledon in 2011. She was beginning to find clarity in her thoughts for the first time.
If 2011 had been the building block for the stumbling Belarusian, then 2012 was the sparkling edifice. It was the year when everything came together, fruition was finally achieved.
She began 2012 in a thunderous way, scathing through the draw at Sydney. At the Australian Open, her equanimity and poise were noted by everyone.
Her magnificent transformation reaped her huge rewards. A sparkling Aussie campaign ended with her winning her first Grand Slam title and becoming the World No. 1 for the first time. And then she looked impervious, unstoppable just like a No. 1. She pierced through every opponent at Doha and Indian Wells and went 26-0 before being stopped by Marion Bartoli at Miami.
It was the Azarenka we wanted to see – the remarkable poise in her strut and the ferocity shining in her eyes. If her tennis graph had waned a bit entering the clay stretch which is her worst surface, then the spirit of the Olympics was what brought it back. A prized bronze medal in singles and a shimmering gold medal in the mixed doubles category were what Azarenka would treasure forever from the London Olympics.
She was about to complete a dreamy summer in the USA when she served for her first US Open against the imperious Serena Willims but eventually proved unsuccessful in her attempt.
But that battle proved Azarenka was not just a one-Slam wonder. That she gave it all was what pacified her and she vowed to learn from her mistakes. She then said: "I think that particular loss made me stronger and I learned a lot. It showed me where I needed to get better. I wasn't 100 percent satisfied with that outcome, but the outcome wasn't that important because I knew I gave my best."
She translated that confidence into her second Australian Open in 2013 and a stunning win over Serena in the final of Doha.
Azarenka's improvement is now a constant work in progress. Gone are the days when she would mimic her own movements and invite her own downfall. Her first final at Rome and a semi-final appearance on the merciless clay at the French Open showed how far Azarenka had come.
In spite of this, she had always been controversy's favourite child. Her numerous retirements and withdrawals throughout her career had been questioned upon and doubted.
At the Australian Open semi-final, she received a lot of backlash and her sportsmanship was left with a scar after she took a controversial 10-minute timeout for breathing difficulties.
Controversy might be her second name but there's no denying the intensity that she brings on to the court. It is a lesson for many to see how she left her distraught avatar back and produced a fully-focused and determined competitor on the court with her eyes set upon the prize.
Aided by coach Sam Sumyk, how she turned herself around is reminiscent of the ATP World No. 1 Novak Djokovic's journey to the top.
"My goal is to win the U.S. Open and that will make me happy. Until I reach that – my eyes are only on that goal," she said in her recent interview.
As the bubbly girl returns to the court after a devastating fall at Wimbledon, here's wishing her a very happy birthday and loads of luck for the summer hardcourt campaign.