Will Sharapova be fourth time lucky in Miami?
726 //
31 Mar 2012, 11:14 IST
What's similar between the two Miami finalists this year – Maria Sharapova and Agnieszka Radwanska? Both these ladies saw some of their biggest chances this season being curbed by the juggernaut called Victoria Azarenka. While Radwanska suffered the most with all of her four losses coming at the hands of the World No. 1, Maria Sharapova had to submit herself to Azarenka at two of tennis's biggest stages – the finals of the Australian Open and Indian Wells.
Azarenka seemed insuperable until Marion Bartoli decided to expose her weaknesses in the Miami quarterfinals. With the top-ranked player finally stumbling out of the tournament, each of the finalists now has a better chance to capture her first title here. It couldn't be a more fitting finale as two contrasting styles clash against each other – power vs versatility.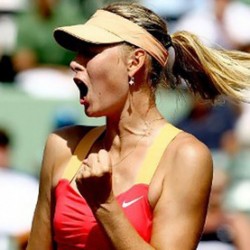 Maria Sharapova – Tennis's uber glam girl is known to be one of the hardest hitters of the ball. Her attacking game is what brought her three of tennis's biggest crowns. However, her brutal power game became repressed following her shoulder surgery in 2008 which saw her ranking plummet to 126.
On her return her serve, once a force, had to be altered and re-altered and consequently was enfeebled, leading her to regularly commit an increasing number of double faults. However, since Cincinnati 2010, the former World No.1 has slowly shrugged off the tentativeness and has been able to have a more firm approach. With a new coach Thomas Hogstedt, Maria retraced her steps back to the Top 5 in 2011 and is now currently placed at No. 2.

The Positives
True to her ranking, Sharapova is now reaching finals more frequently which shows the confidence that has come back into her game. Riding on the back of 18 wins this season, this is her third final this year and the fourth Miami final overall. Being a protégé of the Nick Bollettieri Tennis Academy, she is well-acquainted with the humid conditions of Miami which is another reason of her continued success here. However, she is yet to break the final barrier, having lost on all three previous occasions.
Sharapova is hungry for her first title at Crandon Park and her all-out approach shows she is in the best frame of mind regarding her game. Her crosscourt backhands have been blazing, her serve has held up better throughout the tournament (averaging at 70%) and she has been earning five service breaks per match on an average – an ominous stat for any of her opponent.
The Negatives
However, Sharapova's serve remains a major concern in any match. The Russian still struggles with her rhythm and her double faults tend to give an unfair advantage to her opponents. Her uncontrolled aggression off both wings is susceptible to lapses if she starts missing, thus piling up the error count which was visible in her semifinal match against Caroline Wozniacki. From 4-1 up in the first set, Maria lost the next five games and the set against the former World No.1 before eventually beating her. Also, her movement and returns have to be razor-sharp against a wily player like Radwanska.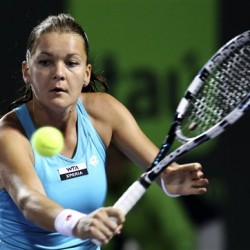 Agnieszka Radwanska – Described by Victoria Azarenka as a 'little magician', the Polish No. 1 player is a treat to watch whenever she steps on to the court. With a prolific junior career that included two Grand Slam titles, Radwanska made heads turn with her ability to out-think opponents from the moment she turned professional in 2005.
However, her inability to string together big wins on a consistent basis saw her hover around the No. 10 ranking for a few years. All that changed in 2011 as the Pole started making steady progress after parting with her dad and teaming up with Fed Cup coach Tomasz Wiktorowski. It reaped huge benefits as Radwanska clinched three titles and continued the momentum into 2012. With 25 wins this season which includes the title at Dubai, she is sitting prettily at her best ever ranking of No. 4.
The Positives
Likened with Martina Hingis, the Pole's playing style depends on perfect placement and precise positioning on the court. She is said to be one of the few players with a perfect sense of geometry of the court. She makes up for her lack of power with an array of lobs, slices, cleverly disguised drop-shots and vicious angles. Also, being able to mix defense with controlled aggression makes her stand out.
Radwanska's serve has improved fairly and now does become her saviour at crunch moments as was evident in the way she served out the first set against Venus Williams in her quarterfinal match. Always known for her superb returns and athleticism, she broke the powerful Marion Bartoli nine times in her semifinal match and is yet to drop a set in this tournament which underlines her confidence. She also manages to make her opponents fumble by varying the pace of her shots.
The Negatives
Radwanska's serve, especially the second serve, will be under huge pressure against Sharapova who has been returning crisply at this tournament. Also, the dearth of ruthless power in her game is usually laid bare by two of the game's hardest hitters – Victoria Azarenka and Maria Sharapova, both of whom hit the ball very deep. She has lost to the Belarusian four times this year with her last match being a whitewash. Against Sharapova she needs to be far more offensive and keep the points short.
Match-up and Prediction – Sharapova leads the head-to-head at 7-1. However, their last match at the French Open 2011 was a close two-setter. Radwanska has matured since then and is sure to make the 6'2'' Sharapova run after the ball with her low shots and clever positioning. Sharapova too is prone to making errors, especially on her serve.
But Sharapova, having reached the final here thrice before, has the experience and is expected to lift her game ultimately as she did against Wozniacki. Also, she has an impressive 17-1 record in three-setters in the past one year.
For these reasons, I will go with Sharapova in three sets.