With Wimbledon win, Marion Bartoli registers a victory for free spirits everywhere
1.61K //
06 Jul 2013, 22:49 IST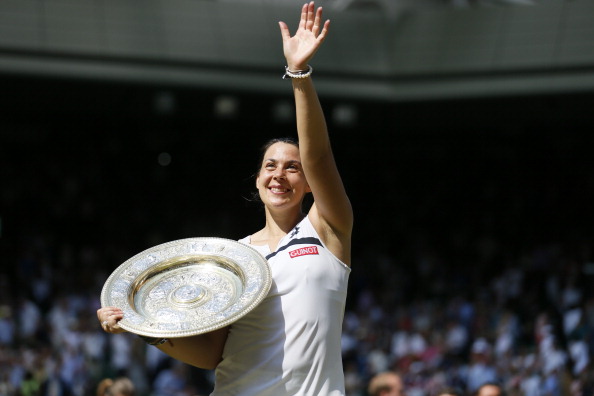 I've said this before, and I'll say it again: there's nothing like a Grand Slam final to validate every seemingly rubbish quality that a player possesses. Marion Bartoli has endured a healthy dose of snide comments over the years, about not just her game, but also her personality. We have cringed at her quirky, start-stop service motion; we have laughed at her incessant up-and-down jumping between points; we have sneered at her self-proclaimed IQ of 175 (which, if true, would place her higher than Albert Einstein in the hierarchy of intelligent people through the history of mankind); and we have pitied her for being saddled with a seemingly obsessive-compulsive, mad scientist father.
Does any of that matter now? With her 6-1, 6-4 victory over Sabine Lisicki, Bartoli has inscribed her name in the record books for eternity. She is a Grand Slam champion now – a Wimbledon champion – and suddenly, all of those previously distasteful quirks and oddities have started looking positively endearing.
To say that this was an unexpected result would probably be the understatement of the year. Even after Maria Sharapova and Victoria Azarenka hurtled out of the tournament on Black Wednesday, Bartoli would have been the last person on anyone's mind – or at least the last person out of the top 15 – who could have been expected to triumph on the second Saturday. There was last year's champion Serena Williams, and when she left, there was last year's runner-up Agnieszka Radwanska; there was former champion Petra Kvitova, and former French Open champion Li Na; then there was, of course, Serena's conqueror, Lisicki herself.
Bartoli was the heavy underdog coming into today's final, even if the rankings may not say so. She hadn't faced a top 10 player on her way to the summit clash, and was facing the prospect of playing against the woman who had not just ended Williams's 34-match winning streak, but also curbed her infamous inconsistencies long enough to outlast that master tactician Radwanska in a high-quality semifinal, perhaps the best women's match of the year so far. How do you prepare yourself to play someone on a hot run like that?
Well, it seems Bartoli's plan was to completely ignore the opponent and the occasion. She was playing on the biggest stage in tennis, with a million eyes fixated on every move she made, but she went about hammering her two-fisted groundstrokes like she was playing in her backyard. Bartoli did a fantastic job of blocking out all the distractions and focusing on her game; such a fantastic job, in fact, that even when Lisicki made a rousing late charge, saving two match points at 1-5 in the second set before winning three consecutive games to bring the score to 4-5, you never really felt that Bartoli would succumb to the pressure.
The Frenchwoman wasn't quite 'in the zone' – that mythical phase that tennis players get into every once in a while, when everything they touch turns to gold – but she was in her own zone all through the match. Right from the start – with the exception of that first game where she double faulted twice to get broken – Bartoli did everything that she does best and played to her strengths.
She stood close to the baseline and took the ball on the rise – even Lisicki's 115mph serves – and made the slower German move to uncomfortable areas of the court by constantly redirecting the ball. She kept going after her flat second serve despite making as many as six double faults, thus never allowing Lisicki to tee off on the return. She moved better than I've ever seen her move (or maybe I just got that feeling because I never really watched any of her previous matches carefully enough), and made Lisicki pay dearly for going to the drop shot well once too often. Bartoli was determined to make sure that she left no stone unturned in her bid to taste eternal glory, and no one can begrudge her the place in history that she's now carved for herself.