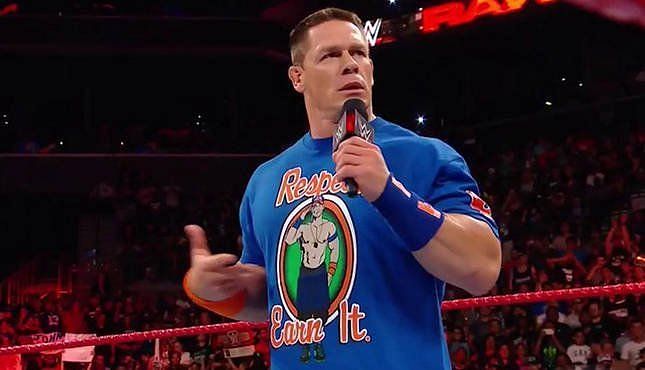 John Felix Anthony Cena (born April 23, 1977) is an American professional wrestler, bodybuilder, rapper, and actor. He is currently signed to WWE. This is what the Wikipedia page of John Cena lets you know about the man himself. But here are 10 things that Wiki doesn't really tell you about the WWE Superstar, which you should know as a fan.
---
#10 Cena is scared of Spiders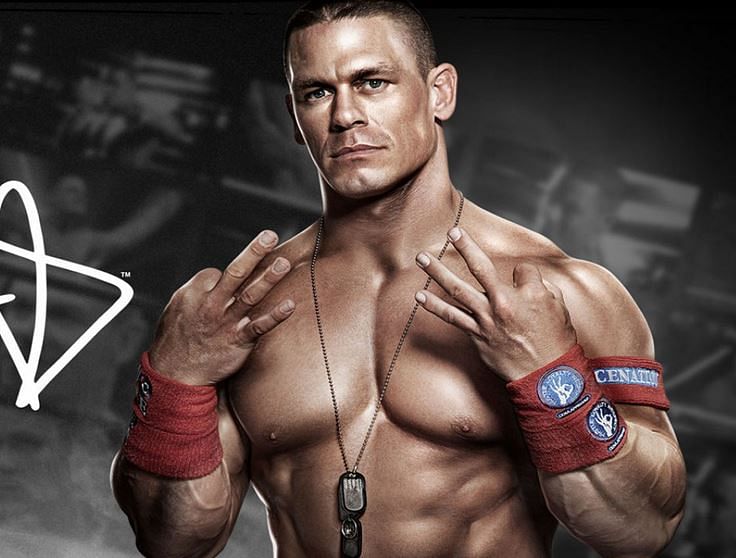 Yep, you read that right. Even a man such as Cena is scared of something. Even if that something is as small as a spider.
Here are some fun facts about John Cena before we get into the details!
He loves to collect muscle cars, and has over 20 of them, some of which are one of a kind. He also has a thing for jersey's and has over 500 of them.
He used to train to be a Bodybuilder and almost pursued a career in it before choosing to enter the world of pro-wrestling.
As a child, he wanted to be a rockstar.
Off-screen he is best friends with Randy Orton and John Hennigan (Johnny Nitro).
His favorite wrestlers are Hulk Hogan, The Iron Sheik and Roddy Piper.
His favorite wrestling moment is when Hulk Hogan won the title for the first time in 1984.
He has a degree in Exercise Physiology.
He kisses his dog tags before every match in memory of the troops and his grandpa.
#9 He started lifting weights to protect himself from being bullied at school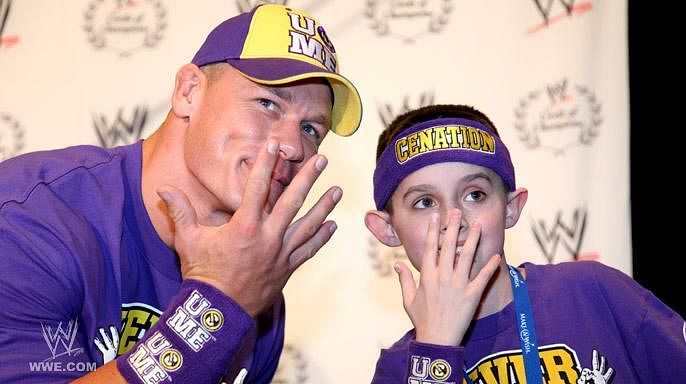 Cena started lifting weights as he was bullied in the school and he wanted to protect himself.
He used his experience and campaigned in the WWE's Be-A-Star Foundation against bullying.
He got his first weight sets when he was just 12 years old.
#8 He gave away his Slammy Award for Superstar of the Year to Ric Flair in 2012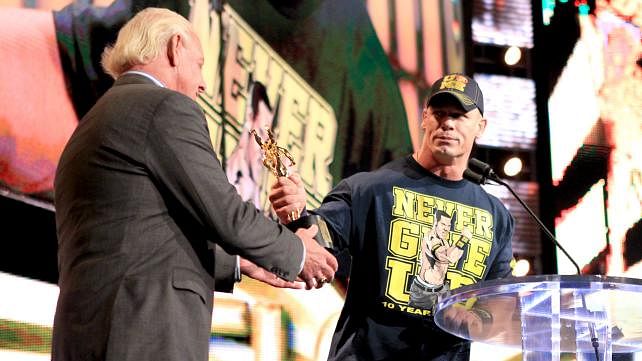 Cena won the Slammy Award for Superstar of the Year on three different occasions: 2009, 2010 and 2012. But he did not accept the award in 2012, opting to hand it over to the presenter Ric Flair instead.
When Ric Flair announced that John Cena had won the Superstar of the Year award, the crowd greeted it with boos.
Cena walked onto the stage and hugged Flair. Cena smiled and told Flair, "You were right, they are a lively crowd here tonight." He thanked the fans for "all the noise." Cena soaked up the boos by smiling and putting his hands on his hips. He said the superstar of the year embodies hustle, loyalty, and respect.
Cena said that out of respect, the superstar of the year should be the greatest superstar of all time. He said it's great to see Flair back where he belongs. Cena presented the award to Flair.
"He's too much," Flair said. "I don't know why you guys don't like him more."
#7 He is the current record holder with the Make-A-Wish Foundation, having granted over 400 wishes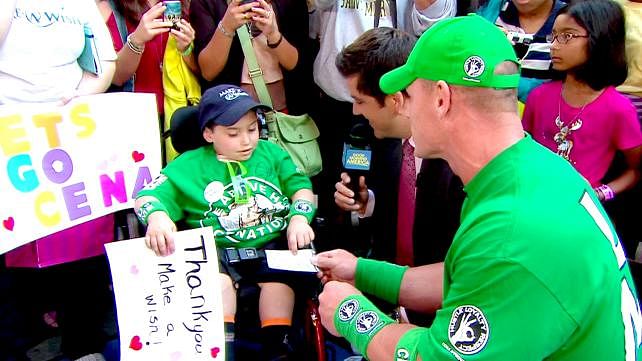 John Cena has a huge heart, and that is evident by the 400+ wishes that he has granted to the children of Arizona who are suffering from life-threatening illnesses, through the Make-A-Wish Foundation. He is currently the record holder.
In 2009, he was awarded the Chris Greicius Celebrity Award for his selflessness.
#6 The most embarrassing moment in Cena's life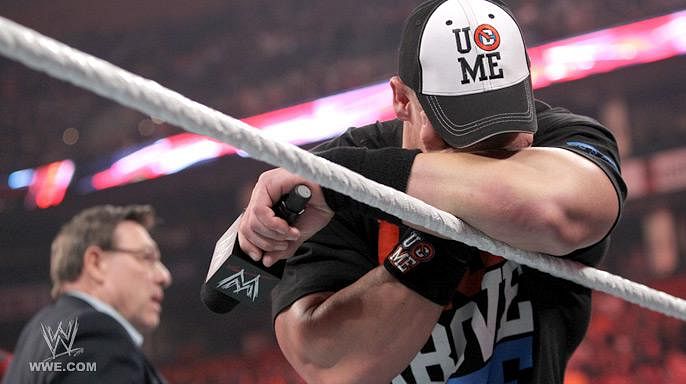 One of the most embarrassing moment that Cena ever encountered came in a match against Scott Steiner in Canada.
While suffering from food poisoning, Cena still went to the ring for the match. After Steiner delivered a DDT on Cena, he knew he could not keep the food in his stomach for long.
So Cena went under the ring to vomit, but while doing so his body let go off completely and he encountered an accident.
Here's what Cena had to say about his experience:
"Losing control of all bodily functions, intestinal and gastrointestinal in a match in Hamilton, Ontario. I had food poisoning, tried to go out there and do it, just didn't work. [It was] coming out of every end. [Laughs] Yeah, it was rough."
#5 He once wrestled with a completely torn pectoral muscle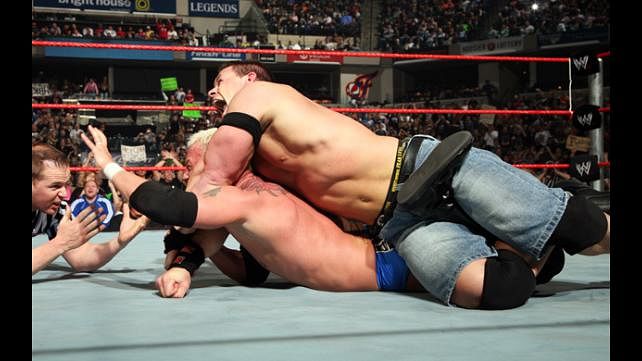 In wrestling, superstars get injured day-in and day out, however in a match against Mr. Kennedy in 2007, Cena completely tore apart his pectoral muscle.
Cena did not just complete the match, he even won it and did so while noticeably favouring his injury.
It was not all, following the match he even survived a scripted post-match onslaught by Randy Orton.
#4 He had a half-man, half-robot persona named the Prototype earlier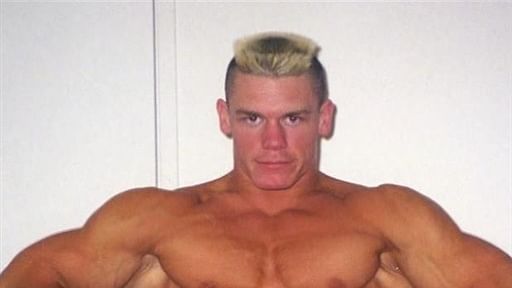 One of Cena's gimmick which is not well known to the fans is his Prototype persona in the UPW(Ultimate Pro Wrestling) and OVW(Ohio Valley Wrestling).
The Prototype persona had him portray a half-man, half-robot wrestler, who was the prototype for the other wrestlers.
As Prototype or Mr. P, Cena ripped apart opponents in the ring, while also displaying his robot half occasionally.
#3 He has never beaten K-Fed in the ring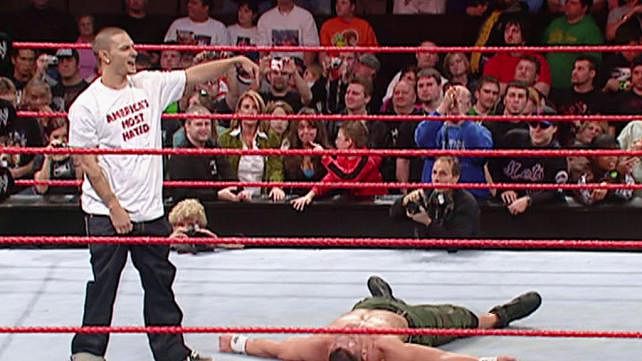 Kevin Federline or K-Fed is probably the only wrestler or rather a namesake whom Cena has not defeated in the ring. So who is this K-Fed?
Well K-Fed or Kevin Federline is an American dancer, rapper, fashion model and actor, who rose to stardom courtesy of his brief marriage with Britney Spears.
So, Vince McMahon taking advantage of the fame of Kevin, put him in a storyline that roughly involved Cena.
Cena and K-Fed came face to face in the ring in a match which Cena lost. K-Fed didn't win the match cleanly, but nevertheless it will go down in history as one of the few names whom Cena has never defeated inside the ring.
#2 Nobodys watching us Steph, why dont you let me smack that ass!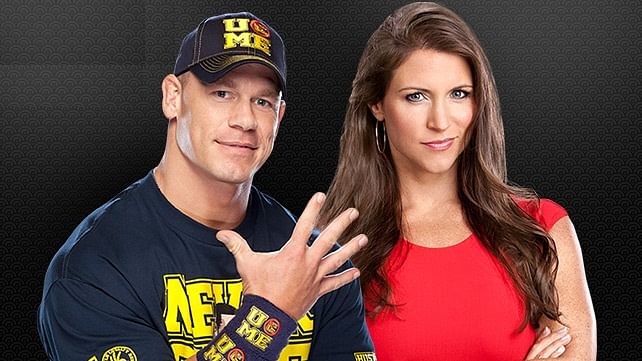 On the 24th of July episode of SmackDown, Stephanie was talking about her upcoming match with Sable, when John Cena interrupted.
Cena due to his then persona rapped his way to the ring, the final line of which was: "Nobody's watching us Steph, why don't you let me smack that ass!"
The rap was greeted by huge cheers from the crowd and Stephanie also obliged as she turned around, allowing Cena a complete view of the target. Cena went ahead and smacked her hard.
Looks like they both enjoyed it?
#1 Five Knuckle Shuffle is a slang term for masturbation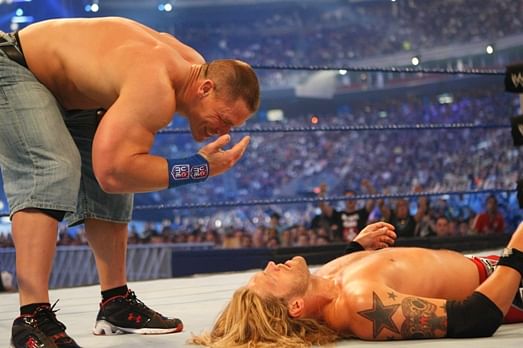 John Cena's signature move the Attitude Adjustment is a PG era version of his original finisher, which Cena had developed to counter the menacing F5 of Brock Lesnar, the FU (F**k You).
While, his STF submission manoeuvre now is just an acronym for stepover facelock, it was initially called the STFU by Cena. Where the STFU was a short form of the phrase "shut the f**k up."
Well, just like his other two finishing moves, The Five Knuckle Shuffle also has a two-faceted story. The name is actually a slang term for masturbation.
The Five Knuckle Shuffle actually means "The act of male masturbation."
Cena has a history in rap, and he knew exactly what he was doing when he christened his superfluous finisher with this name. Well, at least the kids don't know the hidden meaning behind his finisher? Now, do they?
Related video: Top 10 moves of John Cena: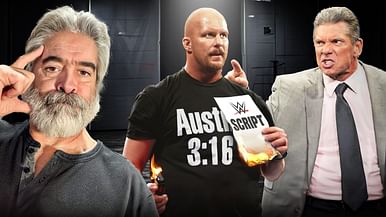 How Stone Cold was born in 2 minutes