11 Greatest WrestleMania entrances of all time
Timeless
The WWE Universe will witness another WrestleMania this Sunday from the MetLife Stadium in East Rutherford, New Jersey. It's a given that this year's WrestleMania would also be full of unbelievable moments, along with surprises that generally include a host of legends appearing at the show.
Since WrestleMania is WWE's flagship event, not only are the matches on a grand level, but also some of the entrances of the Superstars involved.
There have been instances in the past where the flamboyant entrances of some wrestlers overshadowed the matches. Let us take a look at the 11 Greatest Wrestlemania entrances of all time.
---
#11. Bobby Heenan (WrestleMania IX)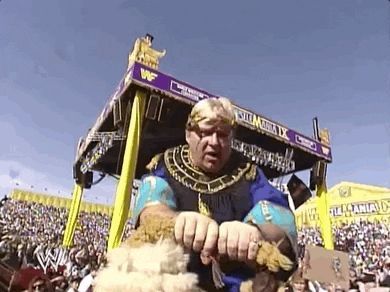 WrestleMania IX was the first Wrestlemania which was held outdoors at the Caesar's Palace in Paradise, Nevada on April 4, 1993. Bobby Heenan was the official commentator along with Randy Savage and Jim Ross for the event.
He entered the ring sitting backward on a camel and looked very uncomfortable as he screamed in fear. A number of gladiators and warriors led Bobby Heenan, which was a splendid way to make an entry. The way he got down awkwardly from the camel made for quite a comical moment to start the show of shows. 
---
#10. Andre the Giant (WrestleMania III)
Wrestlemania III is a memorable event as it saw an attendance of 93,173. The main event saw Hulk Hogan facing Andre the Giant, which was billed as the 'Biggest main event in sports entertainment' at the time.
Andre the Giant made his entrance with his manager, Bobby Heenan, who had managed to get into the head of the giant to turn on Hulk Hogan. They made an entrance on a cart resembling a WWE ring and were heavily booed by the crowd that were present in the arena. The crowd also pelted trash on them as they were entering the ring, which made it a unique way to enter.
---