Over the years, Vince McMahon has fired many WWE superstars on-screen as part of a storyline. However, his trigger-happy nature of getting rid of talent even takes place in the real world.
Whether serious issues or minute scenarios, the 78-year-old is quick to get rid of somebody who may damage his company's public image.
Join us as we take a look at four individuals Vince McMahon immediately fired on the spot.
---
#4. Serena Deeb
In 2010, the Straight Edge Society was one of the most villainous stables in WWE. Led by CM Punk, the group touted the straight-edge lifestyle to the fans in a very aggressive way.
One experienced performer who joined the group was Serena Deeb, who shaved her head live on-screen to show her devotion to the cause. However, the company would let her go later that year after she was arrested for a BUI. As this offense conflicted with her WWE persona, the promotion quickly let her go.
Speaking to The Washington Post years later, Serena looked back on being fired by Vince McMahon and company higher-ups.
"Honestly, I consider both of my releases from WWE two of the best things that have ever happened to me," Serena Deeb said. "It was a devastating call, but I had this sense of relief. That chapter had to close because I was heading in a really bad direction. The caveat was, if you take this job, you have to be at peace with not wrestling. You're out of the ring — there are no coach-players here. It was a great opportunity, and for me, it was like making peace with WWE, as well." [H/T The Washington Post]
---
#3. Finlay disrespects America
One experienced star whose firing seemed unjust was the Northern Irish star, Finlay.
Working as a backstage producer in 2011, Finlay had The Miz, who was the biggest heel in the company at the time, interrupt the US national anthem.
With various members of the armed forces in the crowd, Finlay was let go by Vince McMahon due to the many offenses this creative move caused.
On his Grilling JR podcast, WWE Hall of Famer Jim Ross said Finaly's firing was too harsh.
"I could see [someone saying] 'Hey Dave, you made a mistake there, we're going to suspend you for a month/6 weeks.' He [Finlay] would have taken his punishment and moved on. Instead, they do the drastic thing so the sponsors don't get wind of it. I guess Miz took no responsibility, and I don't think Miz had any punishment. But it was unfortunate and an overreaction." [H/T ITRWrestling]
---
#2 - Daniel Byran chokes out a ring announcer
Another quick firing by Vince McMahon took place in 2010, when a young Daniel Bryan, while he was invading RAW with the debuting Nexus, choked the now AEW ring announcer Justin Roberts with his tie.
With the company now a PG product, many, including Vince McMahon, were angry with Bryan for legitimately choking a member of the roster live on air.
During an interview with Sports Illustrated in 2017, Justin Roberts recapped how he found out Bryan was fired from the company the very next day.
"That Thursday night I was out in Scottsdale, and I got a message that Daniel Bryan was fired. Wow, I thought to myself. I wonder where they're going with this storyline. The next day, word was going around that this wasn't a storyline. I immediately got Bryan's number and gave him a call. I asked him what was going on, and he explained that Vince had called to tell him that he had to let him go. Something about choking not being allowed, and it was out of his hands," said Roberts. [H/T Sports Illustrated]
---
#1. Vince McMahon fires a future Hall of Famer
In 2001, Vince McMahon proved his dominance over the wrestling business as WWE bought their longtime rivals WCW.
While many top stars like Hulk Hogan, Goldberg, and Booker T all moved over to WWE, one top WCW star who was not part of Vince's plan was Jeff Jarrett.
The former WCW World Heavyweight Champion was legitimately fired by Vince on the last-ever episode of Monday Nitro, with McMahon saying that Jarrett was not part of his plans.
Speaking on his My World podcast, Jeff Jarrett revealed that he thought Vince McMahon's sacking of him was part of a storyline, not a legitimate firing.
"If you were to hear that back as a thirty-something-year-old in my, okay, we'll call it ego, it takes ego to go around this," Jarrett said. "I thought and maybe carried that with me, 'Vince is gonna shoot an angle with me.' It's all about money. When I heard that he went through all this [buying WCW], who'd he pick out? I mean, who did he pick?"
Which WWE departure shocked you the most? Let us know in the comments section below.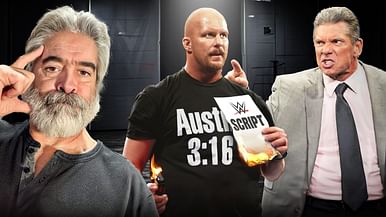 How Stone Cold was born in 2 minutes