5 of Chris Jericho's all-time favourite opponents as revealed by the man himself
12.63K //
Timeless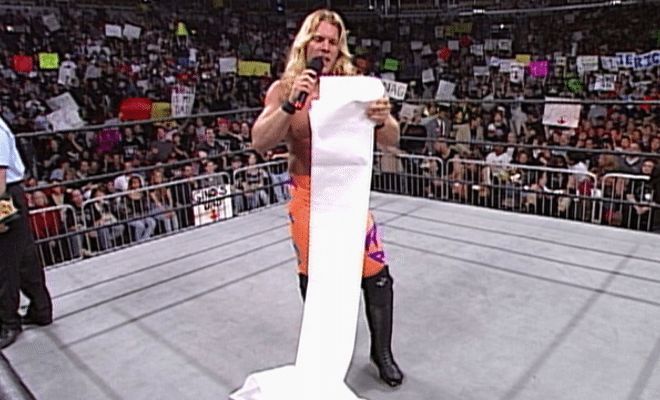 "So many guys have claimed to be the best in the world, from Shawn Michaels to Punk, to Edge - but they're all gone, and I'm still here."
There's a reason why people say Chris Jericho is one of the greatest of all time, and while a massive part of that is his incredible in-ring skill and ability to cut a great promo, and ability to reinvent himself constantly - but another part of it is that he has been around for a long time, Jericho is the personification of wrestling longevity.
Y2J has been around for everyone and has wrestled just about everyone humanly possible, aside from one big name that will be crossed off tomorrow night at the Wrestle Kingdom 12.
Being that he's been in WWE alone for the past two decades and had already been about for the best part of another decade before that, it's surprising that The Ayatollah of Rock n Rolla is even able to pick out his favourites, but he's done just that in a recent interview with The Players' Tribune.
So let's find out... Who just made the list?!
#5 Último Dragón (WAR, July 7, 1995)
Many of you will remember him from WCW and WWE, but he and Jericho worked together long before that.
Although the two have completely different styles, Jericho ranks Ultimo Dragon as one of his five favourite opponents of all time.
"I met Último in 1993, when we were both at CMLL — the largest wrestling promotion in Mexico at the time. As soon as we started working together, everyone could see that we had great chemistry in the ring. A couple years later we reunited in Japan, when we were both working for a company called WAR.
WAR didn't have quite the exposure of New Japan Pro Wrestling, but the program between Último and me, starting with his beating me for the NWA Championship belt in 1994, was one of the most important of my career."
The two headlined shows and even main evented shows in Japan - which was very rare for wrestlers of their size at that time. Jericho even stated that although they were very different, they just had chemistry and "it almost felt like it was impossible for us to have a bad match."
"We wrestled at the WAR third anniversary show in July of 1995, and that was the match that got me into ECW and into WCW. Mick Foley was in attendance that night and convinced Paul Heyman to look at the tape of me and Último. Paul brought me in, and I eventually signed and started wrestling for ECW in 1996."
The two eventually worked together in WCW but Y2J said he will always remember working together in Japan.