There were rumours going around that John Cena was going to be chosen as the special guest referee for the Jinder Mahal vs. Brock Lesnar at Survivor Series, but the last minute change in plans has pushed that to the wayside. The possibility still remains that John Cena and Jinder Mahal will have a run-in sooner rather than later. Jinder is the heel foreigner and Cena is the All-American white meat good guy, and it sets itself up on the silver platter nicely.
Even though he isn't the WWE Champion for now, it is possible that that Jinder will win the belt again before WrestleMania, where he may indeed lose it to Cena. Hence, "The Champ" would surpass Ric Flair's record of 16 World Championship victories. It could still be AJ Styles vs. Shinsuke Nakamura, but does a match of that caliber need the WWE Title on the line? Here's why John Cena and Jinder Mahal should definitely go one-on-one at WrestleMania 34:
---
#5 Jinder is actually good at cutting promos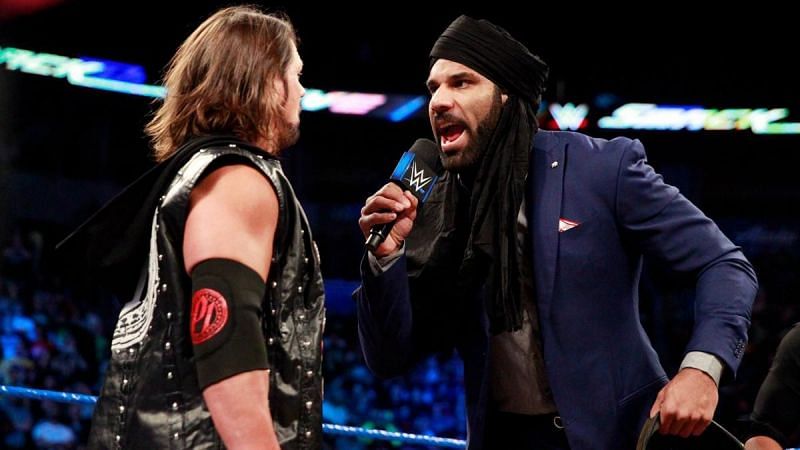 Contrary to popular opinion, it is my belief that Jinder Mahal is not only competent on the microphone but understands how to work the crowd, when it's appropriate to pause and when he should go "off script" to say something that will make them boo him even louder. Even though SmackDown went through some difficult times with Jinder as champion, he knows what he's doing out there.
In the ring, he's pretty much a slug, but he can handle himself in an interview. His raspy voice is a bit distracting and makes some of what he says come across as less forceful as it could, but otherwise, he does very well with the material they give him. Whether or not he can handle himself in a back-and-forth argument like the ones John Cena has had with The Miz or Roman Reigns remains to be seen, but that's a different story altogether.
#4 The crowd will be fully behind Cena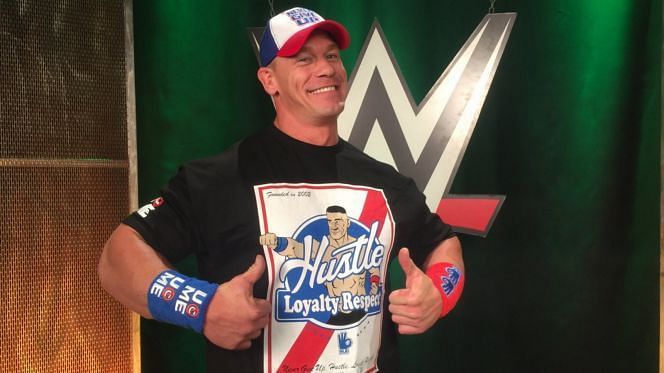 Even though WWE loves to talk about how Cena gets mixed reactions and how he's an amazing polarizing figure, deep down Vince McMahon wishes that every single audience member would scream and yell and follow him to the end of the world as if he was Hulk Hogan in 1985. It rarely happens, but generally speaking, when he gets put into a feud with a generic foreign bad guy (in this case, Mahal), the crowd puts all of their support behind the 16-time World Champion.
In this specific matchup, the crowd will be less apt to go insane with "U-S-A!" chants because of the sheer mass of humanity that attend WrestleMania from all over the world, but they will unite to cheer Cena on against the guy who, by that time, could be a two-time WWE Champion. The crowd doesn't hate Jinder Mahal as a bad guy, they hate that he's holding the WWE Championship. Cena will be the biggest hero in the Superdome. And even if Jinder isn't the champion, the crowd will still resent the fact that he's getting a big spotlight that they believe a better wrestler deserves, so it's a win-win for Cena's reaction.
This would also be the first time in thirteen years that Cena will have gotten universally cheered at a WrestleMania. The last time? When he first won the WWE title from JBL at WrestleMania 21.
#3 Cena may be able to have a good match With Jinder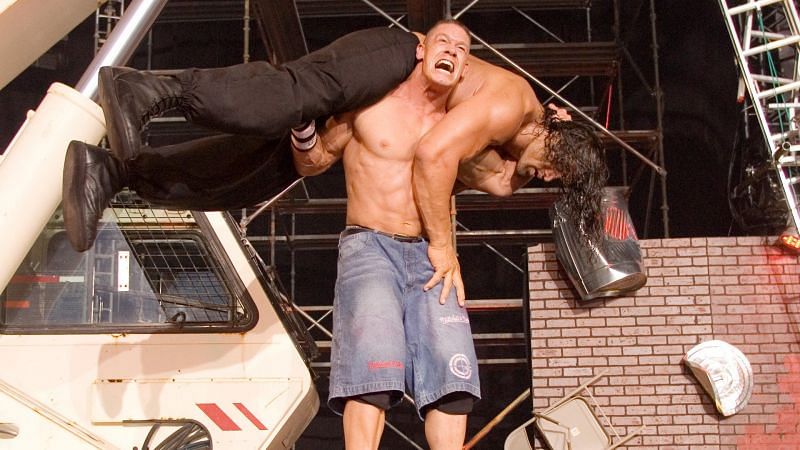 This might fall into the category of being a reason why Cena is the best opponent for Jinder instead of the other way around, but it's still a valid point. Even though for many years people have called Cena a terrible wrestler (and some ill-informed dopey people still do), he has proven time and time again that he is able to create an amazing spectacle against much lesser wrestlers.
He has to be motivated, but when he is, it's incredible. The guy had an entertaining match against The Great Khali (ironically enough) of all people! John Cena vs. Jinder Mahal could be a WrestleMania Miracle.
#4 It protects someone important from having to lose to Cena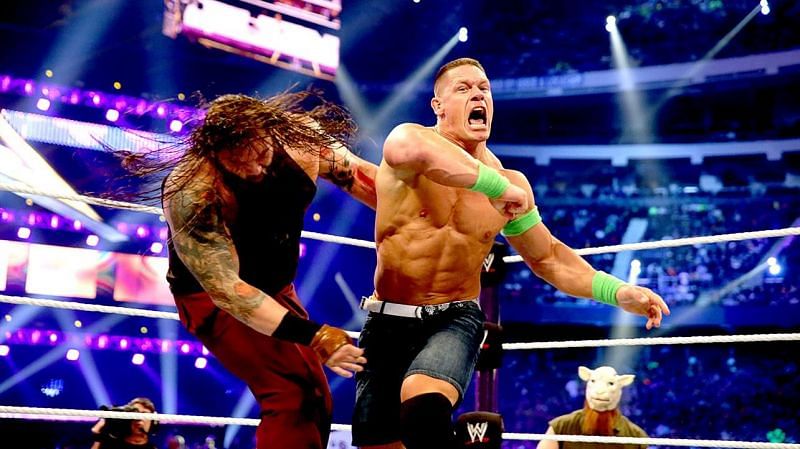 John Cena isn't actually as notorious as people say when it comes to wielding the shovel and drowning up-and-comers in the dirt. His track record isn't amazing, but he's done his share of laying down for those who could benefit from a win over the biggest star since The Rock. At WrestleMania, however, he is close to unstoppable. In his 13 appearances, Cena holds a 10-3 overall record at WM and a 9-2 record in singles competition. His two singles losses came to The Miz at WrestleMania 27 (thanks to The Rock) and The Rock at WrestleMania 28. In Cena's last three matches at WrestleMania, he has defeated Bray Wyatt and Rusev in singles competition (WM 30 and WM 31) and teamed with Nikki Bella to defeat The Miz and Maryse (WM 33).
These are egregious victories that Cena did not need and should not have had. Bray Wyatt was prostrated when he lost to Cena in 2014, and Rusev looked like a fool in 2015 and has never recovered. His loss to The Miz was, thanks to The Rock, otherwise, he would have won the match (he beat Miz for the title the next month) and it sent Miz back to mid-card hell for years. The match at this year's event was just dumb, so we'll move on.
The important thing here is that if Jinder Mahal is Cena's opponent, that means that "Big Match" John won't be slotted against a wrestler with a lot of momentum who could really benefit from a win over Cena at WrestleMania, only to lose and become a chump. Instead, he can beat Jinder Mahal, who already is a chump, and nobody loses!
#1 Cena may kill Jinder in promos before their match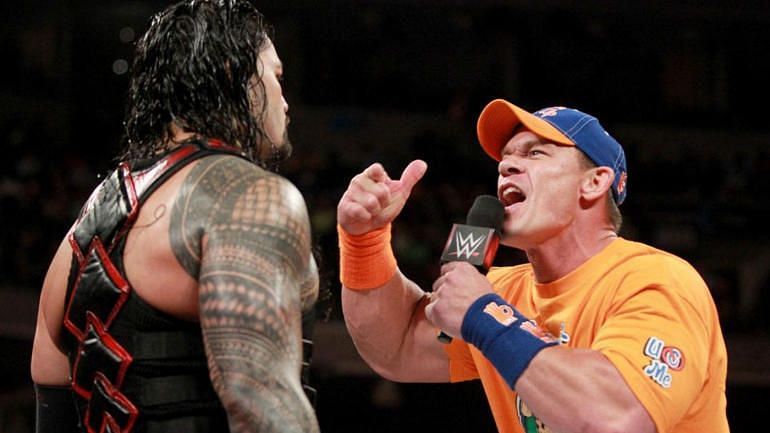 In his two most recent big rivalries (The Miz and Roman Reigns), John Cena has brought out a "shoot-style" type of promo that is meant to tear down the fourth wall and sound unscripted. It's supposed to pander to the people who think Cena sucks, but think his opponents suck too. He's been using it to a great reaction, and although the critical reviews are mixed, it has worked to make people want to tune in and see what Cena is going to say next.
He tore apart Miz and Reigns and brought up real-life occurrences to attack them, and while I didn't personally find it entertaining or fun to watch (or clever, or shocking, or whatever the intention was), it would probably be great fun to watch him do it to Jinder. The Miz is able to hold his own in a back-and-forth argument on the microphone in the ring. Roman Reigns tried really hard and didn't do great, but it was okay enough. Jinder… well, Jinder won't stand a chance.
It's a shame because I like Jinder Mahal and I would like to see him succeed, but getting to watch John Cena completely tear into him by attacking him with everything that the internet fans have been saying about him since he won a shot at the WWE Championship instead of Sami Zayn would be a great deal of fun to behold. And Jinder won't have a chance to fight back. He's good in solo promos, but he would be K-O'd in the first round trying to go back-and-forth with John Cena. And THAT would be entertaining television.