Disclaimer: The views expressed in this article are those of the author and they do not necessarily represent the views of Sportskeeda.
From the moment you start at a job, there are rules you have to follow. Certain restrictions that are imposed upon you, it's a small price to pay for that paycheck. But in WWE, there have been some strange, frankly baffling rules, that every WWE Superstar follows, whether they agree with them or not.
Although some of these rules do make sense from a company point of view, many are just strange at the best of times and arguably unethical at the worst of times.
Here are five shocking WWE rules every superstar has to follow, and punishments they may face if they don't.
---
#5 No High-Fiving fans on the way to the ring on televised shows
One of the newest rules on this list, this mandate was revealed just weeks ago, saying WWE Superstars cannot high five fans on TV. The belief is that it takes up far too much time on screen when every second counts in building superstars and hype to the next pay per view.
Interestingly, the only superstar who is allowed to high-five is Ronda Rousey, who probably won't be continuing this trend given her recent heel turn on Becky Lynch.
Although I realize how precious each second can be, I do think superstars should be able to high-five, as the simple gesture could mean so much to fans both new and old, who will be able to have a genuine, albeit brief, connection to their favorite superstars.
The new rule has not changed how many fans at ringside hold out their hands, hoping, sadly in vain, for that special high-five.
#4 WWE Stars are not allowed to show any cuts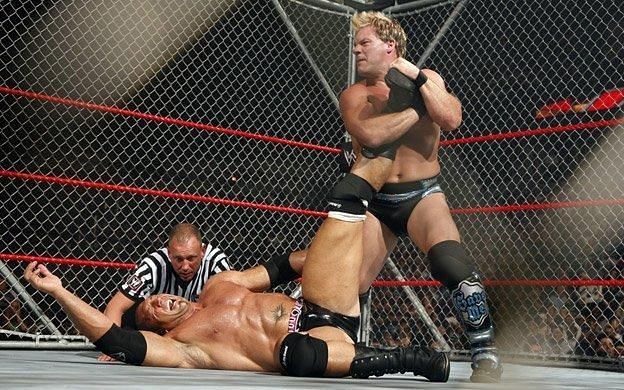 There was a time when WWE was well-known for its excessive use of blood, with many top champions being left in a pool after main events.
But in July 2008, the company shifted to becoming a PG show, with blading being banned from the show, and blood being seen on programming since being unintentional, with screens going to black-and-white if they bleed in front of the camera.
According to leaked documents, superstars are now being fined if they deliberately blade, with former World Champion turned Marvel star Batista being fined US$100,000 after blading in a 2008 Cage Match against Chris Jericho on RAW.
Whilst some say it's ruined a crucial part of wrestling, I definitely agree with the rule, with the risk of Hepatitis being a constant threat when blading, and NXT Commentator Nigel McGuiness being forced to retire because of it.
Also, now when we do see someone bleed, it can really elevate a match, knowing that this was completely unintentional.
#3 Women need to ask permission to have tattoos
A rule that came to light thanks to Paige, the WWE has a very strong opinion on their female roster getting any tattoos on their body. Appearing on Total Divas, the British Superstar showed her idea for a chest tattoo, which caused her to get in hot water with the company, both on and off screen.
Things were made worse when Paige decided against the tat, instead opting for some ink on her hands, a far less noticeable choice, but one that still got her in trouble, as she got it without the company's say-so.
Paige isn't the only UK star to get in trouble for this, however, as former UK Champion Tyler Bate debuted a hand tattoo in 2017, which reportedly left him in hot water with WWE officials.
With WWE owning your image, it pays to think, before you ink.
#2 WWE Stars need permission to undergo medical procedures
As part of their contracts, the WWE will pay for surgery if superstars have injuries that affect their in-ring performance.
It's a very positive rule, with medical costs for athletes in the United States often running into the hundreds of thousands. However, for a superstar to get much-needed surgery, they have to plead their case to the company, with Paige, once again, being in the company's bad books for this.
Even though the former Diva Champion's doctors said she needed surgery, the company refused, as their own physicians said it wasn't needed. Getting the surgery anyway, Paige was out for almost a year, returning briefly before announcing her retirement in April last year.
Now no longer the SmackDown Live General Manager, it's a scary thought of how much worse her life could've been if she'd not gone for the surgery, and gotten even more hurt in a match on the company's watch.
#1 WWE have an input on who their women can date
In what is a worrying trend, we have another rule exclusively for the women of WWE.
In a HIGHLY unethical trend, the company does have an input on who their female talent can date and be seen with, with potential punishments including fines, suspension, and even being released.
Once again, Paige found herself in breach of WWE's rule, with the company reportedly ordering her to split from Alberto Del Rio in 2016, which she eventually did, but for personal reasons.
Even though WWE shouldn't have any say in who their employees date, never mind the fact that the men are exempt from this rule, this treatment has sadly become an unwritten rule that all women have to consider, regardless of the genuine feelings they may feel.
Edited by Anthony Akatugba Jr.