Pro-wrestling is an industry which requires one to be in their best physique. While there have been some exceptions to this, with Kevin Owens and Samoa Joe being one of the prime examples, six-pack abs and muscular arms are quite common in the industry, more so in WWE. Maintaining such a physique requires long hours at the gym, along with a lot of training, which becomes a part of the wrestler's routine eventually.
However, post-retirement, wrestlers tend to lose their muscular physique due to various reasons, like substance abuse, accidents, illness, etc. But some wrestlers find even more time for themselves, spending it on becoming better than ever before. In this article, we take a look at five such wrestlers who look drastically different than they did at their peak:
---
#1 Vladimir Kozlov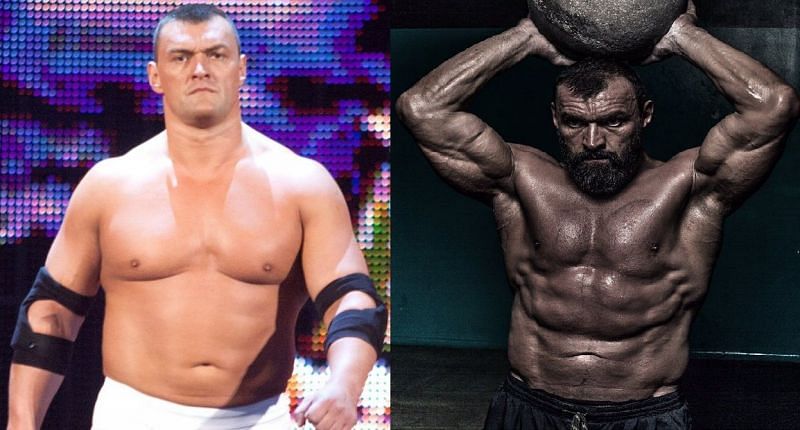 Vladimir Kozlov's most memorable appearance in WWE was possibly his dance battle with Santino Marella on an episode of RAW, which should be enough to let you know about his career trajectory. Though he did hold the tag team championships with Santino, he failed to taste some singles gold. WWE eventually released Kozlov in 2011 and his last wrestling match came for Inoki Genome Federation (an independent promotion) in 2012.
Since then, Kozlov has turned actor and stuntman, and there has been no looking back since then. Bagging in big movies like The Rock's Fast and The Furious 6 and John Wick 2, he was also a part of Chinese blockbuster Wolf Warriors 2 and Marvel's The Punisher (Season 2) and is a much bigger star than he ever was during his time in WWE.
#2 Santino Marella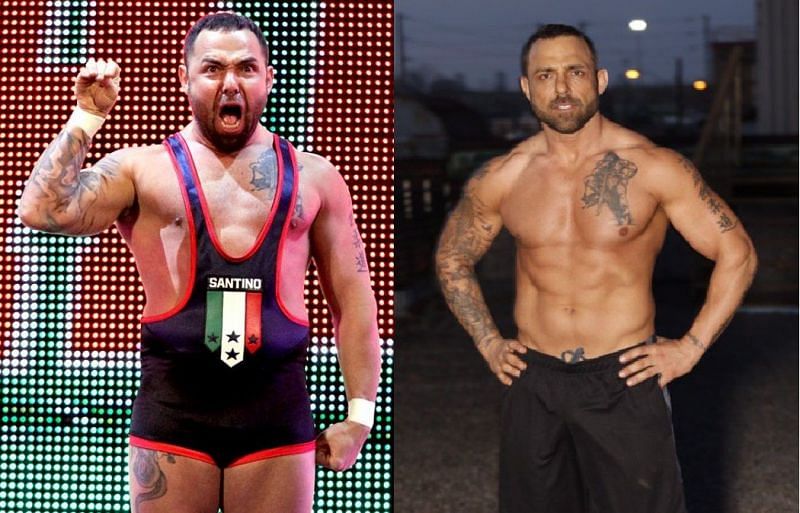 Santino Marella's WWE debut was one of the most memorable, to say in the least. Having a nice run in Ohio Valley Wrestling (WWE's then developmental territory), Vince McMahon chose Marella from the crowd as a challenger to Umanga's Intercontinental Championship. An assist from Bobby Lashley, who was feuding with Mr. McMahon then, led to Marella winning the Intercontinental Championship in his debut match on the RAW emanating from Milan, Italy.
Santino Marella went on to become one of the most successful comic characters of the WWE, before officially retiring in 2014. That has not kept him away from WWE programming though, appearing at the RAW Reunion, and becoming the first male to enter the Women's Royal Rumble match in his Santina Marella monicker.
Marella has, since retiring, focused a lot on his MMA career and training aspiring MMA and pro-wrestling candidates in his Battle Arts Academy. His body transformation and success out of the WWE world will allow him to return to pro-wrestling as a bigger star if he ever chooses to do so.
Who knows, the yesteryear comic tag team of Vladimir Kozlov and Santino Marella may come back as a dominant tag-team and start the much-needed tag team revolution in WWE.
As the saying goes, never say never!
#3 The Big Show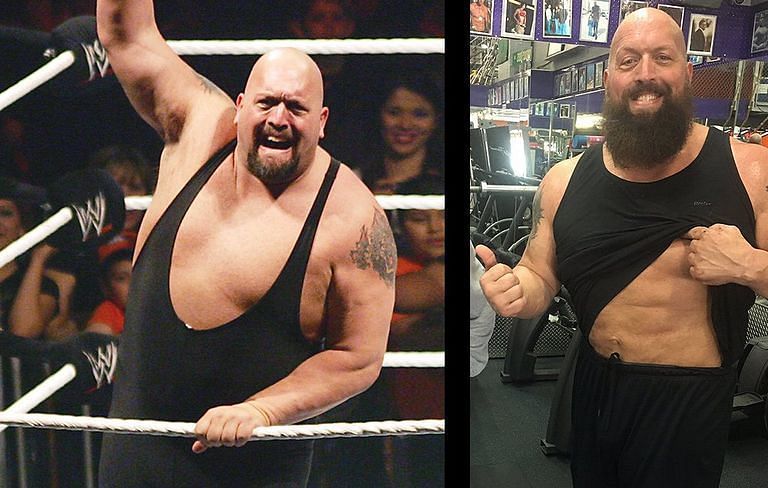 Big Show is a monster, and his booking in both WWE and WCW reflected the same. Booked as the unstoppable force on nature, Big Show has headlined WrestleMania and is a Grand Slam Champion. He is a seven-time world champion as well, having held the WCW World Heavyweight Championship twice, the WWF/WWE Championship twice, WWE's World Heavyweight Championship twice, and the ECW World Heavyweight Championship once. Also, he is the only man to have held all four of those particular titles. With Big Show focusing on his acting career now, it is clear that his days of glory are behind him, and the legend will return to put over youngsters.
With Big Show not being on the road for WWE the full year, he was finally able to transform himself physically, allowing him to become the World's Largest Athlete... with abs! Show's fitness made headlines during the build-up to his match with Shaquille O'Neal, which was supposed to happen at WrestleMania 33, but never came to fruition.
#4 Edge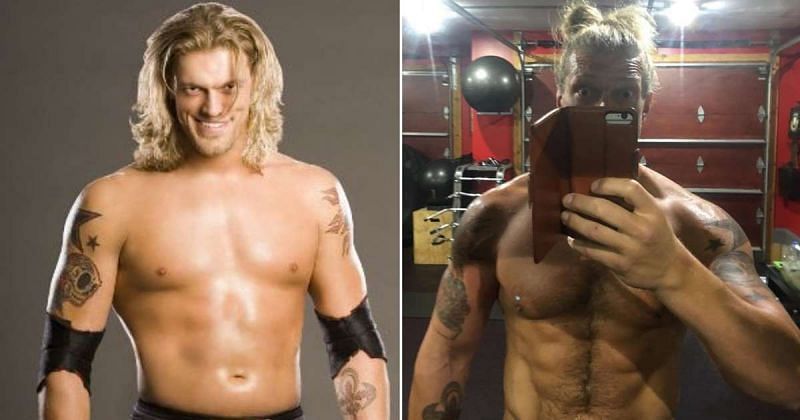 There have been many miraculous returns in the wrestling world, but none of them compare to the comeback of Edge. Being forced to retire in 2011 due to Cervical Spinal Stenosis, Edge was forced to relinquish World Heavyweight Champion. He had enough achievements to land up into the WWE Hall of Fame a year after retirement and was content with showing up for some segments. The Rated-R superstar shifted his focus towards his acting career, with his appearance in Season 5 of Vikings being a critically acclaimed one. The WWE Hall of Famer then had a long tiring journey, which saw him finally return to the squared circle at this year's Royal Rumble.
The Edge that retired from WWE was a superior athlete and one of the best wrestlers of his time. But, the Edge that returned took his physique to the next level. Edge was always a muscular athlete, but his time away from WWE had allowed him to focus on his body, returning in his best physical shape. Given how well he fared in his match against Randy Orton at WrestleMania 36, expect a few classics down the line.
#5 The Rock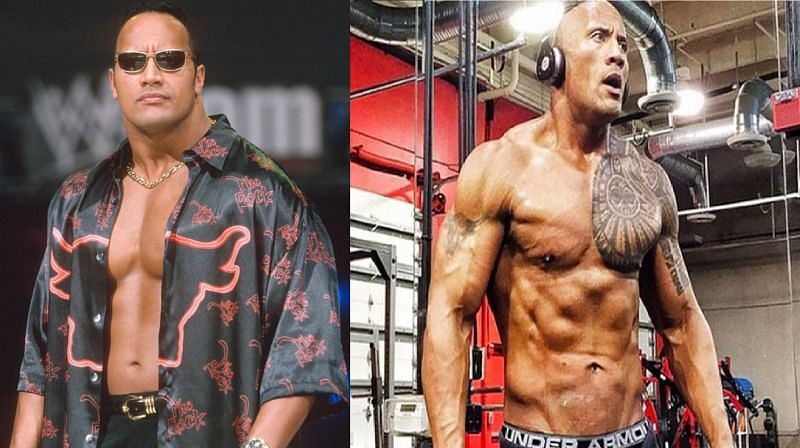 There is no star more electrifying in the history of sports entertainment than The Rock. Debuting as Rocky Malvia, the fans grew tired of his one-dimensional character of being a clean-cut babyface. Return from an injury saw him turning heel and transforming into The Rock, and the rest is history.
The Rock went on to become one of the most over stars in the world of wrestling and played a crucial role in WWE winning the Monday Night Wars. It was during 2003-04 that The Rock started focusing on his acting career full time, with him becoming one of the biggest stars in Hollywood today.
Though he was never a couch potato, the real-life Dwayne Johnson was able to focus more on his body after getting away from the hectic WWE schedule. He seems to be growing younger with time, and if the situation calls for it, we may even see him return to a WWE ring one more time.
Who was Rhea Ripley's first crush? Find out here.