He has done it all, accomplished everything there is to in the wrestling world, been loved and hated alike. He was on top of the food chain for a long long time, yet he's never quite regarded as the greatest is he?
Here we see 6 reasons why he should.
Follow Sportskeeda for the latest WWE news, rumors and all other wrestling news.
---
#6 Simple Numbers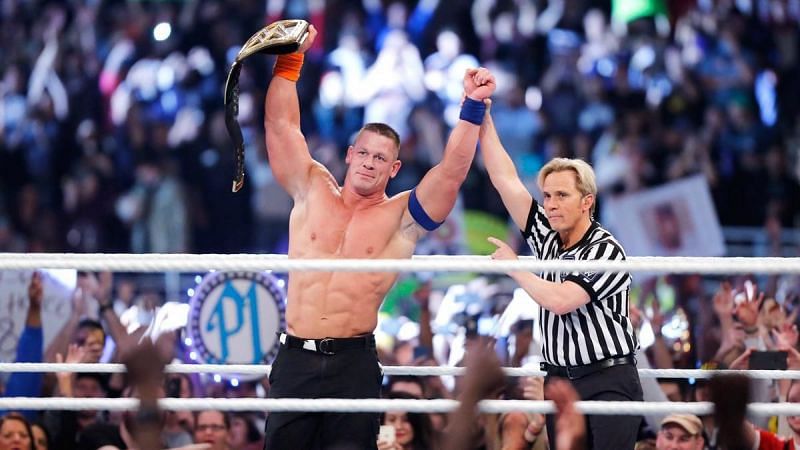 John Cena is a 16-time world champion which according to WWE is a shared record for most world title reigns. He has won the Royal Rumble match twice and been in the main event of WrestleMania on five separate occasions. He is only the second wrestler to complete ten wins at WrestleMania with the first being The Undertaker.
He was the company's top merchandise seller for a very long time and has also won an astonishing 92 pay per view matches in his career. He also boasts an astounding 44 million likes on his official Facebook fan page. So, looking from both a kayfabe and non-kayfabe perspective, there are hardly a handful of wrestlers who have accomplished anything close to this.
#5 Inspiring Rise to the Top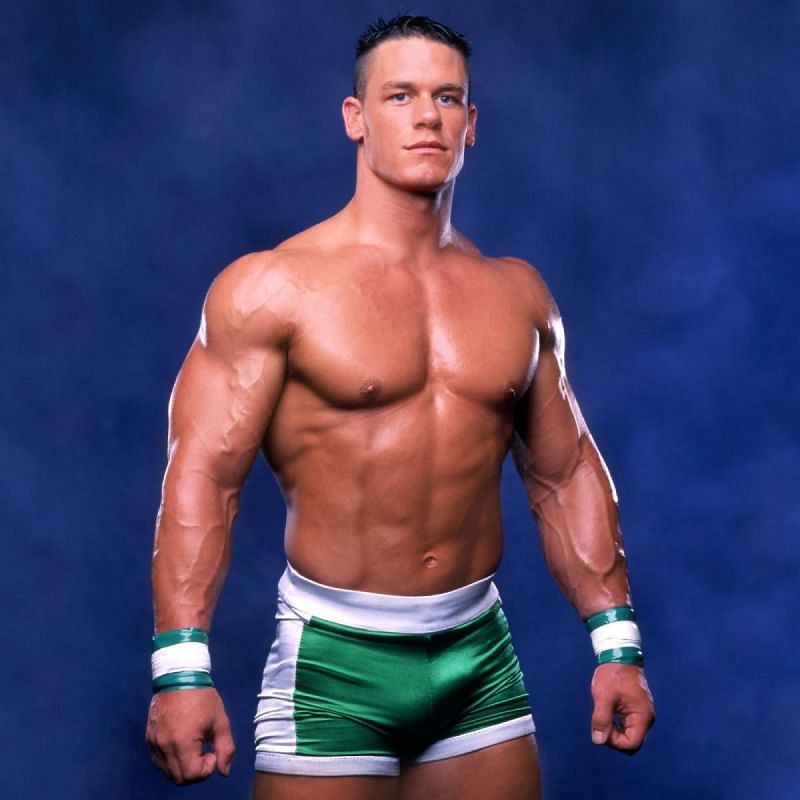 Roman Reigns was chosen to be the face of the WWE a long time before he became that. On the contrary, John had to make his way up there. He was never supposed to become the megastar that he became, but, his talent and dedication prompted Vince McMahon to promote him to perform on the main event level and lead the company for the next decade to come.
In 2004, WWE wasn't having the smoothest of sailings when it comes to top stars. Stone Cold Steve Austin couldn't wrestle anymore, The Rock left for Hollywood and Brock Lesnar and Goldberg had both left to pursue careers in other professions. In this situation, the company desperately needed new top stars, and Cena and Batista were chosen for the same to represent Raw and Smackdown respectively. The rest is history.
#4 Unparalleled Loyalty to WWE
One might wonder, why of all people John Cena who is given everything a WWE superstar can aspire, to have any problems with the management. However, the cases of the people who were in his shoes earlier speak otherwise. Hulk Hogan was the face of the WWF in the 80's, he fled to WCW as soon as he saw an opportunity there. He also criticized the WWE on certain occasions back when it wasn't the solo largest wrestling promotion. Bret Hart, though being given the worst possible farewell also signed a contract with WCW and has criticized WWE on several occasions (I in no way intend to say he shouldn't have). Now coming to megastars who had problems when there was no WCW, Austin left the company unceremoniously in 2003 citing creative differences and refusing to be the first guy to put Brock Lesnar over. The Rock left the WWE when he was just beginning to use his fame to put younger stars over. Even Ric Flair who was never exactly the face of WWE, fled to TNA after the company gave him one of the best retirements possible.
Unlike all of them, John has always stood by Vince's company in the good, bad and the ugly. He has never in his life said anything negative about the company publicly. Even when his time as face of the company got over, he selflessly put over his successor Roman Reigns and also several other modern wrestlers for that matter. Even, now when his movie career is as enviable and self-reliant as it has ever been, John still stands by the company.
Some may argue that he is still keeping WWE as a fallback option, however with his position, he could easily negotiate a sporadic appearance contract similar to Brock Lesnar or The Undertaker. However, whenever he returns, he competes as a regular wrestler, on Raw/Smackdown and even on house shows. There hasn't been a 'face of the company' in WWE who has gone full cycle on his role, i.e. Rising to the top, Tenaciously performing at a top level for over a decade, and when the time comes, passing the torch; as ostensibly as John has.
#3 No One in the World Handles Hatred Better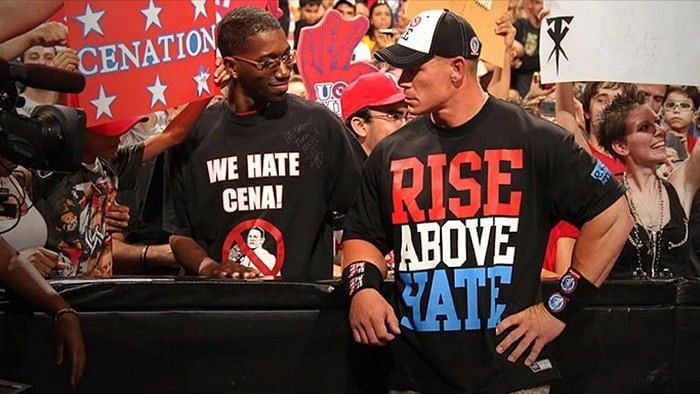 "No matter what you do, there will always be hate. You have 2 choices, Hate back, or Smile and #RiseAboveHate I prefer option"
3:12 AM - 16 Aug 2017
No one likes to be hated, especially when one isn't supposed to be. However, when one is hated it is up to him/her how to respond to it. Usually, people get understandably upset. Batista expressed his disdain over how the fans reacted to his 2014 return and we see many wrestlers giving mouth shutting( which is mostly justified) replies online to fans who sometimes cross the line in expressing their disapproval for them.
Even Roman Reigns who is also admirable for how he handles hatred has responded to the crowd when they've sometimes crossed the line with him(e. g. His response to the disrespectful 'You can't wrestle' chants). However, John has a way of his own to respond to hatred. Instead of hating back, he chooses to very aptly rise above it. He has never responded to angry fan posts/messages with contempt and has never criticized anyone for booing him(even abusing him). As seen in his tweet above, there is no one quite like him who handles hatred better.
#2 A Brilliant Wrestler in General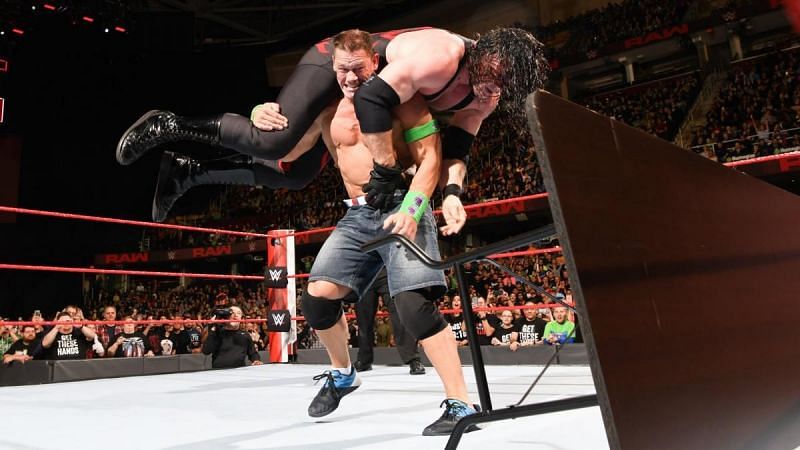 John Cena may not be up there when it comes to technical in-ring performers, but he certainly is a fantastic wrestler. He has performed at the main event level for a decade and a half now and has had his fair share of stellar matches. His matches with CM Punk, Triple H, Shawn Michaels, and AJ Styles have been some of the best of the modern day. His time of recovery from injuries is also miraculous.
He always manages to heal up before he is supposed to. This led to one of the best Royal Rumble returns in 2008. Also, he is an incredible talker who can get the crowd invested in any program he is a part of. He also plays his part in putting wrestlers over and helping them become stars much more than he is given credit for. He has silenced his critics on numerous occasions and will continue to do so.
#1 A True Babyface in Real Life
The character John Cena plays is a role model for millions of kids all over the world. The phrases 'never give up' and 'rise above hate' are motivational and he personifies them. He is known to also be equally kind to his fans in real life. Many people who have had first-hand interactions with him have applauded the amount of time he spends with each child. He holds the record for most successful wishes granted in the history of the 'Make a Wish Foundation' and makes every child he meets feel special.
While some top notch wrestlers are known to be unkind to their fans and even charge money to meet them, John has always greeted his fans with the utmost love and affection. He is extremely grateful to his fans and never fails to impress them. Whether he is performing in an arena, out on the streets or anywhere in the world he always tries his best to be kind and courteous to his fans and as mentioned earlier even to people who hate him. He is also a very well spoken guy and hence, the perfect global representative for WWE. There couldn't have been a better person to carry WWE on his shoulders for over a decade.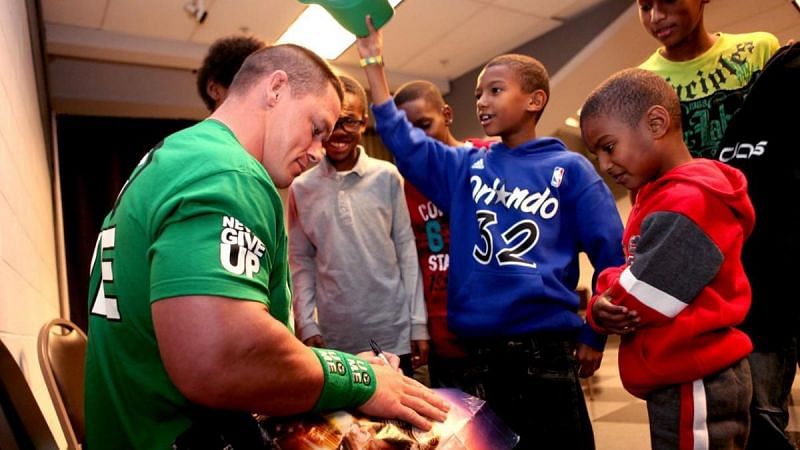 Also, according to me, The Undertaker is the greatest wrestler of all time and he gets ample recognition for it. However, Cena rarely does and therefore this list shows why he is a tough contender for the same.
Edited by Shiven Sachdeva