The slow pace of new uploads is set to continue on WWE Network and Peacock this weekend. The amount of programming added to the streaming services slowed down heading into the holidays and is yet to pick up in the weeks since.
A handful of full-length programs were added to both platforms throughout the week. This includes an episode of RAW Talk on Monday. Tuesday featured an archived episode of NXT, plus a PROGRESS Wrestling event.
On Wednesday, a previous episode of RAW and the latest edition of The Bump were added on-demand. Lastly, a new episode of This Week In WWE was added to the archives on Thursday.
Five programs are set to arrive on both platforms this weekend, although the schedule is a bit messy. According to WWENetworkNews.com, the weekly schedule has been in disarray recently, and some of what is promoted may prove inaccurate. Still, these five shows should all be added on-demand, according to WWE themselves.
Which full-length shows will be added on-demand? Programs set to arrive include an indie event from last year, a new episode of a popular in-ring show, an analyst-style program, and more. What exactly is set to arrive?
Below are five shows coming to WWE Network and Peacock this weekend.
---
#5. The SmackDown LowDown is back with a new episode
A new episode of The SmackDown LowDown will stream on WWE Network and Peacock on Saturday, January 14th, at around 12 PM EST. No guests have been announced for the show, which is typical as they're rarely revealed before SmackDown being on the air.
The program typically features two hosts, Matt Camp and Jack Redmond, who break down the happenings of WWE SmackDown. A third panelist sometimes joins them. In addition to analyzing the blue brand's show, three interviews are typically slotted into the program from the arena.
Last week's episode of The SmackDown LowDown can be viewed anytime on demand. Megan Morant interviewed several stars, including Braun Strowman and new SmackDown Women's Champion Charlotte Flair.
She also spoke with Zelina Vega, Santos Escobar, Cruz Del Toro, and Joaquin Wilde of Legado Del Fantasma.
---
#4. WWE Main Event & #3. Friday Night SmackDown, two recent shows will become available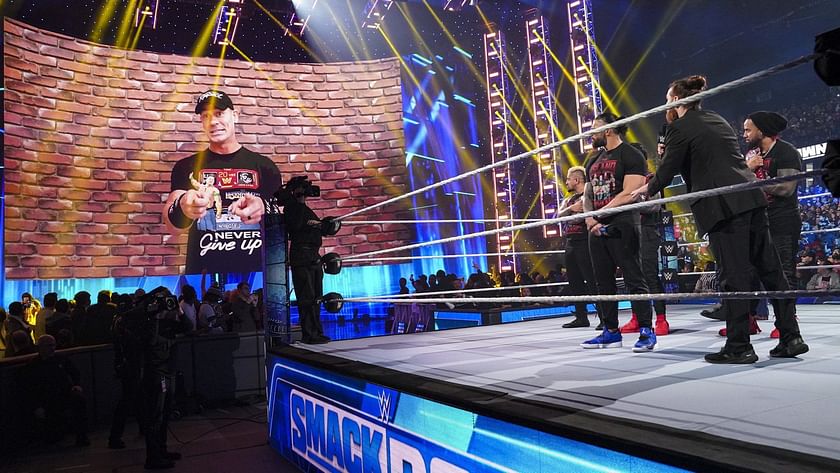 Two shows that recently aired will be made available on-demand over the course of the weekend. Both aired on television and streaming services first, with their additions to Peacock and the WWE Network delayed due to contractual obligations.
WWE Main Event from December 29th, 2022, will be added on-demand on Saturday, January 14th. It was a clip show featuring Scott Stanford due to no episode of RAW being taped that week.
Friday Night SmackDown from December 16th, 2022, will be available on Sunday, January 15th. The show featured the surprise return of John Cena in video form, announcing a big match for the December 30th edition of the blue brand. The show also featured Gunther vs. Ricochet for the Intercontinental Championship.
---
#2. A new indie show is listed to premiere in an unusual slot
WWE is seemingly experimenting with their indie wrestling time slots, provided there isn't an error with the listing. After two weeks of no new independent wrestling shows arriving onto the service, a new program from wXw is set to arrive.
wXw We Love Wrestling #37 will be available on Sunday, January 15th. Indie wrestling drops have historically arrived on Saturdays, making this unusual. This is especially odd when looking at the PROGRESS Wrestling show added this past Tuesday, another atypical move.
The show was taped last year on October 3rd. The theme was a "Wildcard Edition" of the usual show. Ring of Honor and occasional AEW star World Famous CB took on Danny Miles. LJ Cleary, Eli Isom, AKIRA, and The Cartel also appeared on the program.
---
#1. NXT Level Up will stream
A new episode of NXT Level Up will stream on WWE Network and Peacock this weekend. The show will air following SmackDown on FOX on Friday, January 13th, at 10 PM EST on both platforms.
However, the video-on-demand will be unavailable for Peacock subscribers after the show airs due to a contractual obligation to Hulu.
Level Up is set to feature three big matches this weekend. The program's main event will highlight two NXT semi-regulars, with the six-foot-five Duke Hudson battling former Diamond Mine member Damon Kemp.
Former NXT UK star Isla Dawn is also making a surprise appearance on the program after being a focal point on NXT in recent weeks. She'll take on Jaka Jackson. Lastly, Von Wagner and Oba Femi are set to clash.
A top WWE star just admitted that she was a victim of cyber bullying. More details right here.