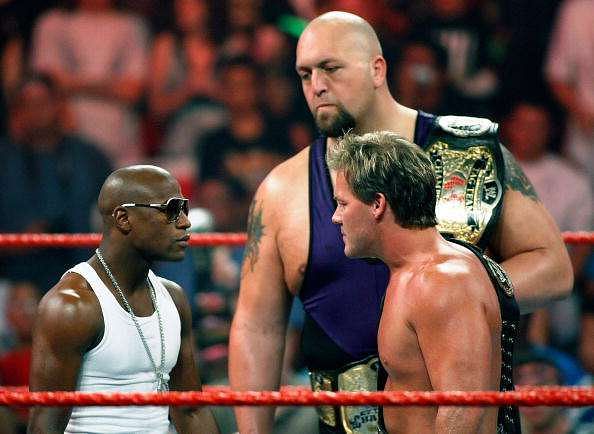 No matter if he is a good guy or a bad guy or a good guy or something in between, no one can doubt that the Big Show has left a large mark on WWE and Sports Entertainment as a whole.
From having debuted in 1996 on WCW as the Giant and beating Hollywood Hulk Hogan to his current feud with Shaq, Big Show has gone on to do it all. So how much net worth has the Big Show been able to accumulate in his 20 years in the industry?
Also read: Stone Cold Steve Austin's net worth
Fans might chant "PLEASE RETIRE" at Big Show every time he walks to the ring but no one can doubt he is a veteran and one of the best big men of all time. Big Show holds seven World Heavyweight championships in his career, including being the only man to hold the WCW, WWE and ECW World Heavyweight titles.
The big man has also had countless main event matches with everyone from legends like Brock Lesnar, Kurt Angle, The Undertaker to celebrities like Floyd Mayweather and Shaq and even with up and coming stars such as Roman Reigns and Rusev along with several other superstars on the roster today.
Also read: Roman Reigns net worth
The man known as "The Greatest Giant of All Time" has some extremely impressive stats. Show is billed at a height of 7'2" and his billed weight is 441 lbs. While WWE has been known to fudge some of their numbers, anyone who has seen the Big Show knows that the title of the 'World's Largest Athlete' suits him well.
The World's Largest Athlete is heavily compensated for his dedication to the WWE, which he has been a part of since 1999. Well, Big Show pulls in 1.2 million dollars a year from touring with the WWE. That is top guy money as Big Show is paid some of the most money for someone who is usually a mid card guy.
Also read: The Undertaker's net worth revealed
Big Show's 1.2 million salary adds to his total net worth of 20 million dollars. Which is about a million a year for the 20 years he has been wrestling since his WCW days. This includes the money he makes for wrestling, along with merchandise sales.
Big Show net worth – $20 million
One of the reasons Big Show left the WCW was because he was making a fraction of what the other wrestlers on the WCW roster were allegedly making and he left because the WWE offered to add more to his net worth.
Another Attitude Era star that had many feuds with Big Show was Stone Cold Steve Austin. In fact, Big Show had made his debut by interfering in one of Stone Cold Steve Austin's matches, taking him down. Here's a video of the Big Show's debut:
During Stone Cold's time in the WWE between 1999 to 2003, he was paid an estimated 5-12 million US dollars. Stone Cold's counts his net worth at 45 million.
Despite being a wrestler for a much shorter amount of time than the Big Show, Stone Cold still has one of the highest merchandise sales figures in the WWE, one of the reasons why he has double the net worth of the Big Show.
Also read: Kane's net worth and salary revealed
Big Show does well for himself compared to many of the other superstars on the roster, however. His veteran status means that he makes much more money than the rest of the roster. Top star Dean Ambrose makes $850,000-$900,000 a year, adding to his net worth of about 6 million dollars.
Dean's former Shield buddy Roman Reigns is set to make close to $1 Million over the next two years adding to his net worth of about 2.5 million dollars.
Randy Orton makes $2.7 million a year, that, along with bonuses such as percentages of his merch and PPV shares his net worth is 12 million. Big Show's net worth is much larger at 20 million, that is triple Dean Ambrose's net worth.
Along with his 1.2 million dollar salary, Big Show is also given his own tour bus for when he goes around the country with the WWE, owing to his large stature.
Here's a video of Alberto Del Rio vandalising Big Show's tour bus:
Big Show complained several times about being too big to travel in a regular car and the WWE thus went and got him a bus of his own. While Big Show might not be on TV much, he is still quite a draw for the live events because who doesn't want to see a giant.
While the "PLEASE RETIRE" chants may continue Big Show does not show any signs of stopping soon. His latest contract is at least a 3-year deal. Show has been rumoured to have upcoming feuds with Braun Stowman and Shaq in the coming months.
His old tag team partner Kane is another superstar who refuses to call it quits. The two have won a tag team championship together and have also teamed for the Authority and against Nexus. Kane's net worth is 7 million dollars and he's currently making $1.3 million a year.
Also read: Dean Ambrose's net worth and salary revealed
Big Show has been wrestling for 20 years but the Undertaker has been wrestling even longer for 25 years.
Undertaker has a salary of 2.5 million a year for the next five years adding to his net worth of 16 million. The Undertaker is treated like a special deal when he performs at a pay per view, he makes 7% of all merch as well as PPV money if he features in the main event.
This ends up being about a million more dollars than Big Show makes a year.
Big Show has also been known to be quite the actor. Show starred in his first WWE studios comedy film Knuckleheads in 2010. He has also played parts in Jingle All the Way, MacGruber and Adam Sandler's movie The Waterboy.
Here's a video of Big Show in The Waterboy:
Big Show has also gone on a few games shows including; The Weakest Link and Are You Smarter Than A 5th Grader? The Showster has made live television appearances on the likes of Saturday Night Live, Mad TV, The Late Night Show With Jimmy Fallon, and Conan.
He has also played parts on TV shows such as Psych, Royal Pains, Star Trek: Enterprise and Burn Notice.
Here's Big Show at one of his appearances on the Conan O'Brien show:
A much more famous actor, however, is The Rock, the football player turned wrestler turned Hollywood actor pulls in 3.5 million for an extremely limited schedule with the WWE. This all adds to The Rock's net worth of 185 million.
While the fans might not love him like they once used to because of the way he's booked, Big Show is still high on WWE's list of important superstars.
Big Show is given his own private bus along with a 1.2 Million dollar contract to wrestle every year for the WWE. While the fans might hate him, Big Show is laughing all the way to the bank with his 20 Million Dollars in net worth.
Here's a comparison of the Big Show's net worth with other Superstars:
Net Worth of Superstars Big Show net worth $20 million Dean Ambrose net worth $6 million Roman Reigns net worth $2.5 million Kane net worth $7 million Undertaker net worth $16 million Rock net worth $185 million Stone Cold Steve Austin net worth $45 million
Randy Orton net worth $15 million
For latest WWE News, live coverage and rumours visit our Sportskeeda WWE section. Also if you are attending a WWE Live event or have a news tip for us drop us an email at fightclub (at) sportskeeda (dot) com.
A former WWE writer wants Rhea Ripley to get rid of all the 'Goth stuff'. More here