India seems to be the ultimate hotbed for sports entertainment these days. The current WWE Champion, Jinder Mahal is a superstar of Indian origin, as are his two men at arms- The Singh Brothers.
Following in their footsteps is Kavita Devi, a woman from Haryana in India who competed in the 32-woman single elimination tournament, the Mae Young Classic, aired exclusively on the WWE Network. We speak to her about her journey, her experiences and her future plans.
---
How does it feel to be the first Indian woman to make it to WWE?
I'm proud to have represented India at such a massive level. The whole country is proud of me because people really liked me there. India is proud of the fact that a woman from the country came to such a massive stage. It fills me with a sense of honour.
How did you overcome the language barrier, considering that there were women of various nationalities there?
I was provided with a translator. I can speak and understand some English as well. I faced no problems there at all. The Singh Brothers, the two guys who accompany Jinder Mahal, they came down to meet me and really helped me out in this regard. I never felt uncomfortable there. Everyone was kind and very cooperative.
Were you a WWE fan growing up?
I loved watching WWE matches, but I never even dreamed about stepping into the ring. One day I was at a local show, and the performer in the ring laid out an open challenge. I raised my hand without thinking, entered the ring and realized I can do this. I used to only watch from afar, until then. After that, the Great Khali took me under his wing, make me work very hard and prepared me for the future.
Who are some of your favourite WWE superstars?
Khali of course, The Undertaker, John Cena, I used to watch their matches. I never watched women's wrestling really. I'd seen an interview which brought up the fact that Indian women do not usually step into the wrestling ring, and this affected me. I thought to myself that if I ever get such an opportunity, I'll go there some day. All of India is crazy about WWE (laughs).
Did you get a chance to meet Triple H? What was the experience like?
He was very nice, simple and polite. He congratulated me for being the first woman to arrive at this level, from India and he told me that he was very proud of me. Triple H gave me some advice for the road ahead as well and told me to work hard.
What did you make of your first round opponent, Dakota Kai?
Dakota Kai is a very good wrestler, very clever and very strong as well. Every wrestler there was really good, number 1 wrestlers in their respective countries. I was proud to be standing among them, considering the high level of competition that existed in this very tournament.
Do you think your performance will inspire other Indian girls to go to WWE?
I think it's possible. If you saw me wrestle, I wrested in traditional Indian attire. Representing Indian culture is very important. My very objective of going there was to pave the path for other Indian girls to go to WWE and ensure that they don't face any obstacles along the way. I wanted to show Indian girls that you do not need the kind of ring gear worn by international performers, to compete at such a level.
I competed at a very high level, in our traditional dress. Girls have been very inspired by my performance. In the coming months, you'll see that girls are lining up to join the CWE Academy in Jalandhar (a city in India's Punjab state). The more people it reaches, the more girls will be impressed and want to travel down this road and make their own mark.
What's the next step for you? Is there any particular opponent you're particularly eyeing?
My next target is to become the WWE Women's Champion. Whether it's Charlotte or Sasha Banks or Bayley, whoever it is, I'm training hard under The Great Khali. I want to rule like Jinder Mahal and The Great Khali have. One day an Indian woman will rule as well.
WHo do you think will win the Mae Young Classic tournament?
See, I cannot tell you. Everyone is at an equal level there. We'll find out after the match happens. Whoever is the strongest will win the tournament.
---
Send us news tips at [email protected]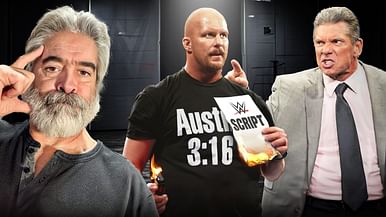 How Stone Cold was born in 2 minutes