What's the story?
Marty Jannetty recently went on The Hannibal TV YouTube Show for an on-screen interview. During the interview, Jannetty tells what he knows about a WWE Legend attacked by Marines.
In case you didn't know...
In October 1995, Shawn Michaels was assaulted outside of a bar in Syracuse, NY. At the time, Michaels was the Intercontinental Champion. Due to his injuries, HBK would relinquish the championship. This was during a time when "The Kliq" ruled the WWF. HBK would relinquish the belt to Dean Douglas, someone whom HBK did not like in real life. There were many rumors that circulated that Shawn was attacked by up to nine Marines.
The heart of the matter
Here is how the former Rocker Marty Jannetty recalls HBK Shawn Michaels assault, "I don't want to be disrespectful because I love Shawn. I love him; he's my boy. Syracuse, where he got in a fight with all those Marines, it was actually just one guy." During the interview, Marty also tells how Davey Boy Smith and 1-2-3 Kid were with Shawn that night.
According to Jannetty, most of the men held Smith back. While trying to fight off these men, Davey Boy asked where Kid was. Jannetty imitated Smiths' voice, "He's under the car checking the muffler. It's a rent-a-car, but he's checking the muffler." Jannetty also told Hannibal TV that Kid said, "I was rolling tape around my hand. I didn't want to hurt my knuckles punching them."
What's Next?
Jannetty recently made headlines with interviews including one with Sportskeeda. You can read that article here. Jannetty had many stints in WWE and hopefully one day WWE will put him on a legends contract. How cool would it be to play as The Rockers in WWE 2K? Share your thoughts and comment below.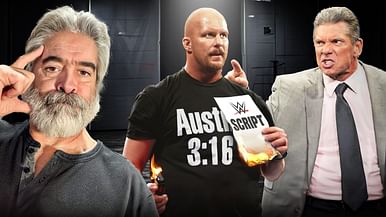 How Stone Cold was born in 2 minutes