Who is responsible for Andrade and Charlotte Flair getting together? Believe it or not, it was none other than Karl Anderson of IMPACT Wrestling.
Tonight, Andrade spoke to Hugo Savinovich of Lucha Libre Online about a variety of subjects. On the subject of how he and Charlotte got together, he thanked Karl Anderson as the one who introduced them following a UK tour with WWE.
Andrade told the story of Anderson calling him up and wanting to talk to him backstage in catering about their upcoming match. He also let Andrade know that he wanted to introduce him to someone.
Karl Anderson is the definition of a "Good Brother" to Andrade
Andrade had no clue who Anderson was planning to introduce him to and was surprised to find out that it was Flair. Andrade admitted he was nervous about going on a date with her because they worked together, and he was "a little intimidated."
Andrade described Flair as a "timid person" when they first met and that she wasn't anything like the character she plays on WWE television. He said he wanted to keep his relationship with Flair a secret, but it eventually got out on WrestleMania 35 weekend in the New York/New Jersey area.
Luckily, Andrade said mostly everyone accepted it and was happy for them both. He said the few people that didn't like it weren't important anyway.
Are you surprised to learn that Karl Anderson is the reason that Andrade and Charlotte Flair are together? Do you think this means Andrade might end up in IMPACT Wrestling? Let us know by sounding off in the comments section below.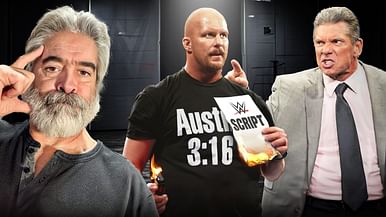 How Stone Cold was born in 2 minutes