WWE has been pushing the envelope recently with announcements for shows in various countries. One such announcement was made earlier today.
WWE organized its premium live events in multiple countries this year, including Puerto Rico, London, and Saudi Arabia. The Stamford-based company has already announced major shows in Australia, France, and Germany for the coming year.
Thanks to an incredible response during the pre-registration for Germany's first-ever premium live event, Bash in Berlin, the wrestling promotion has decided to have one more show in the country. According to the recent announcement, the go-home episode of SmackDown before the PLE will also air from the Mercedes-Benz Arena on August 30, 2024.
WWE took to their social media accounts to share the announcement with fans from all across the globe. Many superstars reacted to the news, including Cody Rhodes, Rhea Ripley, Cameron Grimes, and Kit Wilson. The superstars reshared the official post shared on Twitter, which you can check below:
Some of the superstars reshared this post on their Twitter account: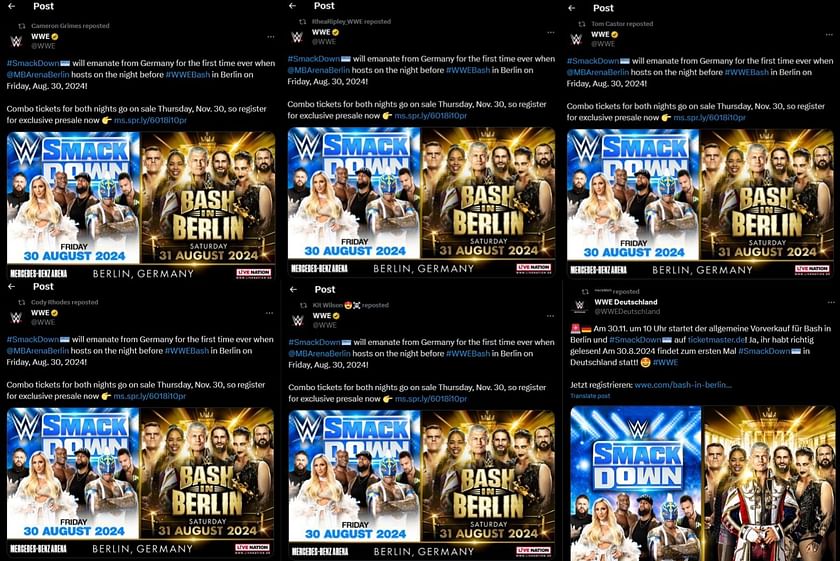 It will be the first-ever SmackDown airing from Germany. Popular superstars, including Cody Rhodes, LA Knight, Seth Rollins, Kevin Owens, Rhea Ripley, and Gunther, have already been advertised for the two shows.
Kevin Owen sheds light on being kicked off a WWE Europe tour
Kevin Owens and Sami Zayn have been friends since before stepping into WWE. The two have maintained their friendship for over twenty years. But this togetherness got them into trouble at times.
Speaking to Corey Graves on After The Bell, the former Universal Champion revealed how he got kicked off a Europe tour only because of his closeness with fellow Canadian superstar.
"Back in 2017, he [Sami Zayn] and I were so — in people's minds, he and I were so, just one, that if he got heat backstage for something, I got the heat too. Even if I got nothing to do with it. We got kicked off a Europe tour once together for something that I will — I don't think either of us really had anything to be blamed for. But, I was barely involved in it. 'Get those guys out of here,' "Kevin Owens said.
What are your thoughts on the friendship between Kevin Owens and Sami Zayn? Sound off in the comments section below.