Vince McMahon made hundreds of contract decisions during his 40-year tenure as WWE's creative figurehead. One of the superstars he fired, Brad Maddox, recently opened up about the immediate aftermath of his departure from the company.
On November 24, 2015, Maddox referred to WWE fans as "cocky pr*cks" during an untelevised in-ring promo. Upon returning backstage, then-WWE official Mark Carrano informed the former on-screen authority figure that McMahon wanted him to leave.
Maddox said on Wrestling with Rip Rogers that WWE's Executive Chairman refused to talk to him after the segment:
"I think Carrano came to see me and said that Vince had said to get my s**t and get out. I never talked to Vince. I asked if I could go talk to Vince and maybe explain myself or something and Vince didn't wanna see me. I just left. I never talked to Vince again." [3:52 – 4:10]
The incident occurred moments before Maddox lost a dark match against R-Truth at a Main Event taping. The 39-year-old has not signed with another major promotion since leaving WWE.
---
How Vince McMahon reacted to Brad Maddox's promo
Dutch Mantell, formerly known as Zeb Colter in WWE, was seated close to Vince McMahon backstage when Brad Maddox made the "cocky pr*cks" comment.
In 2022, Mantell recalled on his podcast how McMahon reacted furiously to Maddox's remark:
"Vince just said, 'What? You can't say that.' And they didn't like it, so he fired him on the spot. He was fired before he got back from the ring. He assigned an agent to go tell him to get his bag and go home. I never saw him again."
Maddox is best known for performing as the RAW General Manager in 2013 and 2014. He formed a tag team with Adam Rose shortly before being fired.
Do you think Vince McMahon was right to fire Brad Maddox? Let us know in the comments section below.
---
Please credit Wrestling with Rip Rogers and give a H/T to Sportskeeda Wrestling for the transcription if you use the first set of quotes from this article.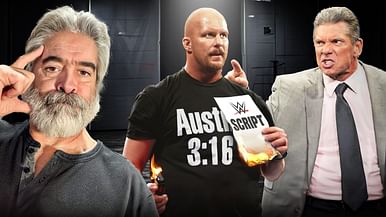 How Stone Cold was born in 2 minutes