Former WWE World Heavyweight Champion Dave Bautista (Batista) was a mainstay and top superstar for the Stamford-based company during its Ruthless Aggression Era. After leaving the company in 2010, he embarked on an acting career.
Batista's most notable character came in 2014 when he played Drax the Destroyer of the MCU in the globally successful box-office hit Guardians of the Galaxy. He reprised the role in many cameos and in the GOTG sequel, which was released in 2017, and The Animal is set to do so once again in the third installment of Guardians of the Galaxy, which is due for release in May later this year.
While talking to GQ, Batista stated his relief that the Guardians series is finally ending in 2023:
"I'm so grateful for Drax. I love him, but there's a relief [that it's over]. It wasn't all pleasant. It was hard playing that role. The makeup process was beating me down. And I just don't know if I want Drax to be my legacy—it's a silly performance, and I want to do more dramatic stuff." [H/T: GQ]
Batista has last seen in Glass Onion: A Knives Out Mystery, which is available on Netflix. The Animal has found significant success in Hollywood, and it looks to be getting better in 2023, with seemingly one final appearance as Drax the Destroyer.
You can read about Triple H and Stephanie McMahon reacting to him wanting to work more dates in WWE here.
---
An interesting stat about Batista's last match in WWE
Triple H is arguably Batista's most important rival owing to the fact that it is the former that selflessly put The Animal over three times consecutively back in 2005. They feuded over the World Heavyweight Championship after Evolution disbanded for good.
While their WrestleMania 35 bout in 2019 had a prior stipulation that if The Game lost, it would be his last match, the latter picked up the victory, after which Batista called it a career.
Interestingly, this bout also became the penultimate match of The Game's career. The only televised match post-Mania came later that year when he faced Randy Orton in Riyadh, Saudi Arabia. Triple H announced his retirement from the in-ring competition in 2022 after surviving a cardiac arrest.
Batista is a decorated superstar in WWE and wanted his career to have a "storybook ending," which he got and, truthfully, doesn't have anything left to do with the pro-wrestling world.
With many successful films over the years, fans of The Animal will get to see him in the mainstream media despite his retirement four years ago. He was recently spotted backstage on the last episode of SmackDown in 2022.
Do you think Batista needs to make a comeback and wrestle a match or two in WWE again? Sound off in the comments section below.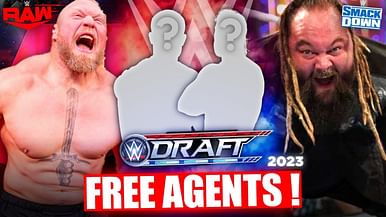 Brock Lesnar and 10 WWE stasr who are FREE AGENTS
Poll : Do you see Batista returning to the ring for a big match in WWE again?
18 votes