Former WWE Superstar Mike Halac, aka Mantaur, passed away after suffering a back injury, Sportskeeda Wrestling's Dr. Chris Featherstone can confirm.
Halac was taken to hospital after sustaining a fall on Tuesday. The former wrestler initially feared he may have broken the sixth (T-6) or seventh (T-7) thoracic vertebrae in his back. Hours later, he sadly passed away in his sleep at the age of 55.
Several wrestlers paid tribute to the 1990s star on Twitter, including Bryan Clark, aka Adam Bomb:
Halac was best known for his portrayal of Mantaur in WWE in 1994 and 1995. The persona was based on the Minotaur, a creature from Greek mythology with the head and tail of a bull and the body of a man. Fully committed to the character, Halac often charged and mooed at his opponents.
Halac faced many high-profile names during his WWE career, including Bam Bam Bigelow, Bret Hart, and Razor Ramon. He briefly returned to WWE in 1996 as Goldust's bodyguard.
His final match for the company aired on July 5, 1997, when he performed under the name Tank on Shotgun Saturday Night. He joined forces with Recon and The Interrogator to defeat Adam O'Brien, Chris Steele, and Kevin Flynn.
---
What happened after Mike 'Mantaur' Halac left WWE?
Although he is best known to WWE fans as Mantaur, Mike Halac worked under the name Bruiser Mastino for most of his career.
As Mastino, Halac won a dark match against Damien before the September 22, 1997, episode of WCW Nitro. He wrestled for several other promotions in the United States, including ECW and the USWA.
Outside of America, Halac frequently wrestled on the independent scene. He also competed in dozens of matches in Austria and Germany after leaving WWE.
Share your favorite memories of Mike Halac in the comments section below.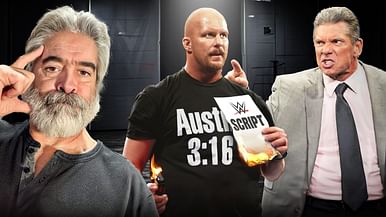 How Stone Cold was born in 2 minutes