Bill Goldberg's 173-match undefeated streak was one of the most iconic storylines in WCW history. Bill DeMott, aka Hugh Morrus, recently gave his thoughts on fans remembering him for being the WWE Hall of Famer's first televised opponent.
Goldberg defeated DeMott on the September 22, 1997, episode of WCW Nitro. The former football player went unbeaten for more than a year before finally losing to Kevin Nash at Starrcade 1998.
On the Two Man Power Trip of Wrestling Podcast, DeMott said he has no problem with being known for losing to Goldberg:
"Man, what a feather in my cap. I always said if I'm remembered for a few things in wrestling history and Goldberg's gonna be the biggest one, I think, then good for me. Good for me. And look at the career that freaking Bill put together." [54:45 – 55:02]
Goldberg's undefeated stint also included wins over DeMott on the February 16, 1998, episode of Nitro and the June 4, 1998, episode of Thunder.
---
Bill DeMott explains the origin of Goldberg's WCW name
Before debuting on television, Goldberg competed as Bill Gold in an untelevised match against Bill DeMott prior to the July 14, 1997, episode of Nitro.
DeMott added that WCW officials were still unsure what to call Goldberg on the day he debuted:
"I feel it [Goldberg's undefeated streak] happened organically because the people just kept getting with it. My understanding was even that night after me, they weren't supposed to say his name. They weren't sure what they were gonna bill him as, but someone said Goldberg, so they went with Goldberg." [55:35 – 55:57]
In the same interview, DeMott explained why he feared for his job in WCW after a match versus Hulk Hogan.
Are you a Goldberg fan? Let us know in the comments section below.
---
Please credit the Two Man Power Trip of Wrestling and give a H/T to Sportskeeda Wrestling for the transcription if you use quotes from this article.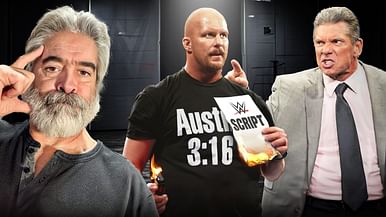 How Stone Cold was born in 2 minutes