Former Intercontinental Champion Zack Ryder (aka Matt Cardona) chose Roman Reigns as the Male Wrestler of the Year at the Sportskeeda Wrestling Awards.
Since his return to WWE in August 2020, The Head of the Table has been on a legendary run. At WrestleMania 38 in 2022, Reigns defeated Brock Lesnar in a championship unification match to become the Undisputed WWE Universal Champion.
Former United States Champion Matt Cardona is one of the experts who presented the Sportskeeda Wrestling Award. This year's Male Wrestler of the Year nominees included Brock Lesnar, Roman Reigns, Chris Jericho, Jon Moxley, CM Punk, and Sami Zayn.
The Male Wrestler of the Year award went to Undisputed WWE Universal Champion Roman Reigns at the 2021-22 awards.
On the Sportskeeda Wrestling Awards, Hall of Fame journalist Bill Apter asked Zack Ryder to pick his Male Wrestler of the Year. Without wasting a second, the former WWE Superstar named Reigns and praised the champion.
"How could you not pick Roman Reigns? He's the modern face of the WWE, undefeated for so long, and has been the champion for, oh my god, I can't even count for how many days," Cardona mentioned. [01:26 - 1:38]
Check out the full video below:
FANS CAN ALSO VOTE FOR THEIR FAVORITE WRESTLERS FROM 2022 HERE.
---
Matt Cardona mentioned Roman Reigns' accolades
In recent years, WWE has attempted to establish Roman Reigns as the "face of the company," with him starring in six of WrestleMania.
Reigns returned to SummerSlam in August 2020 alongside Paul Heyman, Reigns' new manager. In establishing himself as a heel, Reigns quickly entered the ring and attacked new Universal Champion Bray Wyatt and Braun Strowman after the match.
During the same conversation with Bill Apter, Matt Cardona appreciated Reigns' current Tribal Chief gimmick since he became the Universal Champion.
"He's been a main event at WrestleMania year after year; he's The Tribal Chief, and he's doing the most entertaining stuff in all wrestling right now. So he's definitely number one (win-loss record aside); he's the Top Dog," he added. [1:39 - 1:54]
It remains to be seen if The Head of the Table wins Sportskeeda Wrestling's Male Wrestler of the year again this year.
Do you think Reigns should win Sportskeeda Wrestling's Male Wrestler of the Year? Sound off in the comments section below.
---
If you use the quotes from this article, please embed the YouTube video and add a H/T to Sportskeeda for the transcript.
---
Follow former WWE Superstar Matt Cardona here, and you can follow his action figure podcast here.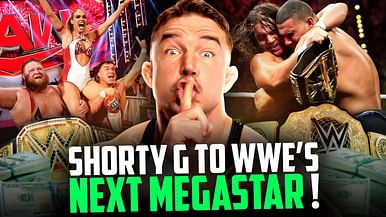 Why Chad Gable could be the next WWE mega star