John Cena Sr. recently revealed how he got to know that his son, John Cena, was scheduled to compete on WWE SmackDown last year.
The Cenation Leader returned to the blue brand for a tag team match on December 30th, 2022. He teamed up with Kevin Owens to defeat The Bloodline's Sami Zayn and Undisputed WWE Universal Champion Roman Reigns.
The match featured Cena hitting many of his trademark moves, much to the delight of the fans in attendance.
Speaking to Sportskeeda Wrestling's Bill Apter, John Cena Sr. revealed that he learned about the match at a wedding when one of the guests asked him if he would watch his son wrestle.
"Well, I didn't get a phone call. I found out, I was doing a wedding; I'm a JP, I do weddings. Somebody at the wedding party said, 'So, you're gonna wanna watch your son Friday night on SmackDown?' I said what? He's gonna on SmackDown in a tag match!"
The veteran wrestling manager added that he also received messages and emails about the bout from his peers in the wrestling business.
"Right after that, I started getting texts and emails from some of the fellows that I work with on the wrestling indie scene. So that's how I found out Cena Jr. was going to be in a tag match on SmackDown," said John Cena Sr. (1:05 - 1:33)
Check out the full video below:
---
John Cena Sr. enjoyed the match on SmackDown
Elsewhere in the chat, John Cena Sr. stated that the match was well-structured and that everyone did their job competently. He was also pleased with the bout's ending, which saw Kevin Owens pin his friend-turned-rival Sami Zayn for the win.
"I did see the match, and I have to tell you something. I think that was a well-put-together match. I think everybody in the match did exactly what they needed to do to put that match over, and I thought that the ending was appropriate. Kevin Owens pinned Sami Zayn. I thought that was great," added Cena Sr. (1:35 - 2:00)
With WrestleMania 39 just a handful of months away, fans are waiting with bated breath to see the 16-time WWE Champion return in time for the show.
---
Are you excited to see The Leader of Cenation compete at The Grandest Stage of Them All? Sound off in the comments section below.
---
If any quotes are used from this article, please embed the YouTube link and credit Sportskeeda Wrestling.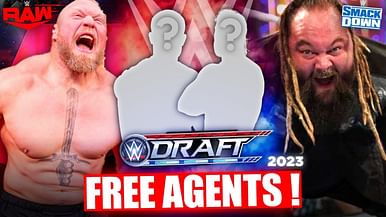 Brock Lesnar and 10 WWE stasr who are FREE AGENTS