WWE Hall of Famer Booker T has opened up about Big E possibly never wrestling again.
The New Day member has been out of action for over a year after sustaining an injury during a match on the March 11, 2022 episode of SmackDown. He broke his neck after taking a botched belly-to-belly suplex on the floor from Ridge Holland. In a recent interview with Dr. Chris Featherstone, the former WWE Champion revealed that he had discussed a potential commentary role with WWE.
In the latest edition of the Hall of Fame podcast, Booker T said he's sad to hear that Big E's in-ring career could be over. He went on to describe it as a cautionary tale for young wrestlers.
"It's a life-changing moment. That one spot in the ring definitely changed the whole name of the game. I'm sad, I'm sad to hear it, I must say that. I really liked Big E. He's one of the guys I always thought was really cool... I remember when Kofi won the [WWE Championship at WrestleMania 35], I remember talking to Big E. I said, 'Your time is gonna come, man.' I said, 'because, you're talented... you're definitely gonna make it to the next level,'" said Booker.
He added:
"That's why I hate to see something like this happen, but it's a cautionary tale at the same time to a lot of these young guys as far as going out there and throwing caution to the wind sometimes when you don't need to. I don't want to be sitting here blaming him for anything he did or anything like that, but what I am saying is for the next guy, for the next Big E, think about that and hopefully, somebody can learn from it." [1:15-2:28]
---
The New Day returned to WWE on Monday Night RAW this week
On the latest episode of RAW, Kofi Kingston and Xavier Woods of The New Day made a surprise return to the company. The fans in attendance were thrilled to see them.
The multi-time WWE Tag Teag Champions collided with The Viking Raiders in a tag team match, which they won.
The New Day isn't the same without Big E. Several wrestlers, including Edge, Daniel Bryan, and Saraya, have returned from career-ending neck injuries, so hopefully, E will also return to the squared circle one day.
Do you agree with Booker T that Big E's injury is a cautionary tale? Sound off in the comments below!
---
If you use any quotes from this article, please credit Hall of Fame and give a H/T to Sportskeeda Wrestling for the transcription.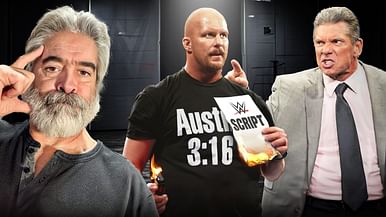 How Stone Cold was born in 2 minutes