Kofi Kingston responded on Twitter after making a bold statement about The New Day.
Ever since their inception, The New Day has made a mark in the WWE. They have created a legacy like no other and will go down in history as one of the greatest tag teams in WWE history.
The New Day's name is often mentioned in the same breath as some legendary tag teams like the Hardy Boys, Dudley Boyz, and Edge & Christian. Over the years, they have gone to war and have single-handedly carried the tag team division on their backs.
While many fans debate who is the greatest tag team of all time, former WWE Champion Kofi Kingston seems to believe that The New Day is undoubtedly the greatest of all time. He confirmed on a recent episode of Corey Graves' After The Bell podcast.
"That's us [when asked who's the greatest tag team in WWE history. The New Day, it's us. I ain't got to think about that. You know what I mean." [H/T Sportskeeda]
Following the podcast episode being released online, Kofi Kingston took to Twitter to respond to his bold claim about The New Day.
"I said what I said," he wrote.
You can check out the tweet below:
---
Kofi Kingston gave his reasoning behind why he thinks team New Day is the GOAT
During the same podcast episode, Kofi explained why he thinks The New Day is the greatest tag team of all time. He made his statement based on all the things he, Xavier Woods, and Big E have done and accomplished.
"I don't say it just to boast. Yeah, everyone got their different flavors of ice cream or whatever, but I just look at the range of things that we've done and you know, from being able to host WrestleMania as active roster talent, to be able to be at the time, you know, the longest reigning tag team champions of all time, to have the most tag team title reigns in the history, to be able to go out with legends and the Dudley Boys or to be able to go out with rookies like Pretty Deadly and be able to put on matches that are top notch from top to bottom, to be able to have a zilion matches with The Usos and have every single one of them be different," Kofi Kingston said. (47:30 - 48:25)
The New Day recently made the move to NXT where they quickly became the NXT Tag Team Champions. It looks like Kofi and Xavier Woods plan on staying in NXT to help out the younger talent to improve.
Do you agree with Kofi's statement? Sound off in the comments section.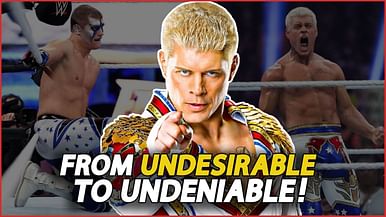 How Cody Rhodes returned to WWE and change pro wrestling forever!
Edited by Ashvinkumar Patil