Former WWE Champion Big E shared a priceless picture with New Day members Kofi Kingston and Austin Creed. The trio reunited and celebrated being NXT Tag Team Champions during the recent WWE Australia tour with the Binge streaming platform.
Big E has been out of action for nearly a year after suffering a severe neck injury at the hands of Ridge Holland during a March 2022 episode of SmackDown. There has been no word on when the former WWE champ will be able to return to the ring after his injury. As of now, he is preparing for a neck scan in March.
On that note, the 36-year-old has reunited with Kingston and Woods only for the WWE Australia tour. In E's absence, The New Day recently defeated Pretty Deadly to win the NXT Tag Team titles for the first time in their careers.
As the trio spent quality time in the Lucky Country, Big E took to Twitter to share a photo of themselves as they posed with the epic and humorous Bananas in Pyjamas TV show poster.
Not only that, but the former WWE champ also seems to have stolen the NXT tag titles from his New Day partners and posed for the camera.
You can check out E's tweet below:
---
If you're interested in sports betting, the championship round of the NFL Playoffs is next weekend! Don't miss out. Claim the offer and place your bets at DraftKings!
Make your first deposit now! Bet $5+ on any sport pre-game ML and get $150 if your bet wins!
---
Update on Big E's potential return to WWE
The New Day member landed awkwardly on the March 11 episode of SmackDown after receiving a belly-to-belly suplex from Ridge Holland at ringside. He fractured his neck and hasn't wrestled since.
The 36-year-old stated in an interview with These Urban Times that he would learn more about his return date in March 2023.
"Yeah, yeah [excited to return], my C1 is broken in two spots, so I obviously would be very smart about that. I was very fortunate, so I just want to make sure I'm making the best decision for myself, so we'll see in March," E said.
His most recent update appears to confirm that the New Day member intends to return to the ring once he is medically cleared to do so.
Do you think Big E will return to the Royal Rumble 2023? Sound off in the comments section below.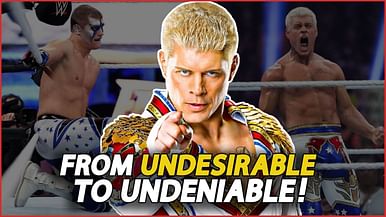 How Cody Rhodes returned to WWE and change pro wrestling forever!