Alexa Bliss can be seen showing off her baby bump in Nia Jax's new Instagram story.
Little Miss Bliss announced on Instagram and Twitter that she is pregnant, with her baby due to arrive in December 2023. The posts received a massive reaction from the WWE Universe, and Bliss is receiving congratulatory messages from all corners of the wrestling world.
Nia Jax, aka Lina Fanene, is Alexa Bliss' best friend in real life. She has now shared a picture on her Instagram story, in which Bliss can be seen rocking a baby bump. Check out the picture below: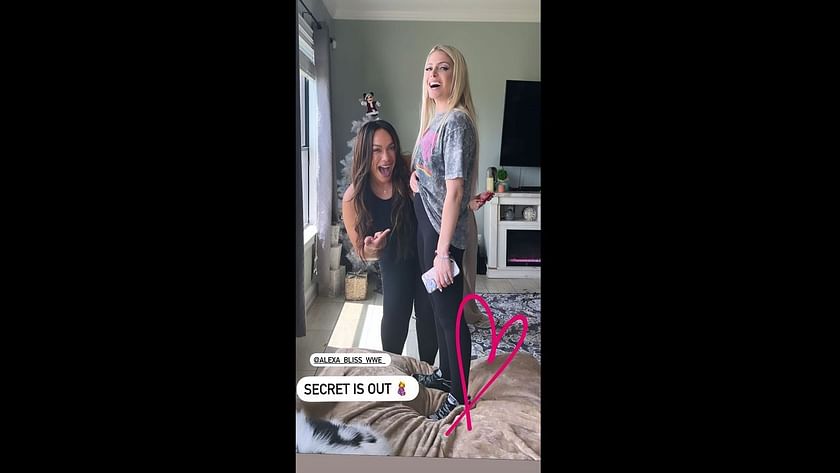 Nia Jax has supported Alexa Bliss through thick and thin
Back in 2018, Bliss feuded with Ronda Rousey over the RAW Women's title on the red brand. The duo met in a singles match for Bliss' title belt at SummerSlam 2018. That night, Rousey defeated Bliss to become the new RAW Women's Champion.
Two years later, Nia Jax revealed that Rousey was being unsafe with Bliss in the ring. Jax complained to WWE's higher-ups about the issues as well. Here's what she said:
"I was like, 'no she cannot do this anymore. I personally would not allow her to get back in the ring to get hurt again', and I had to go to the people, to the higher-ups, and tell them, 'listen, Lexi is five foot nothing, a 100 pounds, getting thrown around like a little ragdoll and injured every night.' I was like, 'Put me in, I'm a 6 foot, 300-pound bi**h and I can handle it.'"
Nia Jax is incredibly happy over Alexa Bliss' massive announcement. Bliss will be out of action for quite some time now. Her ardent fans are elated over the news, though.
---
Sportskeeda Wrestling congratulates the Cabreras on their big announcement!
Braun Strowman reveals the greatest talker in history here