Former WWE star EC3 recently spilled the beans on how Titus O'Neil repeatedly concussed him when they were both competing down in NXT in the early 2010s.
Before making it to the main roster in 2012, O'Neil competed in NXT, where one of his most memorable rivals was EC3, who went by the name Derrick Bateman. The two were involved in a heated on-screen feud in 2011, as part of which they competed in several matches against each other for many months at a stretch.
On Sportskeeda Wrestling's The Wrestling Outlaws, EC3 was asked who was the most difficult performer to work with during his time in NXT. The former IMPACT Wrestling World Champion picked Titus O'Neil, saying the WWE Superstar concussed him more times than anybody else had in his career.
The 39-year-old also added that despite being repeatedly concussed by the former WWE Tag Team Champion, he still always tried to protect him.
"I mean, I have been concussed by Titus O'Neil more times than anybody in my life. I constantly get concussed, and I do everything to protect my opponent," said EC3. (0:44 - 0:58)
Check out the full video below:
---
WWE star Titus O'Neil on his iconic moment from the 50-man Royal Rumble match
Arguably the most replayed moment in recent WWE history is Titus O'Neil slipping under the ring while entering the 50-man Royal Rumble match at Greatest Royal Rumble 2018. However, the moment was quite scary for O'Neil, who confessed in a chat with Sportskeeda Wrestling that he could have even lost his life.
The 45-year-old also spoke about how the accident garnered him more press than anything he had done in his career up until that point.
"I tell people all the time - I could easily not be here to talk about it. It was a mistake that happened, and fortunately, I didn't lose my life or get hurt, and I made a lot of impressions on social media. Probably more press than I had prior to that moment, and it really mirrors my life. I fell down and got back up so many times and just the message with that to everybody - you're going to fall down, you're going to slide down, you'll slide into some situations."
O'Neil hasn't competed inside the ring for more than two years now, last performing back on an episode of WWE RAW in November 2020.
---
If any quotes are used from this article, please embed the YouTube link and credit Sportskeeda Wrestling.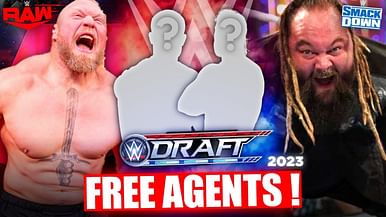 Brock Lesnar and 10 WWE stasr who are FREE AGENTS
Edited by Arpit Shrivastava