Former RAW Women's Champion Rhea Ripley sent a heartfelt message to current AEW star and real-life partner Buddy Matthews on Valentine's Day.
Ripley and Matthews have been in a relationship for quite some time. Matthews is currently working in AEW, where he is a member of the House of Black faction. Meanwhile, The Nightmare has been plying her trade in WWE, where she is a member of Judgment Day and is also slated to headline WrestleMania 39 against Charlotte Flair.
Taking to her official Instagram handle, Ripley sent a short message to Matthews, showcasing her love on Valentine's Day.
She posted a story on the social media app and stated that Matthews makes her "flutter every day of the year."
"Makes my heart flutter every day of the year," wrote Ripley.
Check out a screengrab of Ripley's Instagram story:
Vince Russo criticized Rhea Ripley and Asuka for not being true to their characters
Rhea Ripley and Asuka were criticized by Vince Russo for not being true to their characters.
Speaking on Sportskeeda Wrestling's latest edition of Legion of RAW, Russo took digs at numerous other WWE stars for the same issue.
"Because nobody is true to their character, that is why, bro. Rhea Ripley was not true to Rhea Ripley, Asuka's not true to Asuka. They are not true to their characters. Chris Featherstone does not walk around this planet and change week to week to week and when you know Chris, you're gonna know what Chris is thinking, you're gonna know how Chris is going to react, you're going to know what Chris is going to do."
The former WWE head writer added that this was the reason current superstars were not getting over with their characters.
Ripley is set to team up with Finn Balor for a Mixed Tag Team Match against Edge and Beth Phoenix at the upcoming Elimination Chamber event. After the upcoming show, Ripley will shift her focus on the SmackDown Women's Championship currently held by Charlotte Flair.
Are you excited about The Eradicator's journey in 2023? Sound off in the comments section below.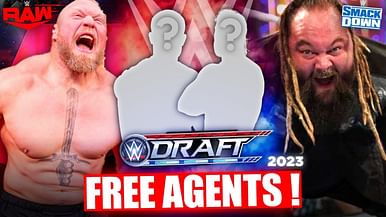 Brock Lesnar and 10 WWE stasr who are FREE AGENTS